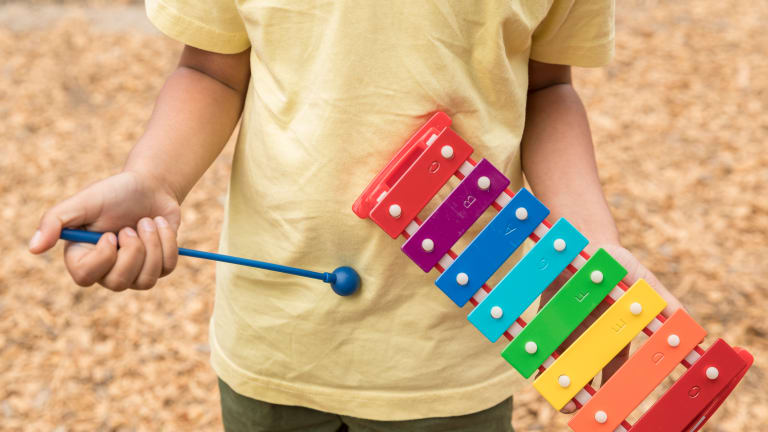 Trying Out KinderCare's Learning Adventures
The Benefits of Early Childhood Educational Experiences
Learning experiences are so, so important for young children. I remember being in awe of the moms who were crafty, musical and thought up enriching activities for their tots. As for me, I was working, and to be frank, I'm just not that creative. I put together a bit of this and a bit of that before my daughters started preschool at our church. It was a part-time job signing up for these classes and making this work. When I was invited to write this post about trying out KinderCare's Learning Adventures, I was excited - I'm all about helping parents find the best for the kids.
THE KINDERCARE APPROACH TO EDUCATION AND CHILDCARE
KinderCare has a long history of supporting parents and children through the early years. Kids at KinderCare Centers range from infants to five-year-olds. The KinderCare curriculum brings play and education together. When I researched their philosophy, this quote stood out:
We hire teachers who thrive in the productive chaos of a preschool classroom.
Productive chaos. Friends, they know a thing or two about preschoolers! KinderCare is more than a full-service early-care center for babies, it's also a place where your kids can grow. KinderCare is the most accredited provider in early childhood education, meaning they have curriculum and learning experiences that are proven to help kids learn and be successful later in their school years.
First, let's talk about the setting. This KinderCare facility is located in the heart of Tribeca in NYC. It's an incredibly vibrant and bustling neighborhood. The location is right across the street from a pretty public park and a block away from Whole Foods and a public elementary school. In other words, you couldn't find a better location. For working parents, convenience matters, but what matters more is the care.
I was so impressed with the thoughtful and safe design of the space. The location I visited was incredibly well staffed and the entire center was spotless. There's a warm entryway that is both secure and inviting at the same time...no easy feat.
I love the little touches like these bins to cover shoes. No babies need to crawl on floors that are covered in NYC street debris! This is just one example of the labeling and thought that goes into the design.
I was also impressed that the staff was engaging with all the children. That should help with the working mama "mom guilt."
TRYING OUT KINDERCARE'S LEARNING ADVENTURES
After my tour, it was time to dive into productive play. Learning Adventures are special enrichment programs offered during a child's day at KinderCare. Here's the concept: kids practice skills in a small-group setting, strengthening what they're learning in the classroom. Adventures are scheduled in during a child's day to support their interests and expose new concepts and skills.
Here's what studies show: Children who attend high-quality early learning programs are:
· less likely to be placed in special education
· less likely to be retained in a grade
· more likely to graduate from high school
The benefits of early childhood education can persist for years.
It's irrefutable. How we invest in our children will directly impact the future of a child. Read more about the lasting effects of early childhood educational experiences here.
KINDERCARE MUSIC EXPLORERS
During our visit, we got to see a Music Explorers class and a Cooking Academy class. These cool experiences are offered to students for an additional fee.
The new Music Explorers program teaches music and mindfulness. Watching kids get swept up in music is magical. Music helps kids improve memory, cognitive development, learning skills, and emotional regulation. The Music Explorers program allows kids to explore music in a small group setting. In the class we observed, kids learned music terms and concepts and had a whole lot of fun.
It's a class where kids can dance and have hands-on play with instruments. Music Explorers is available for kids ages two through five who are enrolled in KinderCare.
KINDERCARE COOKING ACADEMY
Playing with food is encouraged at the KinderCare Cooking Academy. I don't mean tossing snacks around. Instead I mean purposeful play that teaches kitchen basics like measuring, mixing as well as nutrition. Cooking helps strengthens math, science, language, motor, and social skills!
On my visit, the kids were making YOBA parfaits. YOBA as in, yogurt, oats, banana and apples. A healthy snack that was fun to prepare and provided a good lesson in nutrition, particularly important since studies show that kids who learn to cook as kids make healthier choices as adults.
I was really impressed at how Justin, the instructor, got everyone focused and learning. He set a quick overview and then got the kids involved. Kids were encouraged to ask questions and thoughtfully experiment. For example, do you like a little cinnamon or a lot?
Justin tied the recipe back to a life lesson - what we put into our body is important. Healthy foods help us feel strong and powerful. It's a lot easier to learn when you are having a great time with friends. The earlier we get our kids to have a healthy respect for food the better!
Learning doesn't end at pick-up time. Parents are encouraged to continue the conversation. For kids in Cooking Academy, they can bring home additional recipes to try and for those in Music Explorers, "Singable Storybooks" to read and sing. All the tools given by KinderCare Learning Adventures are meant to enhance the parent-child bond and continue learning at home.
Click here for more information about the new Learning Adventures at KinderCare or to find a Center near you. It's a terrific way for parents to enhance the preschool environment at KinderCare.
PIN IT!
Use Pinterest to save your favorite stories.
This Trying Out KinderCare's Learning Adventures feature is sponsored.