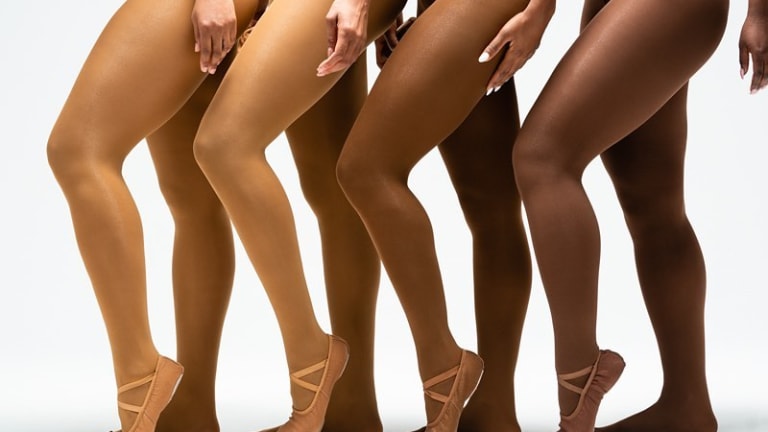 Publish date:
Trends in Dance Apparel for Kids
Blendz Apparel is a much needed dance apparel line for the melanated dancer.
Blendz Apparel is a much needed dance apparel line for the melanated dancer.
I'm so excited about this new line of dance clothing and accessories created by Jamia Ramsey. One of the big trends in dance apparel for kids is getting the skin tone right. Blendz Apparel has a color for every skin tone and helps young dancers feel beautiful and confident. 
Related: How to give back and get creative with chalk art
There couldn't be a more important time to talk about small business owned by Black women. Ramsey, an African-American woman, created the company to make high-quality, professional dance apparel and shoes for ALL SKIN TONES.
How Blendz Apparel Started
Ramsey has been dancing since the age of two, and often wore tights and ballet shoes that never matched her complexion or spent countless hours and money on pounds of make-up, shoe sprays, and dyes attempting to match her tights and shoes to her skin.
Twenty-five years later, she started my own dance academy, DanceMoves and saw her dancers and their parents still doing the exact same thing, so she created Blendz Apparel.

Five Tips To For a Girl's First Leg Shave
Do you remember your first time shaving? Mine wasn't pretty. I snuck my dad's razor and shaved my legs dry. It wasn't pretty. Get your daughter ready for this rite of passage with the right tools and a quick education. We've got five tips to help you navigate your daughter's ...read more
Why You Should Add Wild Blueberries to Your Diet
Do your New Year's goals involve healthier eating? Adding more fruits and vegetables to your diet? Or even adding tasty new recipes to your repertoire? We've got five reasons for you to add wild blueberries to your diet. Our friends from the Wild Blueberry Association have ...read more
Why Moms are Loving This Blueberry Couscous Salad
It's blueberry picking time. And while most blueberry recipes revolve around baked goods, we've got something different to share. First, a few sentences singing the praises of this lovely fruit. Blueberries are high in antioxidants, improve memory function and reduce the effects ...read more
The Blendz Collection
Blendz offers an inclusive selection of high-quality, professional fleshtone dance apparel and shoes in various shades and styles that are specifically designed to flatter the skin tone, contour the shape of the body, and elongate the dancer's line from head to toe. Blendz apparel and shoes are made not only for the studio and stage but are also designed for the dancer with comfort, convenience and durability in mind. Get tights, ballet shoes and Jazz shoes in 4 BLENDZ to match your child's skin tone.
Giving Back
A percentage of each purchase goes toward The Valerie Grace Scholarship Fund to assist young dancers furthering their dance education at summer intensive programs and four-year institutions across the country. 
Find out more here  https://blendzapparel.com/
MORE POSITIVE ENERGY FROM MOMTRENDS
PIN IT!
Use Pinterest to save your favorite ideas from Momtrends. Be sure to follow our Mom tips and wisdom board here
Momtrends was not paid for this post.