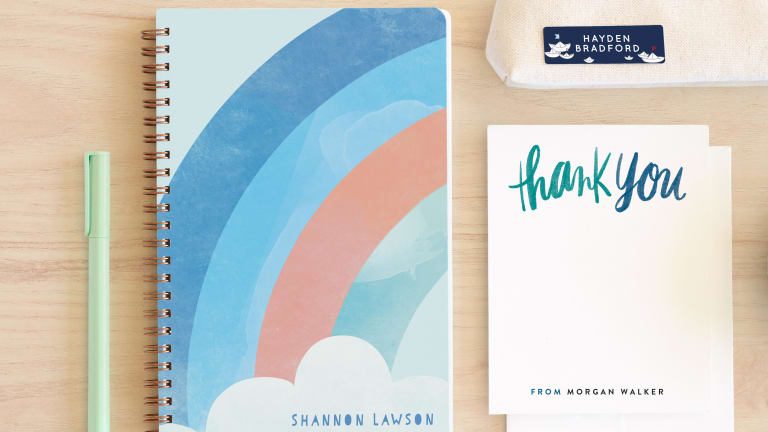 Trend Alert Personalized School Supplies
Minted makes going back to school a lot more fun with personalized stationery for kids
We are getting ready for the school year with Minted's back to school essentials! Here's the big trend alert: personalized school supplies are what all the kids want this fall. It's all about showing individual taste and personal style. No company embraces this more than Minted. All the products are designed by independent artists. Minted says:
Enjoy 30% off on back to school essentials when you purchase Minted More. Use Code: BTSMORE2019 ends Wed 8/28
Minted Personalized Notebooks
For most people, the possibility of a fresh notebook is powerful. Kids aren't any different. In our family, school supplies bring delight to life.
With Minted, kids can personalize amazing supplies like notebooks and planners. They can pick an artist-designed cover and personalize it with photos or text. Minted's 80-page, 5.5" by 8.5", notebooks are available with blank, lined or gridded page layouts.
We picked the "bright future" notebook by Sara Berrenson and the "This is How I Roll" notebook by Susan Moyal.
My daughter is obsessed with small dogs (and no we are not getting a puppy...yet). This chihuahua tucked in a basket brought the biggest smile to her face. I love that with Minted I'm supporting artists. The mission of the brand rings true to a lot of my beliefs.
More Personalized School Supplies from Minted
While many calendars may start on January 1st, for families, the start of a new school year is also a momentous occasion and a time to jumpstart home organization.
These personalized calendars from Minted can start on any month. You can add photos to each month. This special calendar can hang in the kitchen and get your kids excited about the year ahead. 
A fresh box of stationery is also a great gift for back to school.  With unique designs printed on luxe paper and a complimentary gift box, personal stationery is the perfect gift for newborns, children's birthdays, teens and more. If you have any questions, please email us.
I got my teen the "In the clouds" cards. She's away at boarding school and we hope these cards will inspire her to write family and friends (or at least thank my parents for the care packages they send).
Shop the full collection at Minted.com 
More Back to School Tips from Momtrends
Pin it! 
Use Pinterest to save your favorite finds for Back to School.
This Trend Alert Personalized School Supplies feature is not sponsored. It does contain affiliate links.