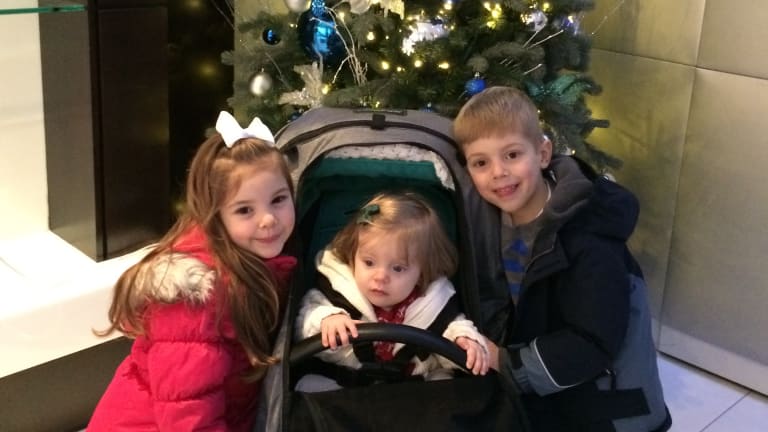 Publish date:
Tips to Keep the Kids Healthy & Happy During Holiday Travel
Avoid the germs and keep the kids feeling good
Avoid the germs and keep the kids feeling good

The Momtrends team hails from all parts of the country originally and most of us travel a lot, especially during the holiday season. If you've ever had to watch the rest of your family leave for a family visit without you, you know what it's like when germs keep you away from a good time. We have rounded up our top tips to keep the kids healthy during the holiday travel season.
Whether you're traveling by train, plane or automobile this holiday season, you are bound to encounter new people, places – and germs. (And it doesn't help that cold and flu season arrived before the first snowflake fell!). 
We took our top mom tips and combined them with advice from, Dr. Alejandro Sanchez, an infectious disease specialist at the Kaiser Permanente West Los Angeles Medical Center.
1. Pack Germ-Fighting Items. Be armed to fight the germs. Don't leave home without alcohol-based hand sanitizer, disinfecting wipes, liquid soap and disinfecting spray. (We pack paper towels too!) You know everything you touch will be touched by many people, use these items generously and often.
2. Get Ready to Clean: Clean the following frequently touched surfaces: trays, seat buckles, bathroom countertops, armrests and door knobs as well as all of your device screens. Avoid  touching door knobs or hand rails (get into the habit of using paper towel or tissue) and just say no to pillows and blankets on planes/passenger trains.

Five Tips To For a Girl's First Leg Shave
Do you remember your first time shaving? Mine wasn't pretty. I snuck my dad's razor and shaved my legs dry. It wasn't pretty. Get your daughter ready for this rite of passage with the right tools and a quick education. We've got five tips to help you navigate your daughter's ...read more
Why You Should Add Wild Blueberries to Your Diet
Do your New Year's goals involve healthier eating? Adding more fruits and vegetables to your diet? Or even adding tasty new recipes to your repertoire? We've got five reasons for you to add wild blueberries to your diet. Our friends from the Wild Blueberry Association have ...read more
Why Moms are Loving This Blueberry Couscous Salad
It's blueberry picking time. And while most blueberry recipes revolve around baked goods, we've got something different to share. First, a few sentences singing the praises of this lovely fruit. Blueberries are high in antioxidants, improve memory function and reduce the effects ...read more
3. Wash Your Hands. No matter if you are home or on the go, frequent hand washing is always an effective way to prevent colds and other illnesses. Don't forget to sing "Happy Birthday" to really de-germ and wash inter-digitally (between the fingers).  If warm water and soap are not immediately available, use hand sanitizer. The Centers for Disease Control and Prevention recommends washing your hands before putting them to your mouth. This includes before eating, drinking, or brushing your teeth.  Reminder to always wash your hands after going to the bathroom, blowing your nose, changing diapers, or helping a sick person.
4. Stay Hydrated. Drinking plenty of water, (or clear non-carbonated, no caffeinated beverages) helps ward off sickness because your mucous membranes, which help defend your body against microbes, work best when moist.
5. Stay Under Cover: We all know to pitch the toothbrush after illness, but did you know that keeping them covered actually helps aid in keeping you healthy? We love the PODS (for both razors and toothbrushes) from Steripod. Momtrends Users get 15% off (Steripod Razor and Steripod Toothbrush Holiday Stocking Stuffer Sets) using this link: STERIPOD
5.  Follow the Rules: Schools and public facilities recommend you stay put for a complete 24 hours after the absence of a fever/vomiting (not due to medication). This helps reduce the spread of infection-"Do unto others" really applies here.
6. Eat the Rainbow: Loading up on fresh veggies, fruits and whole grains really packs in the vitamins and minerals enabling your littles (and the rest of you!) to keep their immune systems running at their prime.
7. Get your Flu Shot. A flu vaccine lowers your risk of getting get the flu, which is a serious illness and can lead to complications. The vaccine takes a few weeks to fully kick in so it's best to get a vaccination several weeks before you travel. The vaccine protects you for a year. And we recently read that it is more effective if received in the early morning hours.
8.  Have the Deets:  Be prepared with contact information for your physician/insurance information when you are out of town.
This is not a sponsored post. All opinions expressed are our own.