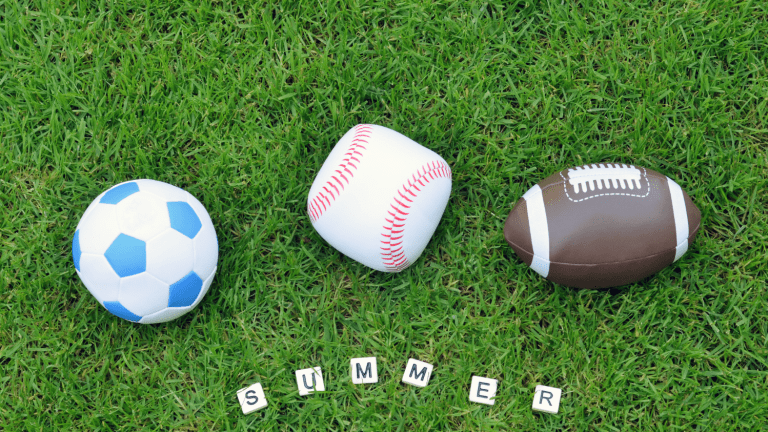 Tips from an Olympian on Summer Sports for Kids
Sharing advice from soccer star Angela Hucles, Olympic Gold medalist to get kids moving this summer.
The start of summer marks the season many parents begin their search for youth sports activities to involve their kids in --some as young as three! For those fairly new to the world, the search can be pretty daunting with many common questions such as,"Where should I look first?", "Is it expensive?", "Will my child get hurt…will they be accepted…will my child be bullied?"
To stay fit and active this summer, we are sharing some common questions and tips from Angela Hucles, Olympic Gold medalist for the US Women's National Soccer Team. With her work with Up2Us, a nonprofit and leader in the sports-based youth development movement, these tips will help guide parents through the many sports programs available to kids today and can share how they can be supportive from the bench.
What sport is the best one for my child?
Parents that played sports when they were kids will more than likely steer their child to a sport they played, especially if they know a lot about it. It's great when a child can share the same experiences, but the best first step is to talk to your child – ask them what they might like to try. Everything from football, soccer, swimming, and gymnastics offer a different experience. Your neighborhood may offer community programs that are budget-friendly. Ask another parent, check online for local programs, or the school for sports-related activities. The best thing about childhood is that kids can try several sports every year. If it's not a good fit, learn from the experience and try something new the next season. You're off to a good start, so keep it moving!
What if my child doesn't make friends? Should I be worried about bullying? 
Just like any relationship, a 'team connection' doesn't happen overnight. Never force your child to 'make friends', but encourage them to be themselves and let it happen on their terms. Unfortunately, studies show that 77% of all students K through 12 have been bullied at some point in their lives – and regretfully, it happens on the best of teams. Fortunately, there are a growing number of organizations that enlist coaches that have training in recognizing bullying and can stop it before you even notice it.
Should I intervene if I see bullying during my kids sporting event? 
There's a very good chance that if it's happening out in the field with another player, the referee or a head coach will intervene. If you're seeing repetitive unsportsmanlike behavior that concerns you, inform the coaches immediately, but let it be known that you've witnessed the bullying so 'hotspots' can be monitored in the future. As mentioned, some youth programs work with coaches that have had formal training and are constantly encouraged to have an open-dialogue with parents about how their child is doing. You can check with your coach or organization to see if they are connected with a group that provides that. While all teams have strict rules about how parents interact in a team dynamic, parent input is valued and respected…especially when it concerns your child.
I'm not able to get to all the practices, but my child has been acting differently, and I think there might be issues with the other kids. What should I do? 
There's nothing worse than feeling alone, especially when you're a kid. But the best support is parent support. Take the time to talk to your child when you're back at home and completely removed from the team environment and conversation. Support them by hearing what they have to say and repeat it back so they feel you understand and are validating their feelings. Come up with steps to address the issue appropriately and then check back in with each other on a regular basis. As always, mention the issue to the coaches. If it's happening on the team, it should be a team effort in resolving it.
My kids loves the sport they're in, but I think she/he could do better. Any suggestions to push them along?
One area that my organization focuses on is a strengths-based approach that we encourage parents to try as well. Coaches that use this approach define goals that facilitate appreciation of differing abilities – in short, focus on the individual's ability rather than the disability. Constant attention to a child's short-comings -- 'you need to swing the bat harder!' or 'why weren't you able to score the goal?' -- can be detrimental to a growing young mind looking for positive reinforcement. So, encourage and reward every player's effort and you'll more than likely end the season with a child ready to take on new things without needing to push them!
Angela Hucles is a two-time Olympic Gold Medalist (2004/2008), former professional soccer player as well as the US Soccer Foundation's 2009 Humanitarian of the Year. With more than 25 years experience in the sports, Hucles has become a regular speaker on topics of equality, anti-bullying, and the power of sport and its impact on personal growth and development. Hucles is currently the Los Angeles Regional Director for Up2Us, a non-profit organization using sports to solve the critical issues facing America's youth today.
Momtrends was not paid for this post.