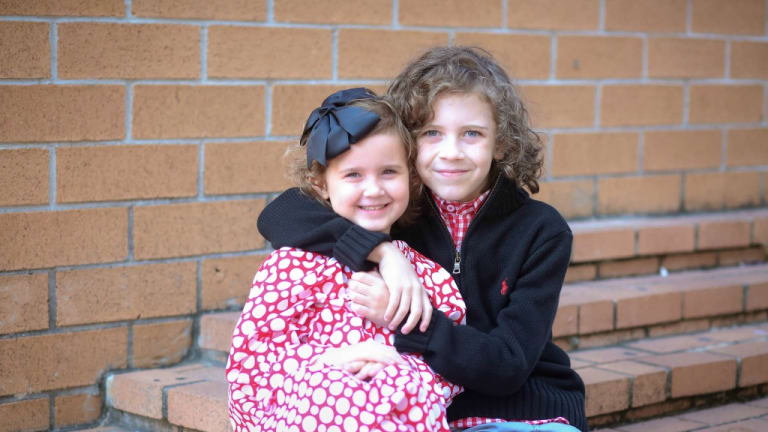 Publish date:
Tips for Picky Eaters
Are your kids picky eaters? We can help with these tips to introduce picky palettes to new flavors...
Who could use some helpful tips for picky eaters? I'm certainly in that boat! My kids used to eat everything and then literally overnight one day, they seemed to want nothing. They're both naturally very thin just like the hubs and I were growing up so I feel helpless when it's meal time and they just pick at their plates. Doctors have told me that they'll eat when they need to eat, but I'm a mom. You know how we can fret. I prefer to be proactive and try to figure out a solution to our picky eater problem! 
Thankfully, Juicy Juice Flavor Expert, Jeff Mauro has some advice...as well as some tasty recipe ideas like the Kiwi Strawberry Lemon Shake Up. Yum! Because these two little angels are my world and I want to make sure they're getting all the nutrients they need!
1. The More They Cook, They More They'll Try
A guaranteed way to get kids to try new things is by getting them involved. It can be as easy as cracking eggs, pouring juice for a sauce or grating cheese on taco night. For my son, Lorenzo, we let him help us "fire ingredients in a pan." If we're having rib eye steak for dinner, he loves to help flip it in the pan or sauté the veggies. Once kids help create a dish, they establish a deeper connection to the food and will most definitely want to try what they've created.
2. Aim a Bit Higher with Flavor!
It's all about simple swaps! Whether it's snack time or mealtime, start introducing more robust flavors into dishes kids already love. Maybe it's sharp cheddar or provolone instead of American cheese on their sandwich or always seasoning their meats and veggies – and it doesn't only have to be salt and pepper. This not only gives their diet some diversity, but also slowly and organically introduces their palates to new and exciting flavors. And remember, just because they might not try it the first time, doesn't mean they never will.
3. Be Honest, Don't Hide It!
It's true - honesty is the best policy! A lot of kids don't like their fruits and veggies, but I believe hiding spinach in brownies or other sweet treats can be deceptive and backfire on you. Instead, be direct and use food to teach kids about new flavors and cuisines. For example, Juicy Juice has 16 100% juice flavor varieties. Make mealtime educational, and ask, "Where do Kiwis come from?" or "What color is Salmon?" Describe not only the taste, but fun facts about fruits and other new foods to curious minds. Remember, as parents and guardians, we must continue exposing them to new foods and flavors. Diverse diets are healthy diets, after all!
4. Be a "Smoothie Operator"
Smoothies are a surefire way to get kids a well-balanced meal, especially for breakfast. Start with a base of ice in the blender—that's what keeps it cold. Next, layer in your liquids, such as whole milk Greek yogurt, which provides the protein to keep kids feeling full. Then, you'll pour in 100% Juicy Juice – that adds flavor and helps everything blend together. The fun part about making smoothies is that you can introduce kids to a ton of new flavors – mix and match or taste test a new one each week. Juicy Juice has 16 different varieties- including kid-favorites like Apple or unique flavor combinations like Orange Tangerine and Passion Dragonfruit. Last up, add some sliced banana for fruit and kale for greens and minerals. Blend, pour and go! Boom, your kid will leave the house totally fortified.
5. Let's Chew and Chat
As a chef, I love food and savor the time I have with my family sitting around the dining room table. But, as a dad I understand mealtime can sometimes be a battle. Stay calm and talk to your child about why he or she might not like what's on the plate. Ask questions to find out more about your child's palate. Maybe it's a texture issue, or the taste is too bitter. Ask your kids to provide a critique of their food when they take a bite. Have them describe the flavor, in great detail, much like a Food Network host does. Maybe they'll say things like, "It's super tender, or a bit salty!" Have fun with it! Who knows, you may have a future Food Network star on your hands!
6. Try, Try Again
Unless allergies are involved, the entire family should try to share the same meal. Kids are very observant. My son, Lorenzo, and I spend a lot of time together in the kitchen, and he constantly asks questions about new ingredients or what I'm preparing. From this curiosity, I've been able to encourage him to try a new flavor or food – even if it's just a taste. However, if a child doesn't respond favorably, don't give up right away. Try again! After all, studies show that it can take kids multiple exposures to a certain food before their palates adjust. Lorenzo used to always give me hard about eating mixed green salad, but now he eats it all the time.
7. The Kitchen is a Classroom
No matter where you are in the world there will be a certain type of food that is native to a specific area, from New York apple orchards to Chicago's deep-dish pizzas. There's not a tastier way to educate kids than through cooking. From fractions to conversions, kids can learn simple and complex math equations all while measuring out ingredients and following a recipe. Make it a theme night! Have your child look at a map and pick a state (or country!), then find a recipe together that might be a native or traditional dish. You can even play music from the region or decorate the dinner table. I'm from a big Italian-American family, so going back to my roots is a special tradition for us. Think of it as an interactive way to get kids to try new flavors.
So, do you feel ready to tackle these tips for picky eaters? These tasty, kid-friendly smoothie recipes might help too! This particular blueberry smoothie is kid approved at my house!
We were not paid for this post.