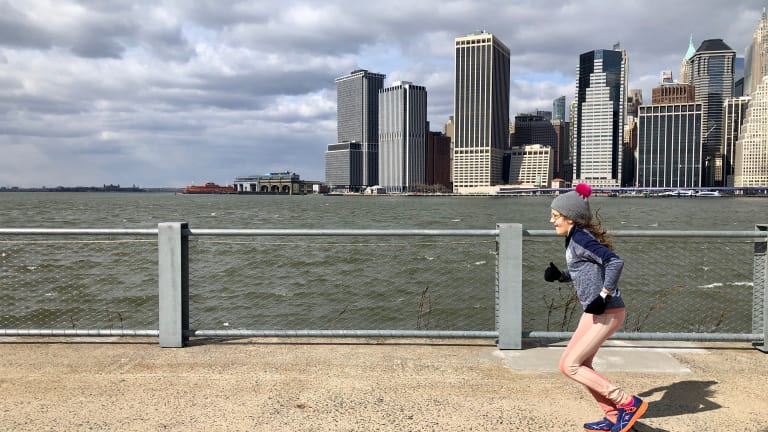 Tips for Getting Girls Into Running
Testing out Pierce Performance footwear on our mother and daughter running workouts
Running is one of my passions and I'm thrilled that my 12 year old daughter has gotten hooked on the sport too. I have three tips for getting girls into running and I'm sharing them in the hopes that you will hit the road with your daughters this spring. 
Three Mom Tested Tips for Getting Girls Into Running 
Get good gear
Use an incentive system
Set attainable goals
Get Good Gear if You Want Good Results
Shoes matter. Sure, some of it is psychological, but some of it is physiological too. There needs to be something between the NYC pavement and my daughter's feet. Since she's still growing, I don't feel compelled to buy her $100 shoes that she's going to outgrow. I'm always on the hunt for well-priced shoes that are well made. 
I'm happy to have been able to test the new state-of-the-art laceless running shoe design from Pierce Footwear. The brand is based out of Bend, Oregon and they make performance footwear for adults and children.
My daughter and I are wearing the BB50 6.0 RUNNING shoes. George Pierce, the Founder, is passionate about supporting young runners. He came up with a patented SpeedLatch system. Parents and kids will love this laceless system. They call it "SpeedLatch" it's a stretchy tab that closes the shoe in a flash. We found them comfortable and supportive and since my daughter never EVER has the "time" to undo her laces, this is a great solution.
How the SpeedLatch Works: Hook the last rung of the SpeedLatch into the clip at the top of the shoe so that the tab is pointing down to the floor. Step into your shoe, and pull the SpeedLatch across and downwards so that a rung falls into place on the clip below your ankle. 
Each pair of Pierce™ Footwear shoes comes with extra SpeedLatches. The black SpeedLatches are the stiffest, and the best option for high intensity training. The colored SpeedLatches are identical in stiffness and can be used for lower impact activities such as walking.
Oh, there's more to love...thanks to Pierce footwear, you can get stable shoes for under $70. Find out more at https://piercefootwear.com/
Use an Incentive System
I'm not going to sugarcoat it  (well, actually I am), there was definitely bribery involved. In the early days, my girls fought and grumbled when I requested they join me for a run. I fought through the resistance with a relentlessly upbeat attitude. When my daughter started running with me, I'd let her pick the music we listened to on the run (sometimes I played it out loud on my phone). There was also the occasional ice cream or sweet involved too.
When they asked me what I wanted for my birthday, Mother's Day or Christmas, I always said the same thing "for you to run with me!" Now on all the major holidays they don't even ask, they just lace up and go.
Set Attainable Goals
When we started out a mile was the goal. I sought out scenic flat runs for the the girls and me. The modest pace ensured that we could chat throughout the run. Keeping the workout social and fun was very important. 
One of my daughters has caught the running bug. She's now my go-to partner and is much, much fast than I am. And she's only 12! She easily runs a sub 7-minute mile. But getting there took 3 years.
At age 9, I found fun runs for my daughter. The one-mile distance was a blast and she got into the race-day excitement. Slowly we built up to running 5k's. That's all the distance I plan to do until she's 13. 
Now she loves collecting race tee shirts and setting PR's for the 5k distance. A "PR" is a personal record. Even shaving a second off a PR is to be celebrated. It's all about getting incrementally stronger. Isn't that a great life lesson!
Momtrends Tip: Each weekend there are THOUSANDS of fun runs to pick from. Put one or two on your family calendar to keep everyone running and motivated (www.active.com/running/5k is a great race finder). 
Other ways to get Girls Into Running
While we started running as a family, my daughter's interest has grown a bit and she's now on a youth track team. For families that can't run with their girls for health or time commitment reasons, school or community teams can be fantastic. 
Many middle schools and high schools have track and cross country teams. My daughter has thoroughly enjoyed bonding with other girls while she works out. 
Girls on the Run is a great national organization that helps girls get started. No experience is necessary and they are always looking for new coaches and new members. Girls can start in 3rd grade and the program runs through 8th grade. Find out more https://www.girlsontherun.org/
If your girls are competitive, find a club using the aausports.org club locator tool.
MORE RUNNING FROM MOMTRENDS
PIN IT!
Use Pinterest to save your favorite parenting articles. Be sure to follow our Running board here.