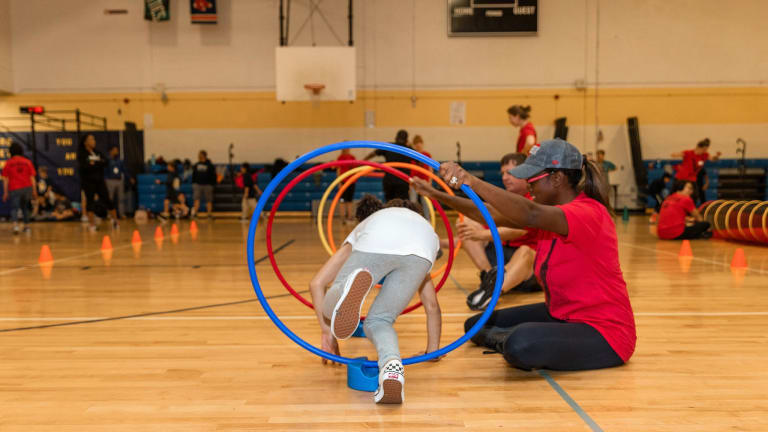 Tips for Family Health & Fitness Day
Five Tips for Getting the Most Out of Family Fitness
With Family Health & Fitness Day approaching (September 27th), we are excited promote the positive impact that exercise can have on multiple aspects of a child's life such as improving memory and test scores. To also spread the word about exercise and wellness, we are sharing some tips from Kathleen Tullie, Founder of BOKS (Build Our Kids' Success), on how to make this year's Family Health & Fitness Day the best it can be.
Related: The benefits of creating a family fitness routine
Five Tips for Getting the Most Out of Family Fitness
Schedule time: In today's busy world, we so often rely on our calendars as a reminder. That being said, adding time to exercise with your kids is a great way to make it happen. However, that exercise doesn't always have to be a trip to the gym or track. On Saturday mornings when the weather is nice, we bike to breakfast. Another idea is to have a daily idea jar, where your child can pick the activity once a day. It could be a family whiffle ball game, or a walk in the park. Exercise is medicine – take your daily dose.
Less screen time: Take your child's favorite video game outdoors by creating an obstacle course with different levels and challenges to keep your child engaged. If you are watching TV, have a commercial break challenge – during commercials dance, do push-ups or sit-ups. We have a white board in the hall that lists activity ideas for commercial breaks. Bring BOKS to your school (BOKSKIDS.org) and we'll provide you with numerous obstacle courses to try with many kids or just your own.
Invite friends to join: Exercise doesn't have to be between just you and your child. Now that all the kids are back from summer camp and family vacations, you could have a monthly neighborhood hike or kickball game. The more the merrier! Even a trip to the local park can create an opportunity to get kids moving with their parents. Frisbee, hide and seek or playing a game of tag. The key is to keep it fun!
Use healthy foods to fuel your child: Exercising with your child can also lead to a talk about making healthy eating choices. Before a hike, my daughter and I will come up with some fun and healthy snacks to bring. Try celery with peanut butter (no sugar added) instead of cookies, or carrots with hummus instead of potato chips. Also when exercising remember to bring water to hydrate!
Start BOKS at your local school: Have a hand in building a healthier generation by bringing the BOKS program to your child's school. BOKS (Build Our Kids' Success) is a free, before-school physical activity program aimed to get kids moving in the morning and their minds ready for a day of learning. BOKS recently announced their new Activation Grant – offering communities $1,000 to start BOKS in their local school. With the Activation Grant ending on October 1, now is the perfect time to apply to help kids benefit from all that BOKS has to offer. In fact, a recent National Institute on Out-of-School Time (NIOST) study conducted on behalf of BOKS validates the stance that exercise, especially before school, can have a positive impact on both classroom performance and behavior. By volunteering to be a BOKS Trainer, you can spend more time with children in the community (including your own) and provide them with the exercise they need to fuel their learning.

MORE FAMILY FITNESS FROM MOMTRENDS
PIN IT!
Use Pinterest to save your favorite parenting articles. Be sure to follow our Running board here.
Momtrends was not paid for this post. 
For even more Momtrends, follow us on Facebook, Twitter, YouTube, Pinterest and Instagram!