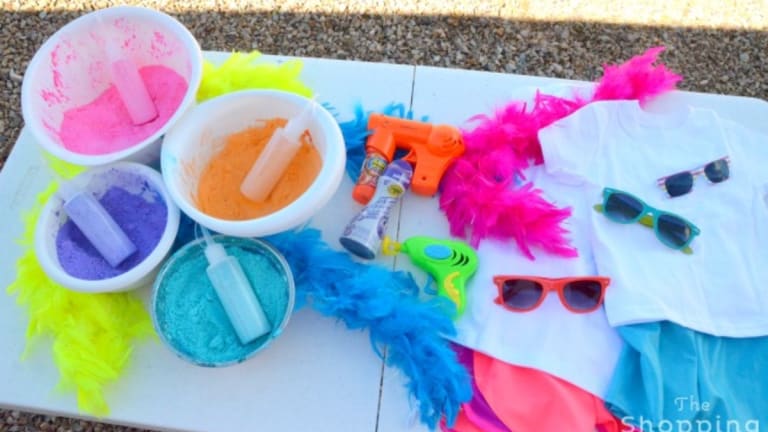 Throw A Holi Color Party with Your Kids Inspired by the Hindu Festival of Color
Celebrate with Kids Around The World: Holi, the Hindu Festival of Color (Throw A Color Party!)
Holi is a Spring festival also known as the Festival of Colors! This year the holiday is celebrated Friday, March 18th, 2022. This year we can all use more fun. We invite you to throw a Holi Color Party with your kids inspired by the Hindu Festival of Color. 
Related: Celebrate Sweden's Midsommar
What is Holi?
Holi is a Hindu festival that celebrates the end of winter (white), the beginning of spring (colorful) and the victory of good over evil. It's a great opportunity to play, laugh, forgive and repair relationships. People all over India get together to throw colored powder on each other in the streets to celebrate.
Holi is only one day a year and is celebrated on the last full moon of the lunar month. The night before Holi is celebrated with bonfires and friends. Holi is celebrated by Hindus mainly in India. 
Throw A Holi Color Party with Your Kids 
Holi is a great time to play with colors with your kids. The streets of India become flooded with people singing, dancing and partying so why not throw your own little backyard color party!
What You'll Need for a A Holi Color Party
I set up a folding table outside in our backyard with our colored powder on it. I bought us all new white t- shirts, colorful sunnies and neon feather boas for fun. I added bubble guns and a pack of colored bubbles too, but they were an afterthought for the kids because they had so much fun with the colored powder.
What kid wouldn't love getting messy and throwing colored powder at each other, and parents!? I know mine loved it.
DIY Holi Color Powder Recipe
We made our own colored powder. I mostly followed this video tutorial. 
1/2 of a 16 oz canister of cornstarch
3/4 cups water 
1/2 tube of neon food coloring. 
Directions: Mix all the above. I let my mixture air dry for 2 days but skipped the baking part. I'm not sure if it affected it any.
Making your own colored powder was a LONG process though. If you don't want to spend the time making it, days drying it, baking it and processing it, or if you are having a bigger party this colored powder I found on Amazon is supposed to be great. (note: this is an Amazon affiliate link)
Holi Party Details
We changed into our white clothes (goodbye Winter!), put on our sunglasses and I let the play begin. Not surprisingly, the kids weren't shy about getting right in there and making a mess with the brightly colored powder (hello Spring!). My toddler was squealing with delight about getting to make a colorful mess!
Originally, I bought small squeeze bottles to put the powder in but after playing with it for a few minutes we realized that the bottles were too much of a hassle and it was more fun to just throw the powder. My kids loved smearing it straight on each others shirts. I got tackled a few times by them.
How they celebrate in India
In India they often use water during Holi. The water makes the color stick to you better, but after having my daughter help mix up the colored powder her hands were stained bright magenta for 2 days. I wasn't willing to be completely stained so I was hesitant to add water to our color party. We did get small misting bottles and misted our shirts so that the color would stick better.
Our shirts ended up colorful but I think they will wash once I throw them in the washing machine. Our skin wasn't stained at all, thanks goodness.
A Colorful Success
My kids loved our color party celebrating Holi! We are lucky we live in Arizona and can enjoy the warmth and sunshine.
If you live where it's colder a color party would be something fun to do with kids during the summer. It doesn't only have to be for Holi.
Books about the Hindu Culture
Check out these fun and colorful picture books for kids that celebrate Holi and India.
Amma, Tell Me About Holi / Ganesha's Sweet Tooth/ Here Comes Holi: The Festival of Colors / Indian Children's Favorite Stories / The Magical Adventures of Krishna / We Throw Color On Each Other
I'm completely inspired now to save money for a trip to India to celebrate Holi there. I bet the atmosphere is awesome! For now though, the kids and I enjoyed learning about Holi and celebrating with a color party in our backyard.
I will definitely keep my color party in mind for the next time we want to throw a summer party for kids!
Happy Holi!
MORE KID-CENTRIC IDEAS FROM MOMTRENDS
PIN IT!
Use Pinterest to save your favorite family travel destinations to help inspire your next trip. Be sure to follow our Travel with Kids board here.
This is not a sponsored post. This post contains some affiliate links.