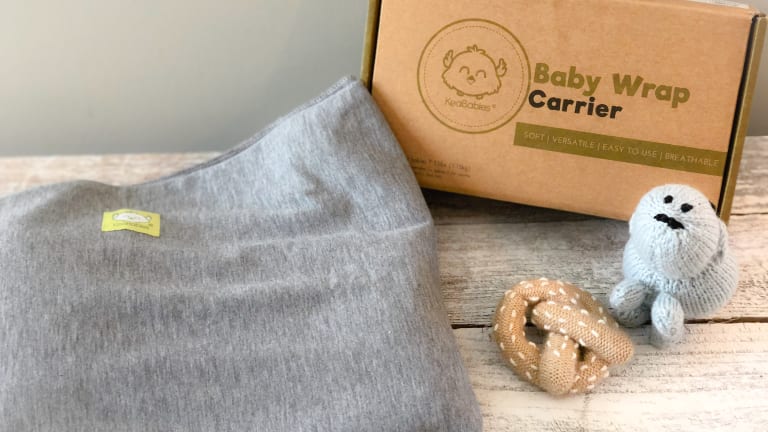 The Ultimate Wrap for Wearing Your Infant (or Toddler) #Keaparent #Keababies
I've been wearing this little one since she was just a few days old. It was the only way I could get her to sleep and the soothe – and the solitary option I had if I wanted to get absolutely anything accomplished.
She is a whole lot bigger, taller, heavier, and, um, more independent (read: sassy) now at almost 22 months, but she still loves being close to her mama and safe in my arms. And, honestly, I adore every snuggly sweet second.
This itty-bitty lady is Baby #3, and so, yes, I'm milking these mommy-and-me moments. And we've had ample time to try out all the wraps and carriers and baby sling options, and our current favorite is the KeaBabies Baby Wrap Carrier.
The Best Baby Wrap Carrier to Try
The market is saturated, and there are lots of baby carrier wrap options for moms and minis. But the KeaBabies Wrap Carrier checks all the must-haves boxes in my book.
First and foremost, it's intuitive to put on and get baby into. This is the most important feature of any baby sling wrap or carrier option. When Baby is fussy and you've got to get going, you don't want to be fumbling with excess material or confusing loop holes. No, you want to get Baby in and move on.
The KeaBabies Wrap is made with a high-quality sturdy, but stretchy material that keeps your little one comfortably secure and cozily snuggled. The ergonomic design gives you ample structure and support so your back and shoulders won't feel strained after toting a wee one all day long.
It is suitable for infants and toddlers, 0 to 36 months -- and up to 35lbs. My nugget tips the scale at just about 20 lbs –and her weight is evenly distributed in our wrap allowing me to carry on about my business, comfortably and happily -- precious cargo on the go.
The KeaBabies wrap is easily washed; mamas know that babies mean spit up and blow outs and milk stains and all sorts of messes. It doesn't lose its elasticity after multiple washes and maintains its size.
What's more, it's a multipurpose product – so you can use it when and how you need it. It can be used as a stretchy wrap, a swaddle, or even a maternity support belt. And the price is approachable. Gear can be expensive. The KeaBabies Wrap is positioned for all budget levels, making it one of the best sling carrier options available.
The benefits of wearing an infant are quite obvious. Those helpless little colicky noodles want to feel like they're back in the warmth and safety of the womb. The KeaBabies wrap gives that to them. If they are unsettled, you can provide the ultimate feeling of protection close to your chest and in your arms – just by wearing them.
Wearing a toddler, on the other hand, may seem a little less intuitive. But even as they begin to move and crawl and eventually run, they want the reassurance that Mama is still there when they need her.
Using the KeaBabies wrap keeps my growing girl close without wearing on my arms. What's more, it's great on errands and enables me to get things done even when we're having a snuggle.
They grow up quickly, these cuties of ours. They'll be waddling away from you soon enough. Enjoy the closeness now.
Check out all the KeaBabies wraps, HERE. Plus, learn the do's and don'ts of baby wearing and using a wrap, HERE.
This is a sponsored post.