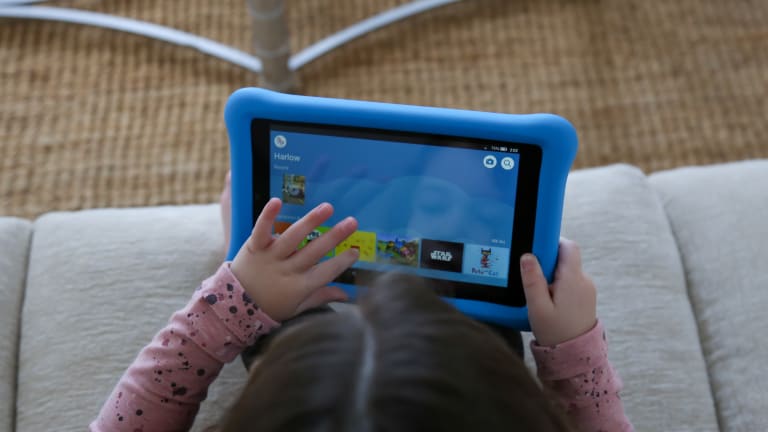 Publish date:
The Perfect Parent-Approved Gift: An Amazon Fire Kids Edition Tablet
*Update: RSVP for the #AmazonKidsandFamily and #MTHoliday Twitter Party (12/6 at 1 PM ET) via the link-up, below*
All I want for Christmas is some peace and quiet. (I know you hear me, mamas.)
I have meals to prep, guest rooms to clean, parties to plan, travel to book... I need a little silence and some semblance of sanity so I can get it all done. I need "free time."
Alas, these crazy kids of mine like to be amused—like, a lot. Don't get me wrong, they have active imaginations and creative souls, but they want perpetual entertainment. And while I could plop them down in front of the television, I prefer to keep their minds actively working and brains happily stimulated with learning fun, immersive books, and interactive games. (But stay off my phone and computer! Mom has work to finish, online shopping orders to complete, and e-bills to pay!)
Luckily, for me and my curious, activity-hungry kiddos, the Amazon Fire Kids Edition tablet offers the best of both worlds this holiday-gifting season: education and entertainment—in one pretty package (wrapping and ribbon, not included). That's why the holidays have come a bit early in our household—a Fire Kids Edition for everyone!
For my fellow parent on the hunt for the perfect kid-gadget and giftie, there are three Fire Kids options to choose from. They cost $99.99, $129.99, and $199.99 and boast 7, 8, and 10-inch screens respectively, with incremental amounts of storage available. Regardless of the price point and features you choose, you can rest assured knowing every Fire Kids Edition tablet comes with a kid-proof case and a two-year worry-free guarantee—because, well, life happens when you've got littles! If your rowdy rascals break it, you send it back and Amazon will replace it—no hassle, no process, and no questions asked.
Best of all, every new tablet comes with a one-year subscription to Amazon FreeTime Unlimited—which means the kids will never run out of things to do! There are over 20,000 age-appropriate books, videos, educational apps, and games to choose from, hand-picked by the FreeTime experts.
Still, despite the arduous kid-friendly curation, I like to know which apps and games my children are using, what content they're consuming, and how long they're "plugged in. As a mom, I feel empowered by the parental controls that encourage learning before play and give me the ability to set educational goals and screen-time limits.
My favorite feature is Bedtime. It gives me the ability to control when FreeTime shuts down for the day and when it can be turned back on the next morning—so my kids can't be on screens at all hours of the night and won't wake up and immediately return to their devices. The awesome Learn First feature enables me to block access to entertainment content until after educational goals have been met. I see it as parameters; my kids look at it as a challenge, and we all think of it as reward for a job well done. (It's a win-win-win in my book.) A separate Parent Dashboard web site gives me intel on my kids' FreeTime consumption, and helps me determine any necessary changes to potential access and controls.
This hectic season, my kids will be more than adequately engaged at home (so mama can fly through her to-do list!) and on the go thanks to our Fire Kids Edition tablet. We can even download FreeTime Unlimited content for viewing offline in the car on those seemingly endless holiday road trips we've got coming up. FreeTime Unlimited will automatically start in Offline Mode when the tablet is disconnected from Wi-Fi, and only previously downloaded content will be available.
With tons of holiday-themed titles, books, videos, and apps available on FreeTime Unlimited, now is the perfect opportunity to give the gift of educational fun and games. The kids will have a blast playing and learning, and you and I both might just get the peace and quiet we crave—our very own version of "free time." That is, until our screen-time limits kick in, of course… Enjoy!
This post is sponsored.