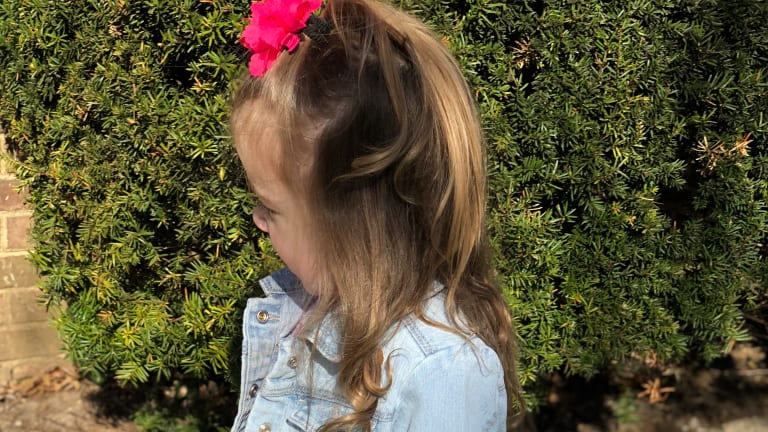 The Must-Have Spring Jacket for Girls
Embroidery and Patches Give the Denim Jacket a Lighter Look for Spring
Yesterday was cloudy in the mid-50s, today will reach a high of 75-degrees. This spring weather is anything but predictable. Cold, sunny, cloudy, rainy, hot, blustery, annnnnd repeat.
Regardless of the weather, Much like their mama, my little ones are ready to shed the layers, ditch the heavy jackets, and wear their favorite tee shirts and shorts. Alas, Mother Nature's mood swings require a bit more coverage should she decide to reel her feisty, indecisize head.
And so, a must-have this season for everyone: a comfortable and practical denim jacket. And I'm totally loving the seasonal twist on this signature staple: bright embroidery and colorful patches! 
My little lady, channeling her inner Madonna in this self-picked hodge-podge ensemble, looks positively adorable (if I do say so myself) in her embellished light-denim jacket. Lipsticks, unicorns, hearts, perfume bottles, and other pretty-in-pink patches complete her ultra girlie and sassy spring look.
We're sharing some favorite mini-sized embellished denim jackets that are ideal for little ladies to wear all spring long... because, who knows what Mother Nature has in store for us next!
1. Cat & Jack AWESOME Denim Jacket, $25 / 2. Tucker + Tate Hooded Denim Jacket, $49 / 3. PEEK Embroidered Denim Jacket, $58 / 4. JOU JOU Floral Embroidered Jacket, $29/ 5. GapKids Emoji Denim Jacket, $ / 6. H&M Pink Patchwork Denim Jacket, $13
This is not a sponsored post. It contains affiliate link. All opinions are our own.