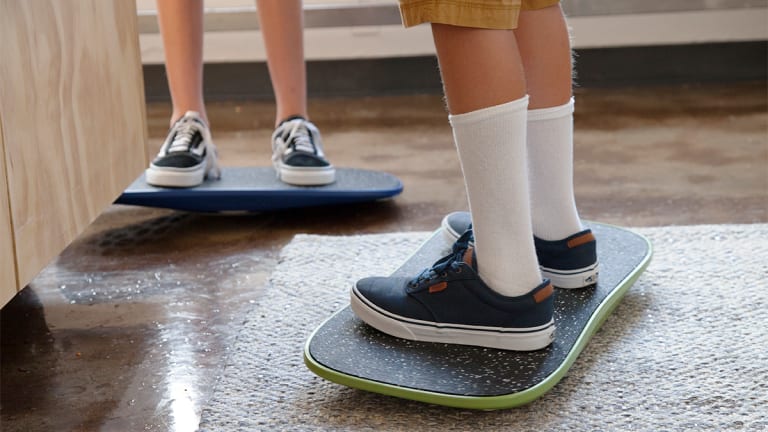 The Grade-Balance Board for Kids
Great balance board for kids to keep kids' actively engaged.
Although most of us are knee deep in shopping, wrapping, baking, decorating and other holiday (madness) merriment, we can't help to think about the New Year right around the corner.  The children asked a lot of questions about New Year's resolutions and we shared our year goals. We all agreed that wellness, family quality time and FUN were the top priorities. Their wishes for presents were ones that involved activity and reflected their goals for the upcoming year. We are gifting the gift of fitness with The Grade.  The Grade is designed to keep kids active.   Not only can they create and execute fun workouts, but they can focus on engaging their core, as well as work all the muscles in their body with one easy to use balance board from The Grade.
 The Grade is for active kids who need to keep moving when they're doing their homework, gaming, reading, eating, and more. Like their decks for grownups, it enables non-distracting motion. And it's a great way for kids to expend extra energy. The Grade reflects FLUIDSTANCE's continued commitment to sustainability. Its materials are composed of post-consumer recycled plastics like milk jugs for the base, as well as recycled rubber tires for the top deck. And, nearly the entire product can be recycled, reducing landfill over time. Good for your kids and for Mother Earth!
Brought to you by the team that invented the FluidStance Level, the Grade's goal is to get kids moving, and these fun balance boards keep kids active during normally sedentary time - when they're gaming, cruising social media, watching tv, reading, eating and more. They're a great way for kids to expend extra energy (which can seem boundless) and avoid long bouts of inactivity, and are a must-have for those particularly wiggly and fidgety kids that have trouble staying still.
My husband is a PE teacher and knows first hand the battle of obesity, how sedentary behaviors often win out over active ones and how the loss of recess and PE time has hurt his students overall academic, social and emotional growth. The Grade fights against that and keep kids active even if they are choosing an activity that isn't sports related or doesn't involve a lot of movement. The Grade is easy to use, is fun for kids and gives them an immediate sense of achievement, motivating them to challenge themselves to "balance" as long as possible.

It's been found that younger people who spend excessive time in sedentary behaviors are more likely to have lower academic achievement, poorer motor skills, and lower quality of life. As we all know, the rise in sedentary behaviors like gaming and social media has led to more inactivity – one study found that kids spend 85% of their awake hours sitting. Yet there's a growing body of research showing that movement helps kids focus more clearly and improve their attention spans. In fact, the World Health Organization (WHO) recommends at least 60 minutes of moderate-to-vigorous physical activity a day for children ages 5-17. Unsurprisingly, the CDC found that 2 out of 3 kids don't meet these recommendations.
The Grade is here to help! It increases heart rate by 17% over sitting, and gets kids up and moving without sacrificing their favorite activities. They just step on the board, and the subtle motion underfoot keeps them balanced and moving, without distracting them from the task at hand.
Kids love it! See video testimonials here.
Available in Alien Green, Galactic Green, Space Blue and Rocket Red, there's a fun color for everyone.  We included The Grade from FLUIDSTANCE in our Tweens and Teens gift guide as we think it is a must-have gift to keep kids healthier, more active, more engaged and more confident. We are giving away TWO FLUIDSTANCE GRADE balance boards (winners will have choice of color). Enter via rafflecopter below.
This is a sponsored post. All opinions are our own.