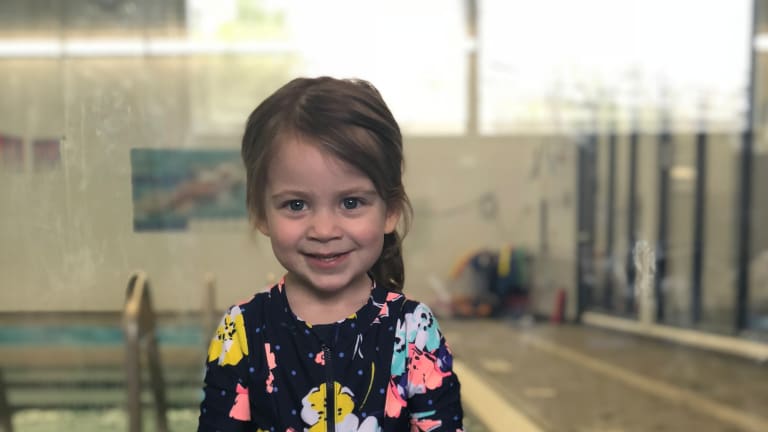 The Cutest (and Most Practical!) Swimsuits for Girls
Totally Adorable With Built-in Sun Protection... Win-Win!
When my little lady was a baby girl, I would go absolutely berserk buying bathing suits and bikinis and all sorts of adorably girlie and totally ridiculous (but pretty!) beach and pool ensembles.
I'd have to slather heaps of sunscreen on her exposed arms and legs and back and tummy, but, hey, she looked super cute!
Now that she's a bit older a whole lot more active, I've traded pretty for practical. No more belly-baring two-pieces or skimpy spaghetti strapped bathing suits for my beauty! Instead, we opt for better sun protection and fewer exposed parts; less frills, but way more fun. And I still think she looks mighty sweet! 
On a recent trip to Florida, I put her in a one-piece suit with a built in SPF rashguard, and I realized how much comfortable she was at the beach! I didn't have to bother chasing her with SPF (well, at least not for her arms and torso), and she didn't get sand ev.er.y.where. She was just able to focus on playing (and playing her great uncle!).
The summer season right around the corner, and, if you're anything like me, you have pool trips, beach visits, and sprinkler-filled days on the calendar. Be ready with bathing suits that are equal parts smart and stylish for little ladies. No sun burns and no hassel... It really is a win win. (And maybe get that one bikini for a photo shoot!)
1.  Cat and Jack Geometric Bathing Suit, $14/ 2. Cat and Jack Striped Bow Bathing Suit, $14 / 3. Carter's Just One You Floral Rash Guard Suit, $16 / 4. Cat and Jack Pineapple Two Piece Bathing Suit, $14 / 5. Star of the Sea Two-Piece, $10 / 6. Old Navy Printed One-Piece Rash Guard, $11 / 7. GapKids Poolside Bathing Suit, $30
This is not a sponsored post. It contains affiliate links.