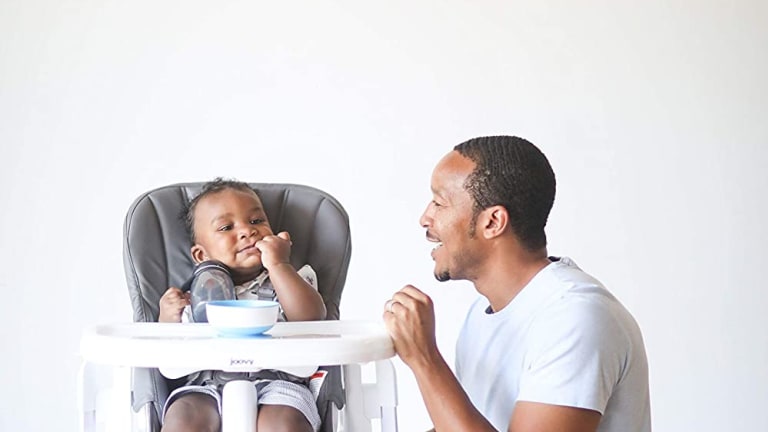 Momtrends' MVPs: The Best High Chairs for Baby 2023
Here are a few of our favorite picks if you're in the market for a new high chair that combines form and function.
A good high chair needs to offer a perfect blend of function and fashion. Here's why: With the exception of perhaps your stroller, the high chair is one of the most visible pieces of baby gear you'll buy. Nobody misses it when they're at your house unless it's stowed in the garage or something.
From roughly 5 months up to 2.5+ years, your child will use the high chair multiple times a day. And unless you have a super small dining area that requires you to fold up and put away the high chair after every single meal, there's a good chance your high chair is going to be out, in your kitchen or dining room, for all the world to see, at for at least 2-3 years. Hence the importance of buying a high chair that looks nice AND offers the features you need. 
So, here are a few of our favorite picks if you're in the market...
There are plenty of plastic behemoths available on the high chair aisle, but a growing number of brands are offering high chair designs meant not to be hidden away in the corner, but to be a statement-making focal point in your dining room. 
Are you ready to find the right high chair for your little one's (evolving) needs? We've rounded up the best of the best high chairs for your viewing pleasure and their dining pleasure. With functionality, aesthetics, and price point top of mind, here are our favorite picks!
Best Traditional Wooden High Chair 
Made to grow with a child from infancy to toddlerhood, from 6 months to 3 years, the Keekaroo Height Right High chair with Infant Insert features a super-soft to the touch seat and the height adjust to a standard counter height of 24.5 inches. And once you're done with the infant insert, the chair can be used for older kids to sit at the dining table and even adults up to 250 pounds!
Other features include an easy to clean solid surface, water and crack/puncture resistance, and a design focused on promoting good posture for your child. Plus, we can't forget the aesthetics. A traditional wooden high chair like this provides a look that is beautiful. It's classic with a modern edge!
Get the Keekaroo Height Right High Chair on Amazon here.
(note:this is an Amazon Affiliate link)
Best Budget-Friendly Chair
Don't want to spend a fortune on a high chair? This Ikea option doesn't offer any bells and whistles, but it is functional, practical, and easy to put together and take apart -- so you can bring it with you on outings. If those restaurant high chairs that different kiddos use over and over again aren't your thing, this is a great solution.
Better yet, for under $20, you can keep one at a grandparent's house or in the trunk of your car!Why not drop one at your sibling's house too, haha?! I mean you want to make it easy for your family to babysit right? You can thank me later.
Get the Ikea Antilop High Chair here.
Best High Chair for Small Spaces
This high chair offers the feeding help you want from a full-size high chair but in a portable size that fits easily on most adult dining chairs. Ok, it's technically a booster seat, but it's still perfect for small spaces when used as a high chair!  
It's made from non-toxic plastic and sustainably sourced beech wood making it perfect for the eco-conscious families too! And my favorite feature is how easy to clean it is. The plastic wipes down easily and for extra messy messes, you can remove the nylon straps and throw them in the washing machine. If you already have a kiddo, you know how gross those straps get!
Get the Lalo The Booster here.
Best Table Hook High Chair
Hooking your high chair right to the table enables interactive mealtimes. You can face baby toward a caregiver for one-on-one feeding or simply just to make them feel like. a part of the family during meal times! You can use a high chair like the Inglesina Fast at home or on the go.
The simple twist-tight couplings enable you to connect to most tables without a scratch. A dining tray that fits on top of your table is available for this high chair too. And the high back seat and padded seat make it extra comfy for baby!
Get the Inglesina Fast Table Chair on Amazon here.
(note:this is an Amazon Affiliate link)
Best Stylish High Chair
The gorgeous 6-in-1 high chair and play chair features a sleek and safety focused design focused on preventing tipping, and three positions that you can use according to what feeding stage your baby is in. 
There is also an easy to clean, a feature always appreciated by us parents, removable tray and legs that allow this high chair to transition with your child as they age. The Children of Design 6 in 1 Deluxe High Chair can be used from 6 months all the way through six years of age. And, yes, it looks beautiful in any room too.
Get the Children of Design 6 in 1 Deluxe High Chair on Amazon here.
(note:this is an Amazon Affiliate link)
Best Innovative High Chair
Want to minimize mealtime mess? It might seem like an impossible task with infants and toddlers, but this high chair can help! Magnets guide the tray into position without having to use two hands or line up cumbersome rails. 
The bowls and plates stay in place on the magnetic tray top to help prevent unwanted spills and assist with self-feeding. The 4moms high chair is designed with easy cleaning in mind – there is no fabric to clean or nooks for food to get stuck in. 
Get the 4Moms Connect High Chair on Amazon here.
(note:this is an Amazon Affiliate link)
Best Versatile High Chair
Yes, many high chairs claim to "grow" with your child, but this multi-use product comes in handy for all sorts of situations. It may look like a normal high school, but it is SO much more than that! You can use it as a high chair, booster, toddler chair, and kitchen helper step stool. 
This 7-in-1 Graco high chair has 7 growing stages, and can even seat two kids at once using the step stool and infant booster. In kitchen step stool mode, your big kid can stand comfortably at counter height. 
Get the Graco Everystep 7-in-1 High Chair on Amazon here.
(note:this is an Amazon Affiliate link)
Best Foldable High Chair
The Joovy Foodoo High Chair is good from birth up to 4 years of age in the deluxe padded leatherette seat that features an adjustable 5-point harness. That's right. It's newborn friendly!
It offers height and recline adjustability with 5 different reclining positions, an adjustable footrest, and easy-to-clean surfaces. For those with tight spaces, the Foodoo folds up efficiently and easily.
Did I mention the one handed tray removal?! I know I'm not the only mom who always has something in at least one hand, bwah!
Get the Joovy Foodoo High Chair on Amazon here.
(note:this is an Amazon Affiliate link)
And that, my friends, concludes our top picks for the best high chairs for baby!
How We Pick Our Winners
Momtrends MVP's is a non-sponsored series. Brands must meet our strict standards to be included. When naming winners we take several factors into account, including expense, convenience, and style.We make our picks annually based on editors' research. In some instances, we may request and receive samples so that we can more thoroughly assess products. Our opinions are our own, and our goal is to help our community of moms make more informed decisions on everything from baby gear to beauty products to vacation destinations and more. We scour the abundant options and painstakingly hand-pick our favorites, so you don't have to. Our hope is that our most valuable players become your most valued purchases.
FOR MORE MOMTRENDS MVP WINNERS, CLICK THE LINKS BELOW:
PIN IT!
Be sure to save your favorite gear for baby on Pinterest. And please follow our Gear for baby and kid board here.