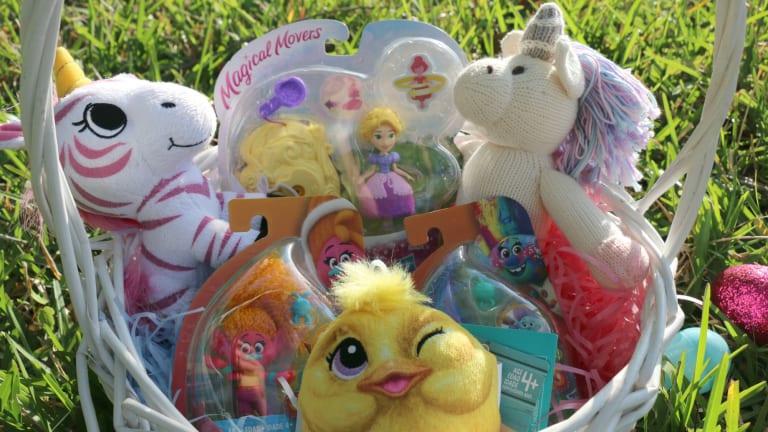 The Best Easter Basket Filler Ideas
Easter filler basket ideas including everything from astronauts to unicorns...
Easter filler basket ideas including everything from astronauts to unicorns...
Who needs some last minute Easter basket filler ideas? Never fear...I'm here to help. I can totally relate to you busy Easter bunnies who haven't quite nailed down your baskets yet. Now, if you're a parent, you've probably found that your kiddo has many aspects to her or his personality...as do we all! While my daughter, for instance, loves princesses and unicorns to the moon and back, she's also very active in the STEM club at school. I saw her dual love for science and fantasy early on and have always tried to encourage her to engage in both STEM based and imaginative play. 
You see, I want my baby girl to have BIG dreams and whether she ends up exploring space or taking on the art world, being a dreamer will have played a big role in what she ends up doing with her life. So, I thought it would be fun if this Easter bunny focused on Easter basket filler ideas and special surprises\ for dreamers this year...
STEM Play ideas for the Easter Basket
American Girl of the Year Luciana Vega...Luciana appeals to all kinds of dreamers. She's both a beautiful doll AND an inspiring story about a future astronaut all at the same time. This creative and talented girl science loving girl is the perfect toy to help foster that STEM learning. Her accessories set even comes with a star chart! I see some night gazing in our future...In fact, I can see her playing Jenga Pass too. It's the kind of game that requires both strategy and dexterity...two things every budding astronaut must practice!
And we can't forget about tech when we're talking STEM. Gaming is bigger than ever. My son can't get enough of Nintendo Switch these days. And we love how versatile it is. He can play it in the car just as easily as he can play it in our playroom! 
He's really taken to hot new characters like the ones that can be found in the recently released Splatoon 2, which is a team-based, colorful ink shooting game where you can splat at home or on-the-go with your Nintendo Switch. And he's just as into old school characters from my gaming days like Sonic the Hedgehog. We snagged one from the Build-A-Bear website a while back and there are still plenty of cool characters available like his buddy Tails and Mario Bear!
Easter Toys for the Basket
Beyblade toys are great for exposing your kids to physics concepts and the new Beyblade Burst Evolution Star Storm Battle Set and SwitchStrike Starter Pack are two hot ticket items right now. When you can make physics cool, you know you've done your job! And with physics comes reaction time. Little ones can hone that skill with a scooter like the Build-A-Scooter from Radio Flyer. You can customize this sweet ride with features like light up wheels, storage, a bell, streamers and more! 
Shop Amazon for STEM Play Ideas with FAST Shipping:
American Girl / Jenga / Beyblade / Nintendo Switch / Radio Flyer
Imaginative Play
I think my baby girl might have played princess in the womb. So, what better way to get her to go to sleep at night than let her play princess in bed with a minky soft princess blanket from Luvsy?! She can literally snuggle up into a gorgeous princess gown. Did I mention it comes in a slew of festive colors? Pick up more than one and she can pick her gown according to her mood. Bwah! and And speaking of princesses, my kiddo's favorite princess these days seems to be Princess Poppy. Trolls Dreamworks Collectibles are just what she needs to enhance all those Trolls themed stories she dreams up! There are a lot of them...Ha!
But as much as she loves Trolls, she'll never give up on her favorite Disney princesses and the Disney Princess Magical Movers will surely result in loads of play. And you know what? She loves superheroes as much as she loves princesses. With Marvel Avengers: Infinity War heading to the theaters soon, I do believe Marvel Angers: Infinity War figures will be joining the princesses for some magical play time! Big brother might even be enticed to join in on magical the fun. Haha!
And it doesn't get much more magical than unicorns and zoonicorns! You can find the super soft Little Market Unicorn from Rose & Rex and head over to the Zoonicorn site for activities and more featuring this fanciful creature. Why not swap out the traditional stuffed bunny and go a different rout with fantasy themed creatures? Or you certainly could stick to chicks and bunnies with Hasbro furReal Cuties or Forest Bunny from Arcade Nashville for instance. You need to spend a bit of time on their site while you're over there. Nostalgia lovers will be all over the mini record player, but I digress, back to the subject at hand... 
Let's face it, who can resist a cute little bunny or chick? Your tiny animal lover would surely be thrilled with any of the cuties above! As they would also be with the Play-Doh Cranky The Octopus Set. There is no end to the creativity that can result from Play-Doh. I'm constantly amazed by what my babies create with it! And Cranky is perfect for the kiddo who's fascinated by the ocean. I certainly have two who are!
Shop Amazon for Imaginative Play Ideas with FAST Shipping:
Luvsy / Trolls / Disney Princess / Marvel Avengers: Infinity War / Zoonicorn / fuReal Cuties / Play-Doh
Non-Traditional Easter Candy
Appeal to your child's empathetic side by giving them Fairtrade candy. I've really been delving into Fairtrade coffee as that's my favorite treat, so it makes sense to introduce Fairtrade candy to my family. Plus, it makes for a great learning moment! In fact, you can turn to Fairtrade America for the latest and greatest in Fairtrade products like GLEE gum, the world's only Fairtrade gum, and Tony's Chocolonely, which aims to eradicate the use of slavery in the cocoa industry. If you're going to treat your kids to candy, you can't beat being able to share the Fairtrade mission of making lives better at the same time!
MORE EASTER IDEAS FROM MOMTRENDS
PIN IT!
Use Pinterest to save your favorite entertaining ideas. Be sure to follow our Easter Pinterest board here.
*And, by the way...Even if you don't pick up any of these STEM and imaginative play focused goodies for Easter, they would make for fabulous spring and summer boredom busters too! 
We were not paid for this post. Some of the items were purchased, some were provided as samples and this post contains affiliate links.