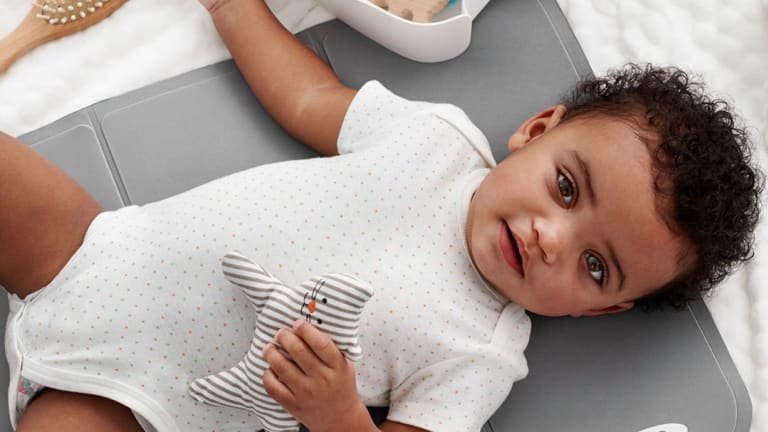 Momtrends MVP'S: The Best Diaper Pails and Accessories
Our diapering must-haves belong in every nursery.
I do believe diapering is the one activity we do the most of when our kiddos are young. For more months than I care to remember, I changed diaper after diaper after diaper. An all inclusive list of the best diaper pails and diaper accessories would have been so very helpful. Luckily for you lovely mamas Momtrends is here to give you just that!
That's right, today's baby gear Momtrends MVP's edition is all about diapering. From diaper pails, to wipe dispensers, diaper caddies and cloth diapers, we have all your diapering needs covered. Because, let's face it, while diapering is a messy business, the right gear and accessories can make things at least a little less messy.
And speaking of messy, let's first talk about diaper pails. A good quality diaper pail is worth its weight in gold in this mama's book. It saves your nursery, and frankly most of your house, depending on where you throw those diapers away, from smelling. Those air tight seals are clutch my friends.!
Why You Need a Diaper Pail
So, now that we're clear on why you need a diaper pail, to save your nose, haha. Which diaper pail is best for you? Well, that depends on a few things. What's your budget? Is design important to you? Or does function reign supreme above all else?
I took all those things into account when selecting my favorite diaper pails for you. One or two of them even check most of those boxes. Hey, when it comes to selecting the container that will house loads of dirty diapers, you shouldn't have to compromise.
And in my humble opinion you can't go wrong with any of these diaper pails. So, get ready for Momtrends' top diaper pails picks…
The Best Multi-Purpose Diaper Pail
If you read my columns when they come out, you know how much I love multi-purpose pieces of gear. A multi-purpose diaper pail definitely lands on my baby gear favorites list!
How about storage times two? Wouldn't it be nice if you could store more than dirty diapers in your diaper pail?
That is exactly why I love the Skip Hop Nursery Style Diaper Pail. You can store all your diapering essentials on top of it. Everything is right there where you need it. As a former sleep deprived mom, I know how important it is to have what I need readily accessible.
Get the Skip Hop Nursery Style Diaper Pail on Amazon here (note this is an Amazon Affiliate link)
The Best Compact Diaper Pail
A secondary diaper bag isn't the worst idea in the world. Maybe your nursery is upstairs. You can keep a mini pail in the downstairs powder room so you don't have to run up and down the stairs all day long.
I love that you get all the benefits of a regular diaper pail in the Dekor Mini AND you get them with a super compact design.
And if you want to keep things in the family for your mail diaper pail, I recommend their Dekor Plus. It's super big opening means you are unlikely to miss it during those middle of the night diaper changes!
Get the Dekor Mini on Amazon here.
(note this is an Amazon Affiliate link)
The Best Travel Diaper Pail
Did you know that travel diaper pails are a thing? I didn't either until I saw Munchkin's version. Where was this when my kids were babies? We loved traveling with our kids and this would have made all those trips so much easier!
A resealable lid keeps odors at bay and the collapsible design makes it perfectly packable.
I can't get over how you can simply extend the Munchkin Disposable Diaper Pail up and fill it with diapers, then toss it when it's full. At under $5.00 you won't feel guilty about getting rid of this pail.
Get the Munchkin Disposable Diaper Pail on Amazon here
(note this is an Amazon Affiliate link)
The Best Diaper Pail for Odor
Most diaper pails require separate bags to hold the diapers inside. If you don't want to deal with that, you can go for an Ubbi Diaper Pail that works with any garbage bag or reusable liner.
So, you can say goodbye to those special bags. It's just one less thing that you have to remember to buy. Us moms have enough to remember, am I right?
But what I Iike most about this pail is that it is made of metal. Odors aren't going to leech into it. So, if keeping those smelly scents at bay is your top priority, this diaper pail is for you!
Get the Ubbi Diaper Pail on Amazon here.
(note this is an Amazon Affiliate link)
Which Diaper Accessories Do You Need?
Now if you're a first time parent, you're probably wondering which diaper accessory do you need? Do you really need a wipe warmer for instance? The answer is probably not.
If you can't bear the thought of your precious wee one getting wiped with a cold cloth, why not? I'm going to put it in the it's nice to have, but you don't necessarily need it category.
There are some diaper accessories, however, that I do consider must-haves, so let's focus on those shall we?
The Best Diaper Caddy
I changed the bulk of my babies' diapers not in the nursery, even when I was home. There was always a reason to not get up and walk to the other room. I know, I know. It sounds a bit ridiculous.
But think how much easier it would be if you had everything you needed to change a diaper right at your fingertips...all the time. That, my friends, is where a diaper caddy comes in very handy.
It's a portable container specifically made to tote around all your diapering needs from room to room. I swear it weighs next to nothing. I love how chic and sleek the Parker Baby Co Diaper Caddy is. It's pretty enough to not stick out like a sore thumb yet is perfectly designed for function. You can even store it in the car!
Get the Parker Baby Co Diaper Caddy on Amazon here.
(note this is an Amazon Affiliate link)
The Best Diaper Clutch
You don't always need your overly packed diaper bag right? Sometimes you're just headed out for a quick trip. But the one thing you do always need to have on hand is a diaper. Haha!
And a diaper clutch gives you an easily accessible spot to store a few diapers, wipes, diaper cream etc. Let's not forget that it includes a portable changing pad as well.
I love the Clevermade Lily Changing Clutch because it's stylish enough to serve as your handbag. Throw in your diapering needs along with your cards, cash and even a lipstick or two!
Get the Clevermade Lily Changing Clutch on Amazon here.
(note this is an Amazon Affiliate link)
The Best Wipes Dispenser
Anyone who has ever pulled out a dry wipe knows how dreadful that can be. And that was a risk that I learned very early on I did not want to take. Enter the wipes dispenser. It may sound as not vital as a wipes warmer, but hear me out.
You can get a wipe dispenser to add to your nursery for under $20. Wouldn't you pay that to ensure that you always have the wet wipes you need to clean up those icky messes?
I love that this OXO PerfectPull Wipes Dispenser ensures that wipes not only stay fresh and moist, but the one-hand dispenser feature is pretty darn handy too. Bonus: it comes in four fun colors.
Get the OXO PerfectPull Wipes Dispenser on Amazon here.
(note this is an Amazon Affiliate link)
The Best Diaper Bag Dispenser
What? Another dispenser? That's right. And this diapering must-have is even less expensive than the last one, but just as vital. No matter where you change a diaper you want a bag to throw it in.
A dispenser that keeps those little plastic bags nice and organized is equally perfect for your diaper bag and your at home diaper caddy.
This Arm & Hammer Change & Toss Diaper Bag Dispenser from Munchkin version is not only a fabulous little diaper accessory, but it contains baking soda to help ward away those odors. I just love its dual home and on the-go uses!
Get the Arm & Hammer Change & Toss Diaper Bag Dispenser and refills on Amazon here.
(note this is an Amazon Affiliate link)
Well, there you have it. Our latest Momtrends MVP'S baby gear list should get you good and prepared for all those dirty diapers that are headed your way. Haha! These best diaper pails and accessories won't steer you wrong.
Stay tuned for our next Baby Gear Momtrends MVPs list…
More Momtrends MVP's Winners 
Follow the Links Below:
Pin It!
Make sure you save your fave baby gear and ideas on Pinterest and follow along with our Gear for baby and kid board!
This is not a sponsored post. Wherever possible, we have used affiliate links. We receive a commission off the sale when you use our links.