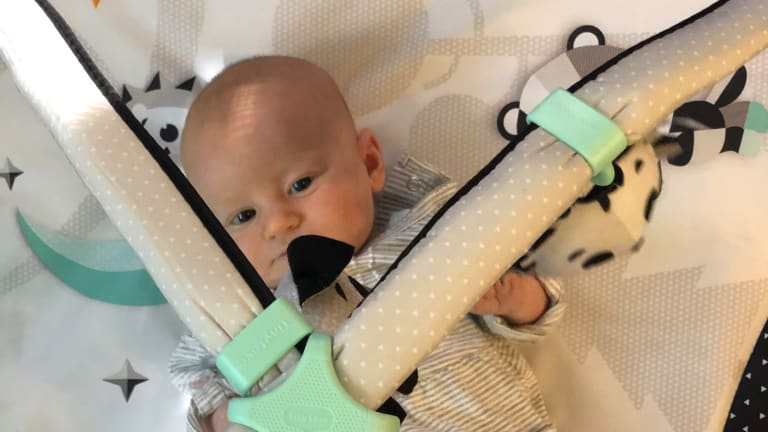 The Best Developmental Toys for Your Tiny Love
Must-Haves for Your Growing, Learning, and Thriving Infant
It can be difficult to figure out how to keep a newborn "entertained." The concept itself sounds slightly absurd; after all, everything should be exciting and new and captivating to an infant. My little one is often totally enraptured staring up at the air conditioning unit on our wall. Girlfriend, has screamed in delight and cried in fury at her BFF, Mr. Mitsubishi Electric.
Despite the innate truth that it doesn't (or shouldn't) take much to delight a young babe, you can still up the ante with a few fun, engaging, and--dare I say--educational toys from Tiny Love.
Suffice to say, our AC wall unit has been replaced with something far more worthy of Baby's happy squeals.
Our new Tiny Love Gymini keeps her entertained for long stretches of time--so she's playing while I Mama can get some stuff done! It's a win-win. 
Better yet, it's helping encourage development and the following foster skills.
STIMULATE BABY'S SENSES: The contrasting black and white design provides the perfect visual stimulation for young babies. Its various textures, sounds and features provide ongoing auditory and tactile stimulation.
COMPLEMENTS STYLISH HOME DESIGNS: The black and white fashion looks great with most home décor and doesn't stand out like a sore thumb in an otherwise chic home.
FEATURES 18 DEVELOPMENTAL ACTIVITIES AND INTERACTIVE TOYS: The many toys to interact with help Baby develop gross and fine motor skills; visual, auditory and tactile senses; language, communication, and cognition.
PROMOTE TUMMY TIME PLAY: You can adjust the arches to create an open mode, which offers the ultimate tummy-time experience, boosting Baby's physical and mental development.
DEVELOP COGNITIVE SKILLS: Interactive play with detachable toys including the responsive musical hedgehog electronic toy, playful plush cloud, wind chime badger and crinkly peek-a-boo tree, helps to develop cognitive skills such as "cause 'n effect" and object permanence.
This is not a sponsored post. A sample was provided.