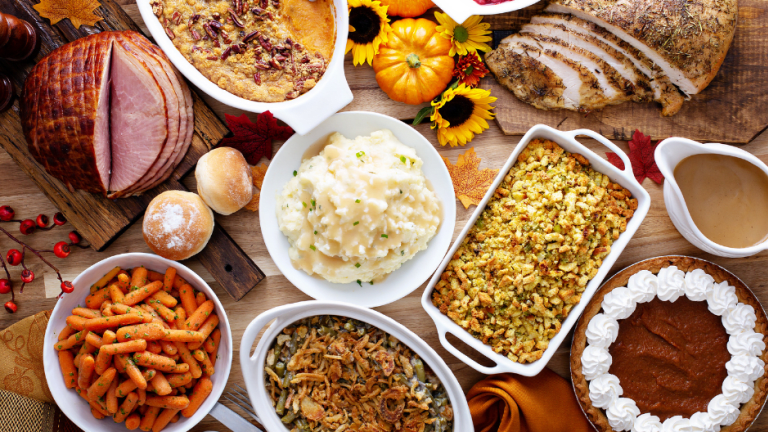 Publish date:
7 Tips to Burn Calories to Make Room for that Thanksgiving Meal
Sneak in your fitness with these ideas to get moving around the Thanksgiving holidays.
Sneak in your fitness with these ideas to get moving around the Thanksgiving holidays.
You don't have to make huge sacrifices to indulge in that Thanksgiving meal while also watching your waistline. The little things add up; and here are seven simple steps from FitWeek that will save you room, that you've earned, for more.
Related: How to de-bloat after Thanksgiving
Seven Ways to Burn Calories
No more mixers! Mash the potatoes by hand and get an incredible arm workout.
Football? Yes! But instead of watching it, take the family outside and actually play it.
Take an extra lap around the grocery store when you're shopping for all the ingredients. It's a fact: Small steps can add up to make a big difference for your health.
Walk it off. Take a brisk walk post-Thanksgiving meal. You'll have to fight the drowsiness that sets in after all that turkey, while also earning the calories you've consumed.
Before you dish up the plates and sit down, stand up and go around the table having everyone say one thing they are thankful for.
Make bread from scratch. It's all about using your body weight to really get that loaf soft and delicious!
Don't sit down to watch the Macy's Day parade, stand up and march along. Better yet, why not go do it in person! Plus, there are parades all around the country to choose from.

The Ten Best Wooden Play Kitchens For Kids
Cooking is a timeless fascination for children. This type of play goes beyond gender and teaches kids loads of life skills along the way. An investment in a play kitchen is money well spent, as it can provide hours of entertainment. We've rounded up the ten best wooden play ...read more
New Victory Announces a New Season of Shows
We know you're busy planning picnics and summer outings, but we wanted to let you know that The New Victory just announced their new season and it looks fantastic. We thought you'd like a sneak peek of what's in store! Each year the New Vic theater brings culture to tourists and ...read more
Fun Ways to Discover Venice Italy with Your Family
Greetings from Italy wear the gelato is rich, the clothes divine and the scenery is inspiring. Now that I've been to this fine city in the north of Italy, twice, I've amassed a list of favorites to share. These are some fun ways to discover Venice, Italy with your family. ...read more
MORE THANKSGIVING INSPIRATION FROM MOMTRENDS
PIN IT!
For more Fall crafting fun, be sure to follow our Fall Thanksgiving & Halloween board here.
Momtrends was not paid for this post.