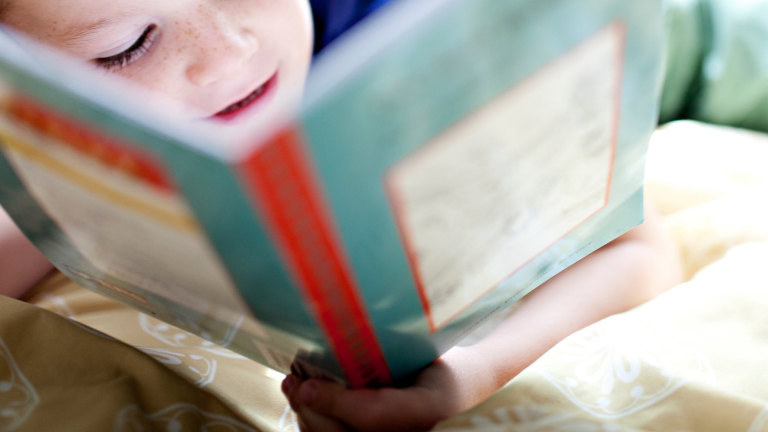 Publish date:
Thanksgiving Books to Read Together
You'll be grateful to read these books all month about giving thanks and family.
You'll be grateful to read these books all month about giving thanks and family.
Gobble gobble. November is here which means Turkey time is right around the corner here. But before you watch the parade, throw around a football, and carve the big bird, curl up on the couch (or set up a designated reading teepee!) with your pumpkin-pie cuties and read one of these festive Thanksgiving books together.
Related: Thanksgiving gratitude free printables
The Night Before Thanksgiving, by Natasha Wing
It was the night before Thanksgiving and all through the house... This rhyming, rollicking holiday storybook takes us through all the festive family fun that happens in the house the night before and day of the big turkey dinner. You'll love reading this out loud on Nov. 22, while "visions of drumsticks" dance through your head.
Balloons Over Broadway, by Caldecott Honor and Melissa Sweet
Gorgeous imagery tells the story of Tony Sarg, puppeteer and mastermind behind the gigantic helium balloons that fly through the sky at the annual Macy's Thanksgiving Day Parade. Since watching the parade is an iconic holiday activity for many families, this book is as meaningful for grownups as it is for kids.

Fun Ways to Discover Venice Italy with Your Family
Greetings from Italy wear the gelato is rich, the clothes divine and the scenery is inspiring. Now that I've been to this fine city in the north of Italy, twice, I've amassed a list of favorites to share. These are some fun ways to discover Venice, Italy with your family. ...read more
Here's What No One Tells You About Olive Oil
produce is at its absolute PEAK right now. It's the time to prepare fresh veggies and fruit with ease and simplicity. When it comes to cooking, the farmer's market is my muse. As I prepare some of my summer harvest favorites, I'm sharing a little secret, what you put ON the ...read more
A Turkey for Thanksgiving, by Eve Bunting and Diane de Groat
When Turkey is the only animal friend that doesn't show up to Mr. and Mrs. Moose's houe for Thanksgiving dinner, they all set out to find him. But Turkey is hiding; he thinks they don't just want him at the table, but that they want him on the table—and in their bellies.
Thanksgiving Rules, by Laurie Friedman and Teresa Murfin
Follow Percy's ten Thanksgiving rules (i.e. "the early bird gets the turkey!"), and you're guaranteed to have a deliciously satisfying holiday. But there's more to TD that good eats, and throughout the book, Percy's rules evolve as he learned the true meaning of this happy, gratitude-filled day.
MORE THANKSGIVING INSPIRATION FROM MOMTRENDS
PIN IT!
For more Fall crafting fun, be sure to follow our Fall Thanksgiving & Halloween board here.
This is not a sponsored post. It may contain affiliate links.