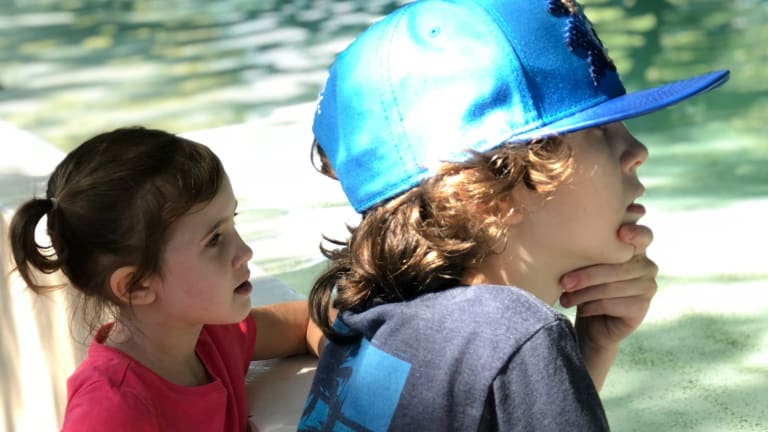 Teaching Your Children About Respect
In our world's current climate, respect is finally starting to get the attention it deserves. Not everyone is exhibiting it, but it's being discussed. And that's a start! As parents, it's important that we keep the conversation going for our children. They deserve to be taught how vital it is that they give their fellow human beings the respect they deserve...So, we connected with Richard Peterson, VP of Education at Kiddie Academy, for some tips on teaching your children about respect...
Now more than ever, people are aware of the importance of teaching children to respect people of various sizes, abilities, ethnicities and ages. When children respect themselves and others, they feel good about who they are.
Often, people use the words 'tolerance' and 'acceptance' when they talk about respect. These are important, but respect means more than just tolerating or accepting a person. Respecting someone means that you value that person for their contributions to society, your community, orthe group. When children learn to value people who are different from themselves, they are better prepared to live peacefully in a diverse world.
Below are a few tips of ways you can teach your children about respect:
Discuss the Definition of Respect
Ask your child what respect means to them, and then share with them what it means to you. Then, share basic examples of respect that your children can relate to, such as acting in a positive way to ones' teacher, friends, and family members, or showing others you care abouttheir well-being and feelings. Be sure to always use simple and age appropriate words, phrases and sentences when discussing this character trait with your child so that they understand.
Ask About a Time They Practiced Respect
Lead with questions such as, "what did you do?", "how did it make you feel?" etc. Conversely, ask about a time when someone may have shown your child a lack of respect, and then ask them how that made them feel. A simple way for your children to practice respect daily is to teach them to pay close attention to how they address other people, especially your friends and teachers. Teach them that they shouldn't use nicknames unless someone has offered them to you as an option, or their preferred choice. Oftentimes nicknames are viewed as offensive to the child or adult. Also, using Mr. or Ms. to address your teachers and other adults shows respect to that person being addressed.
Take Advantage of Teachable Moments
We can model respect in our everyday interactions, so that our children learn to value all people. Start by pointing out positive messages in stories, television programs or advertisements. You can even make it into a game. Take the "I Spy" game, for example:children love to play the "I Spy" game, and now that your child knows the definition of respect and you have shared examples, you can look for instances of respect throughout your day.  Your child may spy someone helping to hold a door for you when your hands are full, or hear someone address you using Mr. or Ms.  Another activity is to go through magazines and books looking for examples of showing respect.
Be Wary of Societal Messages
Messages play an important role in how children learn. Children today are getting multiple messages from media and society. By becoming more aware of the messages our children are faced with each day and by focusing on the positive ones, we can influence the messages that our children are receiving. When we see negative messages or stereotypes, we can use those as teachable moments to discuss what we're seeing.
As always, one of the ways children learn best is by watching you. Be a good role model by showing respect for your children, your spouse and others.
There are many awesome books you can read with your children to help them understand theconcept of respect. Some that Kiddie Academy's Education Department recommends are:
"Owl Moon," by Jane Yolen"The Berenstain Bears Show Some Respect," by Jan and Mike Berenstain"Respect and Take Care of Things," by Cheri J. Meiners"Everyone Matters: A First Look at Respect for Others," by Pat ThomasScholastic Publishing also offers several books about respect, including:
"Lily's Plastic Purse," by Kevin Henkes"David Goes to School," by David Shannon"The Grouchy Ladybug," by Eric Carle"The Jacket," by Andrew Clements
We were not paid for this post.Richard Peterson has over 20 years of experience in early childhood education where he has been involved with the direct and indirect instruction of students. As the Vice President of Education, Peterson provides daily support to the Kiddie Academy education department in theareas of curriculum, assessment, training, accreditation and childcare licensing. Prior to joining Kiddie Academy, he led education and operations for the eastern division of an employer-sponsored child care company and spent more than 20 years in multi-site management ineducational settings. Peterson holds a B.S. in Biology from the University of Maryland. He is also a father of four, and a grandfather of two, both of whom he works with constantly on their education and personal development.