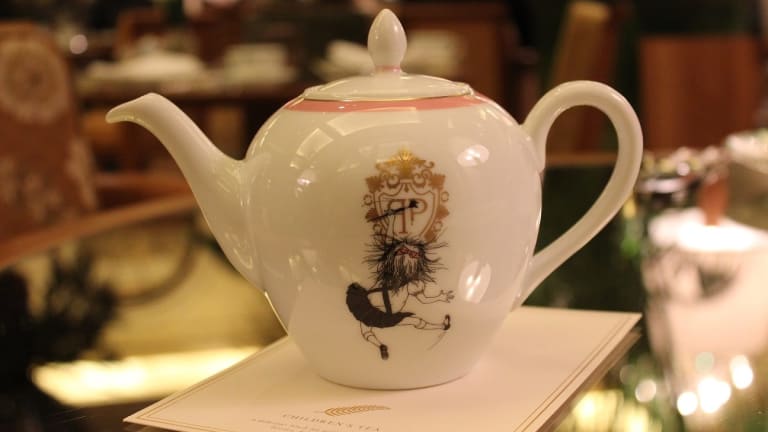 Tea Time with Kids at the Plaza Hotel NYC
Held at the sophisticated Palm Court in the Plaza Hotel this posh afternoon tea is the perfect reason to dress up with your favorite girl.
During Thanksgiving break my older daughter and I had the chance to experience a "rawther" (as Eloise would say) special mommy and daughter date with a fancy Eloise Tea at The Plaza.
Related: Throw a teddy bear tea party
Tea Time with Kids at the Plaza Hotel NYC
Held at the sophisticated Palm Court, we were thrilled to have posh seats as we awaited our special tea. You'll want to dress up a bit for this special occasion and you might consider asking along a grandmother or two. It really is the stuff of memories.
My daughter was so excited that she was at Eloise's houses and really wanted to see her room. When our food arrived, we were delighted to see three stacks of delicious food. The first level was sandwiches and savories with grilled cheese sandwiches, cucumber buttered bread, organic peanut butter and jelly and strawberry and cream cheese sandwiches. The next level was the scones with delicious fresh baked scones that was paired with double Devonshire cream and preserves. Finally, we enjoyed delicious sweets with assorted cookies, cupcakes, chocolate dipped strawberries and pink pink jello.
This experience was made even more special by the professional and genuinely lovely staff who made us feel special. After our special tea, we went to the Eloise Shop at the Todd English Food Court where we entered into a world of pink and fancy. We love spending time here where we looked at clothes, books and another tea room. It was a special moment that we think about often, and can't wait to enjoy again one day.
The tea is served daily between 12p and 4:30p. 
Check out some of these fun tea times for kids:
The Rittenhouse in Philadelphia Teddy Bear Tea at Mary Cassatt Tea Room. Each December, The Rittenhouse will introduce a new experience for its younger guests, Teddy Bear Tea. Soon to become an annual tradition for Philadelphia families, The Rittenhouse invites its youngest patrons and their treasured teddies for a leisurely afternoon tea service featuring sweet and savory petit fours and delicious teddy bear cookies in the recently renovated Mary Cassatt Tea Room. Each child will also receive a complimentary teddy bear to take home. Teddy Bear Tea will be offered every day from Friday, November 29 through Thursday, December 31, and costs $60 for adults and $30 per child. Reservations are required. www.rittenhousehotel.com
Castle Hill Inn in Newport, RI: In December, Castle Hill Inn offers a unique holiday treat for its younger guests. The Fireside Teddy Bear Tea is a  beloved holiday tradition at Castle Hill. Little ones are encouraged to arrive with families and their treasured teddy bear, for a leisurely afternoon of delicious warm tea, petit fours and readings of classic holiday books. Families are also encouraged to bring a new, unwrapped teddy bear in original packaging to donate to Newport Child & Family Services. Teddy Bear Tea will take place on December 7, 14 and 21 and costs $25 per adult. Children are complimentary with a teddy bear donation. www.castlehillinn.com
PLAN YOUR NYC VISIT
PIN IT!
Use Pinterest to save your favorite NYC outings. Be sure to follow our New York City board here.
Momtrends was not paid for this post. We were given a complimentary tea experience.