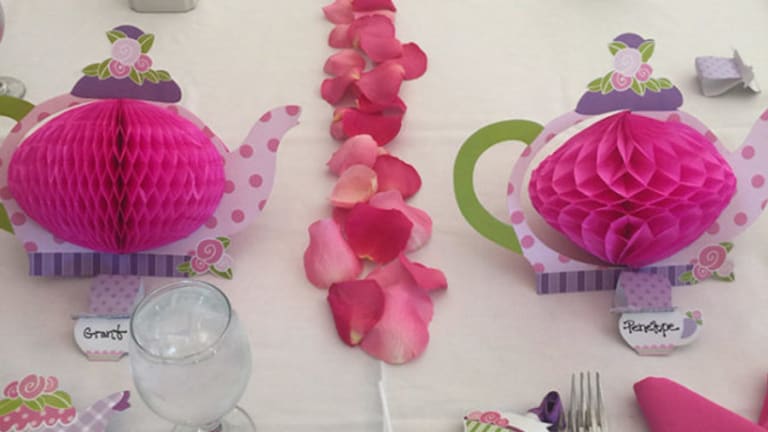 Tea-Party Birthday Celebration
Ideas for throwing the perfect tea party birthday for your toddler that mixes fanciness and fun.
I'm not sure where the time went, but somehow 24 months have gone by and I find myself with a freshly minted two-year-old girl. It may sound like a cliché, but I feel like I blinked and she transformed from a helpless little blob of cuteness into a fiercely independent mischief-making imp. Planning a tea party birthday celebration was a milestone event for us. 
Ideas for a Tea Party Birthday Celebration
She's quite the tomboy that baby girl of mine, and I welcome her carefree personality; sweaty hair; marker-painted legs; and dirt-embedded nails. I love that she wants to run and play and get messy; that she wants to rip bows out of her hair and lift her dresses over her head (at least, I'm fine with it for now).
Where to Get the Best Tea Party Birthday Supplies
Not that she doesn't enjoy getting fancy every once in a while--she just doesn't like taffeta layers impeding her ability to kick a ball or wrestle her big brother (who does?!). As a girlie-girl myself, I enjoy frocks and frills, and that's why I decided to throw my darling doll a TWO-for-tea party birthday brunch. And when I saw the charming tea-party supplies and accessories from Oriental Trading (silly photo props, seating cards, teapot doilies, fans, lollipops, party blowers, and more!), I knew I made the right decision. This was going to be sweet, adorable, and practically effortless!
Five Amazon Tea Party Sets to Consider
Teapot Floral Displays
To add a little elegance to the kitschy-cute table, I got three beautiful teapots at Homegoods and filled them with hot pink roses, and scattered loose petals across the table. (Easy-breezy and totally affordable, I might add!)
Tea Party Props
Photo props are always a hit. Pearls, hats, saucers, and fancy eyeglass frames add kitsch and humor. I couldn't resist the hat and glove set for my birthday girl. (Pinky up, little lady!) (see above for a set you can get on Amazon).
For her birthday ensemble, I went with a hot-pink Old Navy tutu dress with sparkly leggings, glitter light-up sneakers, and this ridiculous Cat & Jack swan pocketbook--the perfect look for a mid-morning tea party! Who's up for a spot of tea and cucumber sandwiches?
Let us know if you decide on this birthday party theme and how you made it your own.
MORE BIRTHDAY PARTIES FROM MOMTRENDS
PIN IT!
Be sure to follow our Kids Birthday Party board on Pinterest for more party inspiration.
This is not a sponsored post. We received samples for review. All opinions are our own.