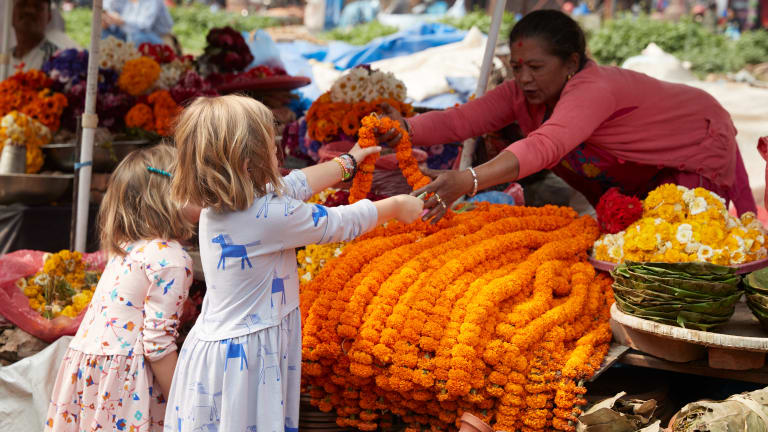 Tea Collection Travel and Gift Guide
Tea Collection is my go-to for unique standout pieces. They keep the kids looking photo-ready, and they feel as cozy and comfortable as can be.
Holiday celebrations abound... I don't know about you, but just about every day in the merry month of December is booked with festive parties and celebratory concerts and holly-jolly seasonal activities. Oh what fun, indeed! 
Enter the Tea Collection $250 Giveaway
I love this time of year, making memories with the little (and big) people I love most. But I do try balance al the go-go-go with some much-needed slow-slow-slow. And so we participate in all the cookie swaps and attend all the play dates and go on all the road trips, but we also try to carve out plenty of down time--to snuggle up on the couch and watch holiday movies or huddle by the fireplace with hot chocolate and Christmas picture books in hand. 
And whether we're going to a relative's house for dinner, heading into the city to see the Nutcracker Suite, or enjoying a quiet night of carols and cocoa at home, my kiddos are always dressed to impress in the festive spirit of the season. Yes, this is the time of year when I dress my minis in their coziest, cutest, and most stylish pieces from Tea Collection.
I've always got my camera at the ready--I never know when I'll be able to capture some spontaneously sweet moments in time: the baby sitting on Santa's lap for the first time, the bigs decorating the tree together, my sillies sneaking candy off the gingerbread house, and the whole family traveling to visiting friends near and far. There's a plethora of opportunities to relish and remember; and Tea Collection is my go-to for unique standout pieces. They keep the kids looking photo-ready, and they feel as cozy and comfortable as can be. Plus, I love that each season has its own story that drives a charitable mission (tis the season, after all).
Tea Collection makes some of my favorite clothes and accessories for kids. Each piece is sustainably sourced and globally-inspired--which means it's all incredibly beautiful and different.
The brand was founded by mom of two, Leigh Rawdon; twice a year, she and her team explore a new region of the world and transform their discoveries into a collection of high-quality, modern clothing for children, making the foreign more familiar. So far, they have explored over 30 destinations--and it's always excited to discover where the  collection will take us next.

The Fall/Winter 2019 collection is inspired by travels to Nepal. Through the exploration of local artists and artisans, landmarks and traditions, the collection is designed with one-of-a-kind prints and graphics that tie back to Asia. This process is unique to Tea and allows the brand to educate children of different parts of the world while giving back to grassroots charities. I so appreciate that this introduces a learning opportunity for my children as well. We can get so swept up in the day-to-day comings and goings (especially at this time of year), that it's nice to pause and remember that there's a greater good and a bigger world out there.
Tea Collection gives back to the communities it travels. The company has donated 10% of profits to the Global Fund for Children and almost $500,000 to date. They have made a special commitment for the Fall/Winter 2019 collection by donating 1,000 uniforms to the Little Sister Fund of Nepal, an organization dedicated to better the lives of young women through education. 
You can feel good shopping Tea Collection this holiday season; you'll be contributing to a larger cause and celebrating the here and now. Enjoy every minute.
Want more from Momtrends?
1. Best Gifts for Tweens & Teens
2. Best Gifts for Grandparents
This is a sponsored post.