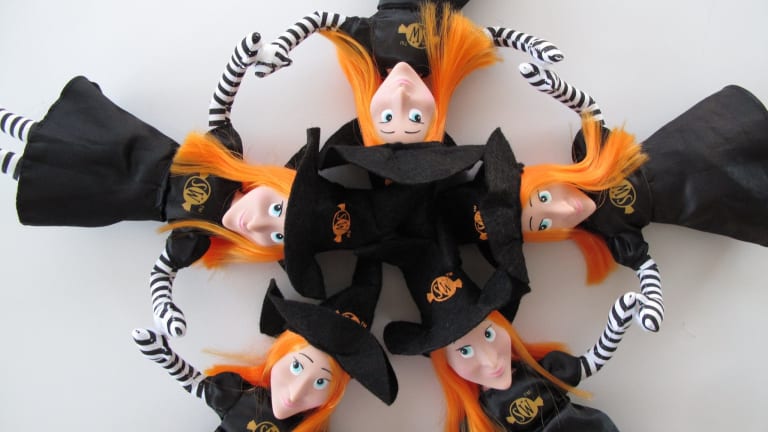 The Switch Witch: A New Halloween Tradition
We have a fun new holiday tradition idea to share with you, the Switch Witch!
Halloween can be tough, especially for parents who are proactive about what their children eat. (With gluten allergies and diabetes on the rise, this time of year can be especially disheartening for little ones)
But even for the parents who don't mind a piece or two, the inevitable mound of candy your kiddo is going to get will be a looming burden that will probably lead to arguments and tears.
What if you could remove all of that?
Introducing The Switch Witch.
Related: Our favorite wine and Halloween candy pairings
Back in 2013, creator and Head Witch Audrey Kinsman was frustrated with the piles of candy that her two sons collected while trick-or-treating. While struggling to find a solution, an idea popped into her head and she ran with it. An inspiration on a cross-country flight lead to the creation of theThe Switch Witch and the Magic of Switchcraft.
How does it work, you may ask?
When you adopt your witch, she is placed in a special spot in your home to monitor the children only. Your child will love finding just the right spot.
On Halloween night, she casts her spell to "Switchcraft" the candy for a special surprise. (How about a book instead of a Snickers? Some other ideas could be jewelry, crafting supplies, gift cards, movie tickets, new clothes, or even that one toy your kiddo won't let up about).
The best part is, the kit comes with an adorable story book that says the witches NEED the candy to heat their homes and make their brooms fly. There's no blame placed on the parents and there's no upset children because they're getting something in return.
Because the witch herself is so adorable, everyone will love having her become part of the Halloween decor. We like her right next to our Harry Potter collection.
Adopt your own Switch Witch here. 
WANT MORE FROM MOMTRENDS?
PIN IT!
Be sure to follow Momtrends on Pinterest and for more spooky inspiration follow our Halloween and Thanksgiving Boards here. 
Momtrends was not paid for this post. We were given samples for review.
For even more Momtrends, follow us on Facebook, Twitter, Pinterest and Instagram