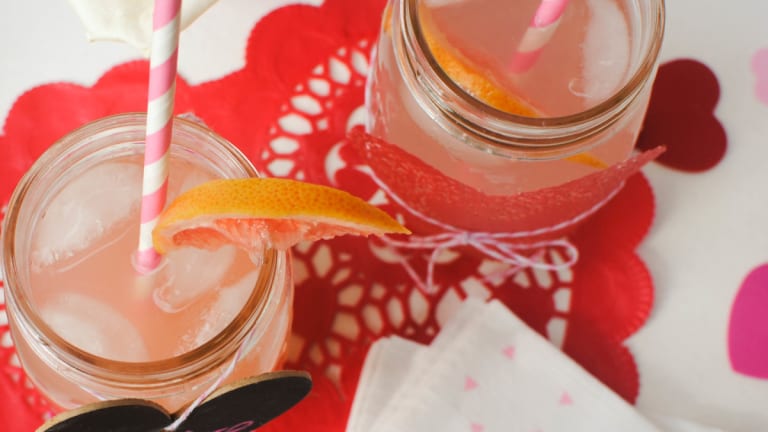 Sweet Ideas for a Valentine's Day Party at Home
Throwing a simple Valentine's Day Party is made simple and delicious with a kids' baking project and a few more festive touches.
Valentine's Day is right around the corner, and we're making it sweet for kids and adults alike! We're celebrating with an easy yet adorable heart-shaped baking craft that kids will love and a pink cocktail for adults sure to make this fun holiday a little sweeter! Throwing a simple Valentine's Day Party is made simple and delicious with a kids' baking kit from FoodStirs and a few more festive touches.
Getting Started with a Valentine's Day Party Craft
First off, start with a DIY invitation. Using easy to find heart doilies and colored construction paper, cut the construction paper into a heart shape and write the party details on the piece of construction paper. Glue the top part of a small doily on top of the construction paper and glue on a smaller heart for a layering effect. Little party guests will love getting their own invitation and lifting the doily flap to read the party details! (for more party ideas, check out our Family Valentine's post)
Valentine's Day Party Baking at Home
Since Valentine's Day is known for being sweet, baking is the perfect kids craft to do to keep everyone occupied and happy! FoodStirs baking kits are perfect for busy moms who want to bake with their kids but want the convenience of having the ingredients, craft supplies and instructions all in one box! The Valentine's Day Heart Tarts are simple to make and delicious to eat!
Kids love helping in the kitchen, and the FoodStirs Heart Tart kit gives them an opportunity to measure out ingredients and make and roll out their own dough.
After the dough is rolled out flat, have the kids cut out heart shapes with the included heart-shaped cookie cutter.
Press the popsicle sticks into the dough and fill with jelly. Foodstirs provides a healthy recipe for Raspberry Chia Seeds jelly or you can use your favorite store bought jelly. If you're looking for more of a savory treat, you can fill the heart tarts with turkey and cheese slices.
Close up the heart tarts and crimp sides with a fork to seal. Bake according to instructions, about 22 minutes or until golden. Tie the sticks with a festive ribbon for an added creative touch!
Enjoy the tarts or give as Valentines with the "To and From" tags and cellophane bags included in the Foodstirs kit. Your kids classmates will love receiving these heart tarts as their Valentines!
Grapefruits Valentine Drinks
Another perfect treat for a Valentine's Day party are Sweet Scarlett's Grapefruits! Set up a grapefruit drink display using a bar cart or small table. Decorate the drink station with a heart banner, doilies and heart-shaped confetti all found at craft stores.
Serve the grapefruit juice on its own for a delicious tart treat that's chock full of Vitamin C or create an adult cocktail using three parts freshly squeezed Sweet Scarlett's grapefruit and one part vodka. Garnish with a grapefruit slice. To dress up your drink, serve in mason jars and adorn with a chalkboard heart tag or a doily tied with twine.
Use adorable pink striped straws from Susty Party and serve with Susty Party cocktail napkins. Susty Party focuses on fully compostable disposable tableware and their cute designs show you don't have to sacrifice style to be eco-friendly.
Susty Party's pink plates are perfect for displaying Foodstirs heart tarts.
From baking crafts to delicious drinks, a Valentine's Day Party is sure to please both kids and busy moms! Make your Valentine's Day a little sweeter and host a party everyone will love!
For more party tips and tricks, head over to Jackie Fogartie Events' blog!
MORE WAYS TO MAKE IT A HAPPY VALENTINE'S DAY!
PIN IT!
Be sure to follow our Valentines board and pin your favorite ideas.