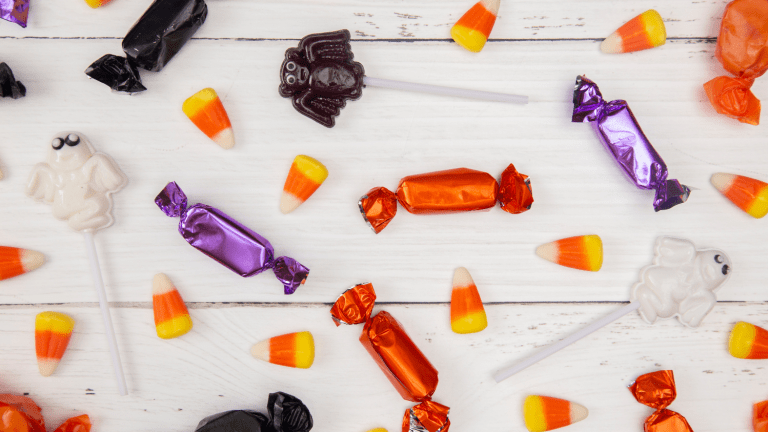 October kicks off my favorite season... Nope, I'm not talking about fall. Although, like most 30-something-year old women I know, I do love me some foliage and the occasional pumpkin spice latté.
Nevertheless, I'm referring to "holiday pajama season." Yep, in my book, it's a legit three-month period. It commences with Halloween PJs and culminates in Xmas jammies in December (okay, early January). And, yes, there is at least one Thanksgiving pair in between.
But, first, Halloween! My three-year-old is super excited about Oct. 31st. He's now old enough to want to dress up like his favorite character—if only he'd stop changing his mind, and he asks me to read him "spooky" stories. (BTW, Creepy Carrots if our current fave.) Maybe this year, he'll even appreciate the "boo-riffic breakfast" I make him on Halloween morning—more on that below!
Of course, my 10-month-old baby girl is too young to appreciate the costumes and candy, but she sure does look sweet in her skeleton pajamas. (I promise she's actually got lots of yummy rolls under those bones!)
Holiday pajamas just make everything more festive; and a pair of spooktacular PJs adds a frightfully fun flair to Halloween morning... or, in our case, Halloween month! So I've rounded up a few super-cute and mildly scary jammies for your browsing convenience, Mummies. Happy Halloween shopping!
(Oh, and sleep tight... Don't let the boo bats bite!)

Save Money at a Ski Swap
Are the slopes in your future? If you want o save money on ski gear, consider a ski swap.  Connecticut  Ski Sundown SKI SWAP 2021. The Sundown Ski Patrol Ski Swap is one of New England's largest and longest-running swaps. Held in the Ski Sundown base lodge, you'll find a large ...read more
The Ten Best Wooden Play Kitchens For Kids
Cooking is a timeless fascination for children. This type of play goes beyond gender and teaches kids loads of life skills along the way. An investment in a play kitchen is money well spent, as it can provide hours of entertainment. We've rounded up the ten best wooden play ...read more
New Victory Announces a New Season of Shows
We know you're busy planning picnics and summer outings, but we wanted to let you know that The New Victory just announced their new season and it looks fantastic. We thought you'd like a sneak peek of what's in store! Each year the New Vic theater brings culture to tourists and ...read more
1. Skeleton Sleep Set, $8/ 2. Organic-Cotton Super Kid Set, $46/ 3. Sloth Pajamas, $27 4. Halloween Onesie $19.99 5. Glow in the Dark Dinosaur Sets, $15.99
And this is the breakfast I was referring to... A pic of your little one eating this in his H-ween jammies. Let me just tell you: it's an Instagram-worthy moment!
(Eggo-waffle mummy with whipped cream and blueberry eyeballs/ Banana ghosts with with mini chocolate chip eyeballs/ Yogurt-dipped strawberry ghosts with mini chocolate chip eyeballs.)
WANT MORE FROM MOMTRENDS?
PIN IT!
Be sure to follow Momtrends on Pinterest and for more spooky inspiration follow our Halloween and Thanksgiving Boards here. 
This is not a sponsored post. It may contain affiliate links. All opinions are our own.