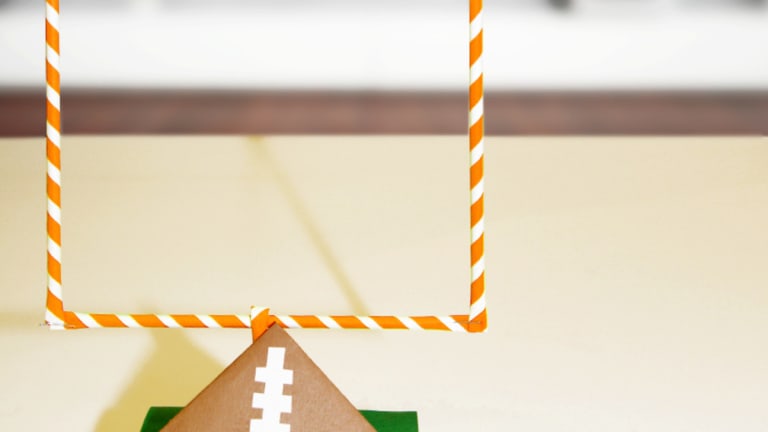 Super Bowl Craft and Activity
Keep the Kiddos Entertained During the Big Game with this easy Super Bowl paper craft
I'm not a big football fan, but I am a major Super Bowl supporter... I mean, good food, great drinks, and lots of friends to share the fun with. What's not to love? I'm all in!
Game Day Plans with Little Kids
I have to admit, I don't necessarily watch the game, but I try to at least follow the score and see the commercials! This year, I plan on making lots of delish appetizers, dips, and finger foods for the family, but I also like to find some more activities to keep the kiddos entertained (at five and three, the actual game only holds their attention for about five seconds.) Between football snacks and this craft, we should be all set.
That's where this awesome football craft comes into play. It's a great way to get the kids in on the action. And best of all, once it's made, you can put it on opposite ends of a small table and play a couple games of finger football!
Super Bowl Craft Instructions
Step 1: First things first, you'll need to gather all of your materials. You'll need: tape, straws, staples, construction paper and an Juicy Juice juice box.
Step 2: Attach the straws together with the staples to form a goal post. Fold the brown construction paper into a triangle to create a football. Wrap the empty  juice box in green construction paper.
Step 3: Cut a small slit into the juice box. Insert the straw goal post into the juice box so that is stands up straight.
That's it's! It's super cute and you can fold up little paper footballs to flick through the goal posts. A fun way to keep the kids entertained if they are too little to care about football.
MORE SUPER BOWL IDEAS FROM MOMTRENDS
PIN IT!
Save your favorite recipes and ideas from our The Big Game pinterest board here.
This is not a sponsored post.