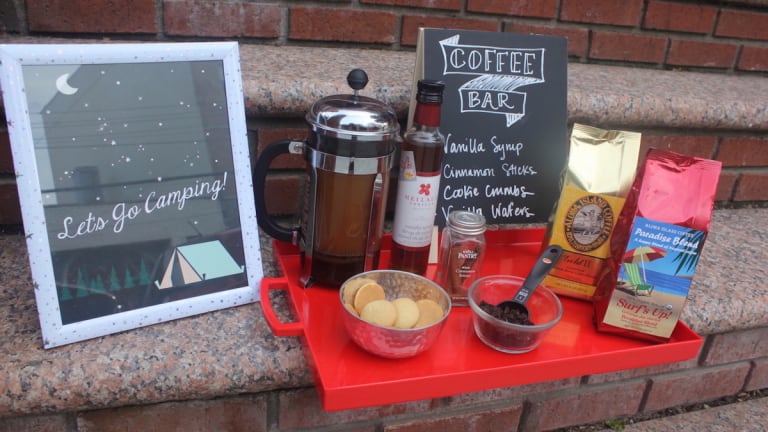 Summer Camp Out Party
With the season in full swing, and an abundance of parties and gatherings, what better way to celebrate the great outdoors than with a camping-themed party?
Happy Summer, campers! With the season in full swing, and an abundance of parties and gatherings, what better way to celebrate the great outdoors than with a camping-themed party? Check out our latest party in the It's a Party series, featuring a unique coffee bar with delicious, aromatic Hawaiian grown coffee, from Aloha Island Coffee. Nervous about bugs when hosting an outdoor party? Don't worry we've got a party secret...Buglet -- a stylish, fun slap on wrist bracelet that keeps the bugs away in a safe and natural way.
Summer Camp Out Party Ideas
First, let's talk about this incredible tent. This is the Coleman Tenaya Lake 6P Fast Pitch Cabin with Cabinets. It advertises that you can set it up in under 8 minutes. I think I was able to get it up in 6. The color coded poles make it incredibly easy to put together. I set up a snack table inside the tent because it keeps bugs at bay and provides a fun, whimsical way to invite guests into the tent and hang out. Little ones will love to roam around inside. And don't worry--there's plenty of room for adults to stand and mingle comfortably if they need respite from the elements.
We added adorable prints from Lucy Darling all around our party scene and a colorful banner hung in front of the tent's door.
Keep the menu simple with classic camp snacks like peanut butter squeezers, nuts, and marshmallows. We used mason jars as candles using the Transform Mason accessories from Ball. Just pop on a lid and you've got yourself a tea light. (We put marshmallows inside the jar for a fun touch).
Easier Way to Toast S'mores 
You can get a cool s'mores making kit that works indoors from Terraflame. We love this mini kit found on Amazon here. (note: this is an Amazon Affiliate link).
Summer Camp Out Party Coffee Fuel
Something easy and much appreciated for the grownups is a coffee bar. By brewing a few types of Aloha Island Coffee (I love the Paradise and Volcano blends) and providing add-in options like Heilala Vanilla Syrup (the most delicious vanilla syrup I've ever tasted), cookie bits, and cinnamon sticks, there won't be any lulls in your party. 
These coffees come straight from Hawaii---the only state in the U.S. to grow coffee. Because of where it is picked in the Kona District (where the climate is beyond perfect), the beans create naturally smooth and low acidic blends. I'm a coffee purist and love that I can taste the bright and crisp flavors. Here's one delicious recipe that's sure to be a crowd pleaser.
Iced Coffee in the French Press Recipe

1/3 scoop of Aloha Island Luxurious Estate Kona Blend coffee
A dash of Heilala Vanilla Syrup
A dash of Thai Five Spice
Iced Coffee Cubes
One chocolate sandwich cookie to garnish
Adult Lemonade using Maille Cornichons Recipe:
1/2 Gallon of Simply Raspberry Lemonade
2 cups of Vodka
10 ounces of fresh ginger
A blend of Sea Salt, Pepper, and Old Bay for the rim
A splash of Maille juice and Cornichons for garnish
Want to give the kiddos the illusion of a campfire? A quick craft using cardstock and tape will give them an area to pretend they're roasting marshmallows. (No promises they will pretend to eat them, though.) 
A great party favor to give to guests as they arrive is a Buglet bracelet and a bottle of repellent oil. Great for the adults and the kids, it's all very simple and you won't fight with your little ones throughout the party to apply bug spray. Just drop oil on the ceramic disc, slap the bracelet onto your wrist, and let them play without mosquitos ruining the fun. I felt great pairing my Buglet with this colorful shoelace bracelet from Rastaclat.
Check out our video to get the entire It's a Party: Summer Camp Out Party experience!
MORE TRAVEL IDEAS FROM MOMTRENDS
PIN IT!
Use pinterest to save your favorite family travel destinations to help inspire your next trip. Be sure to follow our Travel with Kids board here.