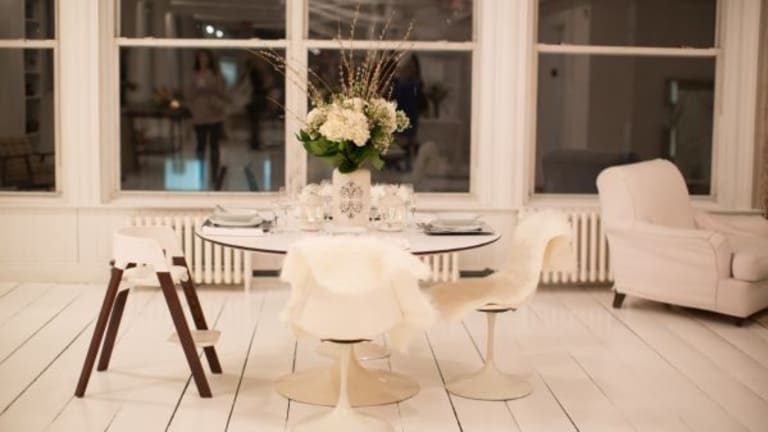 Publish date:
Stokke Steps Launch Party with Momtrends
Stokke Steps is an all-in-one seating system that is designed to be used from birth all the way up until your child is 10-12 years old
There are many tools and gadgets out there that are designed to make parents' lives easier. But there is nothing better than STOKKE, a company that makes multifunctional and efficient baby items, but also one that makes high-quality and highly engineered products that last. Such is the case with the Tripp Trapp, an innovative highchair that changed the baby gear category back in 1972. 
Introducing Stokke Steps
A few days ago, Stokke revolutionized the space again with the launch of Stokke Steps, an all-in-one seating system that is designed to be used from birth all the way up until your child is 10-12 years old! To celebrate the launch of this new chair, Momtrends held the kick-off party in NYC. With the weather snowy and cold, we still had an incredible turn-out of bloggers and writers checking out this gorgeous new seat that starts as a bouncer and converts to a chair that can hold up to 188 pounds! 
Seating That Grows with Your Family
Starting as the Stokke® Steps Bouncer, a seat that you can use from birth until about 6 months old (or 20 pounds) that features a soft cradling motion. This also includes a deep seat and a super comfy newborn insert that works to help your child develop core strength. Your child can then go on to use the Stokke Steps Chair, a high chair with four legs and an adjustable foot rest. The beauty of this chair is that the Stokke Steps Bouncer easily clips onto the Stokke Steps Chair converting into the Stokke Steps (bouncer and highchair combination) so that your baby can sit with you at your dinner table. 
This amazing design allows your baby to start (from birth) to be right there with the family and not close to the floor in their bouncer or in a playpen while you eat. We think this is a game-changer in the baby category as you can effortless integrate your baby to the table with ease. 
Launch Party with Momtrends
During the event, Momtrends showcased how the Stokke Steps can be beautifully integrated in your home by showing it in a playroom, at the dinner table and a casual table. The design speaks for itself with its gorgeous beechwood and walnut finishes. They also have 4 color options for the bouncer including blue, greiger, orange and red in a water-repellent fabric from polyester & cotton. 
 As with all of our events, there were tons of giveaways - including a $1,000 bundle of Stokke products that was awarded to Maria of The New York Mom as well as giveaways with the Stokke Steps and Stokke Xplory stroller. 
We also loved hearing from so many bloggers who loved this unique change that would truly change how they can integrate their baby in the home right from birth. As innovators in the baby gear category, Stokke once again showcased how design, meticulous details and understanding parents' needs truly offers products that can make our lives easier while looking beautiful.
MORE BABY SCOOP FROM MOMTRENDS
PIN IT
Need more ideas on what to do with the kids? Be sure to follow our Baby Things to Love board on Pinterest here.