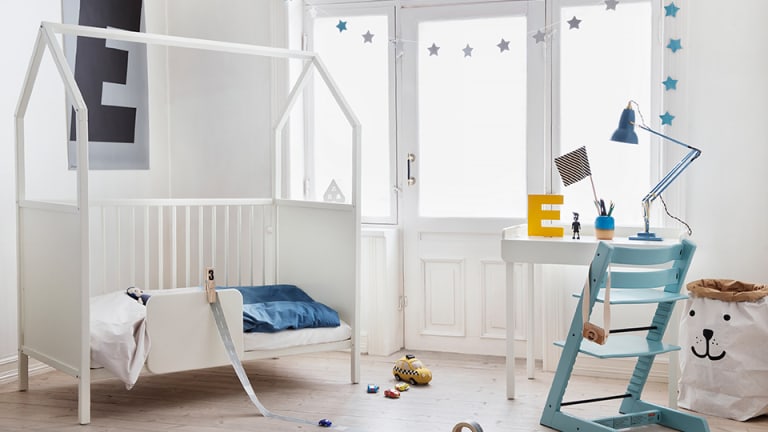 Stokke Home: Little Nursery with Big Possibilities
This Stokke modular system grows with your child and allows you to pick and chose the pieces that you need, when you need them in the nursery.
I'm not telling you anything new when I tell you nursery design is a BIG DEAL. Sweating the details over baby's new room is a major pastime for expecting parents. Stokke, a design staple in our home, recently launched Stokke Home. The idea is to create furniture designed to grow with baby from birth to five years. The modular system grows with your child and allows you to pick and chose the pieces that you need, when you need them.
Related: JPMA announces years most innovative baby product
Creating Furniture to Last
They started with a global icon symbolizing "Home" - the shape of a house. Robert Myrene, the designer, explains the concept:
The concept was developed further into a functional, sleek line of nursery furniture made with premium quality and craftsmanship. The house shape is emphasized in the centerpiece of the collection; the Crib. We wanted the products to grow with your child, while transcending any trend and any period of time.
Stokke Home Nursery
The nursery collection includes streamlined, basic pieces with a modern aesthetic that work together to build the perfect nursery. Available in two color ways, white and hazy gray, the pieces will fit into every home.
Stokke Home Cradle: Sooth your baby to sleep with a soft swaying motion. The soft, light textiles of the cradle give your baby plenty of airflow and a cozy environment to rest, sleep and dream. At nighttime, keep your baby close by your bed – the cradle's small footprint allows you to fit it into any sized bedroom. The cradle's light weight makes it ideal for daybed usage – just move it from one room to another to keep your baby close.
Stokke Home Crib: A crib, a changing station and a playhouse in one. The Crib is the heart of the Stokke® Home™ nursery. Together with Cradle, Changer and Dresser, it offers countless possibilities for designing the perfect room for your newborn. A home within a home – especially for your baby. The clean lines of the Crib, together with its distinct house shape turn this Crib into the centerpiece of the nursery. We offer a range of textiles designed to create a protective and calm ambience for your baby, or a playhouse for your child. Not only is the concept ideal for your newborn as well as your growing child but it is also flexible enough to be customized no matter the size of your nursery.
Stokke Home Dresser: Storage space for their little clothes, toys and treasures. The Dresser is the perfect height for changing your baby when the Changer is attached. The spacious, soft closing drawers offer plenty of room and give easy access without letting your baby out of sight. Depending on how you arrange your room, the Dresser with Changer allows for both sideways and parent facing changing positions.
Stokke Home Changer: The flexible Changer attaches to the dresser, the bed and the cradle stand. The changer is a versatile component that can be used on top of the Dresser, Bed or Cradle stand, and attaches safely to all components. Protective sides and a padded mattress offer a safe and comfortable place to change your baby. The height of the Changer encourages eye-contact and you can choose both a sideway or parent facing position depending on the base unit and room setting. The included storage box keeps essentials close at hand and can be attached to any side of the Changer. When your child is older, the Changer transforms into a play table by simply turning the Changer upside-down and placing it onto the cradle stand.
Stokke Home Crib Guard: This Crib Guard provides extra support for the little one when the side panel of the Crib is removed. With solid wooden material and a robust steel bracket, this will live with the product for years. When placing the Crib Guard to one of the sides, you can sit comfortable next to your child cozy for Crib time rituals.
Stokke Home Crib Roof: A soft, light canopy that shades your baby – creating a protective and peaceful place for your newborn to sleep. As your child grows the textiles encourage creative play by creating a roof on their little house.
Stokke Home Crib Tent: The playful Tent textile creates a special place for your little one. A cozy hideaway to escape into their own private world, to read, play and imagine. With rounded windows for a view and roomy pockets to store favorite toys and special treasures – it is as functional as it is fancy. The neutral beige and white stripe pattern is versatile enough to compliment a myriad of nursery styles.
As you transition to the child's room or playroom, the Stokke Tripp Trapp chair is the perfect accessory.
What do you think? Will this concept take off? No matter what you decide, I hope you experience joy from planning your nursery.
MORE BABY SCOOP FROM MOMTRENDS
PIN IT
Need more ideas on what to do with the kids? Be sure to follow our Baby Things to Love board on Pinterest here.