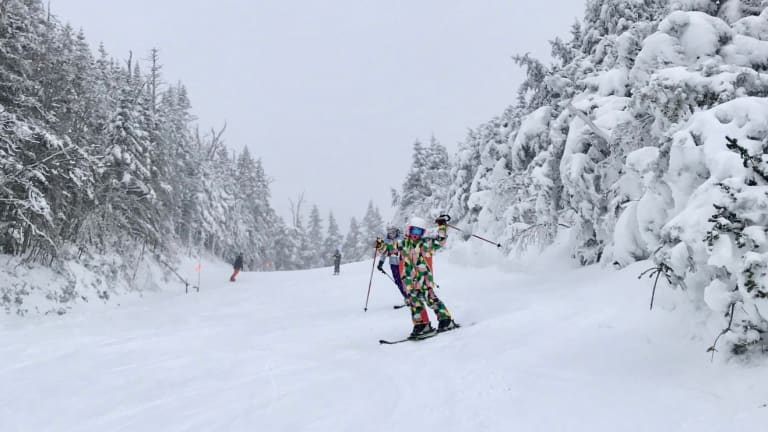 Publish date:
Stella McCartney Kids Snow Fashion
Cool Ski Clothes Ready for the Mountain
I have always loved Stella McCartney's kids fashions. The designer has a way to combine playfulness with fashion in a way I just adore. And it turns out, she's a ski mom! Stella has been designing ski capsules for a few years, and this year we got to sample Stella McCartney kids snow fashion.
We took this outfit to Sugarbush Resort to give it the snow test. It was a super cold day with fresh snow coming down. Pretty idyllic, IF you have the right gear on.
When it comes to ski clothing, function comes first. If the kiddos are warm and dry, then they will stay out a lot longer and have a lot more fun. Let's talk about how these clothes work.
Stella McCartney kids snow fashion
According to my daughter, the Stella McCartney kids snow jacket is warm and cozy. It kept the wind and snow out all day. We skied from 9am until 4pm. It was an epic day with some fresh powder to play in. 
It's great that it's well-made, it's even better that she wanted to wear it. Bribing kids to get dressed in ski gear is a pain in the neck. Thankfully she loved the print. Why blend in when you can stand out! The Rocket ski jacket is a bright, bold jacket that can be found on the mountain. The camouflage print was inspired by 70s ski fashion. And everyone on the mountain loved it. So many compliments on the mountain. Another fun feature--the hood zips off!
Get the Stella McCartney jacket here.
Ski Pants for Kids
Kids are tough on ski pants. They like to roll in the snow, sled, make snow men...you know be kids! I want my daughter to have a blast outside all winter long. The camouflage print ski pant is inspired by 70s ski fashion.
On our second day of testing, we took the snow fashions out on a snowshoe hike in the snow. As we made our way through the woods, she was nice and cozy in these great pants. They have detachable elasticized suspenders that can help you get a few seasons of wear out of the pants. MOM TIP: I always buy ski clothes a little big knowing that the kids are going to grow. Stella McCartney ski clothes run in sizes 2-14
Get the Stella McCartney ski pants here.
The print is also available in blue (I think both are pretty unisex, but Stella McCartney has the blue under boys and the green under girls.) 
2017/18 Family Ski Guide
Planning a family getaway? Get More Great Ideas on what to wear and where to go with our comprehensive Family Ski Guide
Pin it! Get more fun ski ideas on our Pinterest page.
This is not a sponsored post.