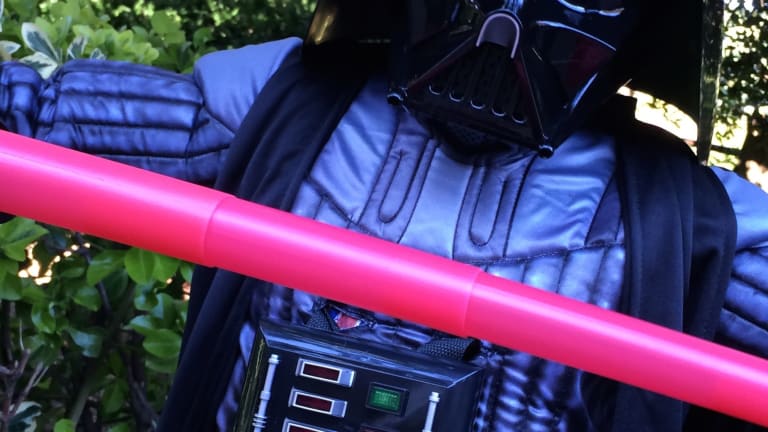 Star Wars Inspired Snacks
Fun Snacks to Celebrate May the Fourth (Be With You)!
My son has turned me into somewhat of a Star Wars fan. I cant escape his enthusiasm and enjoy finding ways to support it. Friday, May 4th is a day for all Star Wars fans to celebrate and greet their fellow fans with the fun phrase, "May the FOURTH be with you." (For our newbie fans, "May the force by with you" is a famous line from the Star Wars films.)
Related: Favorite Star Wars toothbrushes
I am coincidently in charge of snack on Friday, so scoured Pinterest for these fun Star Wars snack ideas for you to easily join in on the fun! I know our girls will be rocking' two side buns ala Princess Leia. Who doesn't need more reasons to celebrate ?
Five Star Wars Snack Ideas:
1. Tie Fighter Cookie Treats: Super simple, effectively authentic & yummy to boot. All you need is marshmallows, white chocolate (as the "glue") and Oreo Thin Crisp Cookies. Thank you to Clean and Scentsible for the inspiration! 
2. Mon Calamari Treats: Thanks to Jenn Fujikawa over at StarWars.com these easy to make Akbar snack bars are great for an allergy-sensitive classroom. 
3. Light Saber Treats: One of my favorite (read... EASY!) snacks to make for parties is a chocolate dipped pretzel stick. With a little bit of time, and patience you get an affordable, easy to make fun and festive snack. Visit Two Sisters Crafting for these Light Saber Pretzel treats! Alternatively, use red and green grapes (thanks CraftyParty.webs) and create a healthier version!
4. Wookie Cookies: Everyone has a gingerbread cookie cutter lying around...Well, break it out again to make these adorable Wookie Cookies. Thanks to Candice over at the Nifty Spoon, your cookie cutter won't just be for holiday treats. 
5. Princess Leia Cupcakes: For all my cupcake do-good-doers, I bring you the cutest Princess Leia cupcakes. These might take a little time, but the results are almost too sweet to eat! 
While the idea of May the 4th did not start with Lucasfilm, the film company that created Star Wars has fully embraced the spirit of fandom that makes the day so special. StarWars.com, as well as the official Star Wars social media channels (hashtag #StarWarsDay), help spread the word and showcase fan activity.
May the Fourth be with you! Happy #StarWarsDay!
More Fun Snacking Ideas for Kids
PIN IT!
Use Pinterest to save your favorite recipes. Be sure to follow our Recipes to Inspire board.
This is not a sponsored post. This post may contain affiliate links.