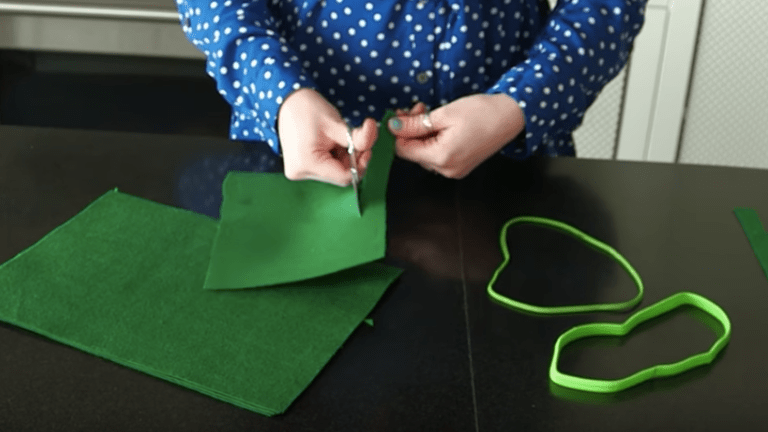 I know when I was growing up, if I wasn't wearing green on St. Patty's Day, I would get pinched, poked, wet-willied, or any number of horrid things. (Thanks, big bro!). The holiday started way back in the 1700's and the lore goes that St. Patrick's revelers thought wearing green made one invisible to leprechauns, fairy creatures who would pinch anyone they could see. While I've never seen a leprechaun, anyone who went to a Catholic grade school knows that the pinching was real!
Related: DIY Lucky shamrock jar and printable
St. Patty's Day DIY Felted Headband Materials
To spare yourself and your kiddos the potential torture, here is a quick and easy way to incorporate some green into your wardrobes: a DIY Felted Headband.
Of course this starts with a trip to the craft store. But the great news is this craft is very low budget and perfect for all the beginning crafters out there.
You will need:
Scissors
Green Felt
Elastic Headband
St. Patty's Day DIY Felted Headband Directions:
We created this step-by-step video to walk you through the crafting process. 
Step one: First, cut your felt into thin rectangles. 
Step two: Then cut those in half. Stretch out the felt by tugging lightly on both ends.
Step three: Then tie a single knot around the headband. Do this as many times as you like to create your favorite effect.
You're done! Such a simple and fun craft to get into the green spirit.
MORE ST. PATRICK'S DAY FROM MOMTRENDS
PIN IT!
Use Pinterest to save your favorite crafts, menus and parties for St. Patrick's Day here on the Momtrends St. Patrick's Day Board.