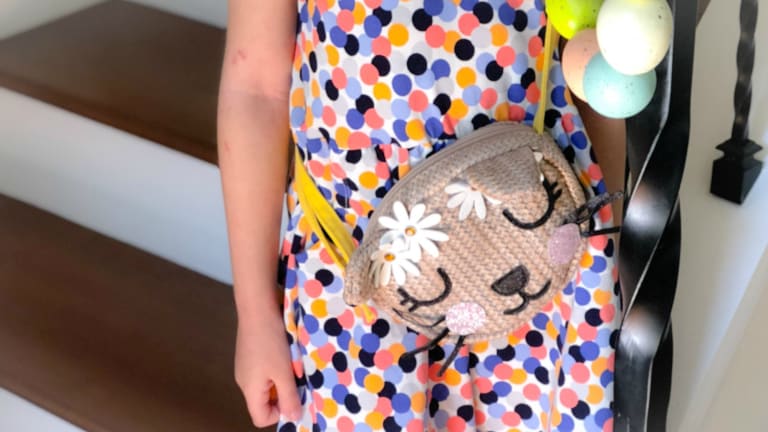 Spring Dresses and Sibling Spring Style
One of my favorite parts about Easter is dressing up my kiddos. My daughter loves any excuse to get all dolled up and, thankfully, my son still humors me on special occasions. Bwah! And one of my favorite spots to score seasonal pieces like spring dresses and shorts for both of them is Target. Who am I kidding? Target is one of my favorite places to get like anything, bwah! But their kids' clothes really are the cutest. It's rare that I don't at least score one or two goodies to update their wardrobes with on any given trip. And don't get me started on my own fashion finds...but that's for another post. Haha!
In fact, I turned to Target recently to outfit my kids for a couple of fun Easter events that we always attend. I'm talking about photos with the Easter Bunny and the annual egg hunt at my parent's country club. Both events are photo opp heavy, obviously, so if I can get them into coordinating sibling spring outfits, this mama's one happy camper! Well, thanks to the comfort factor in this year's Target spring outfits, I didn't have to sell them too hard on their spring sibling style. Actually, I didn't have to sell them at all.
Family Easter Outfits
First up we have my daughter. You know she had to wear one of her spring dresses. This sweet, yellow trimmed white dress will get loads of wear all spring and summer long thanks to the easy breezy cotton fabric. And it looks just darling with bright pink jellies. Plus, said jellies, also a Target score, serve up a dose of nostalgia for Mom. Haha! And my son coordinated with his sister in a blue plaid shirt with a pop of yellow, cargo shorts and classic canvas sneakers. On a side note, I also snagged a kitty straw bag that my daughter can't get enough of. You may remember seeing it in my Spring Stitch Fix Kids post.
More Easter Inspiration
Now that you have some spring dresses and sibling spring style ideas, in case you haven't outfitted your home for Easter yet, we shared some easy Easter decorating tips! Oh and while you're at Target, pick up the ingredients for this delicious jelly bean drink. You deserve a little treat after working so hard on all that holiday magic. Just sayin'. On that note, why not whip up some of these sweet Easter treats too?! 'Tis the time of year for some sweet treats action. Happy almost Easter!
PIN IT!
We were not paid for this post. We did receive samples and this post contains affiliate links from which we could generate income to help us bring you this site.