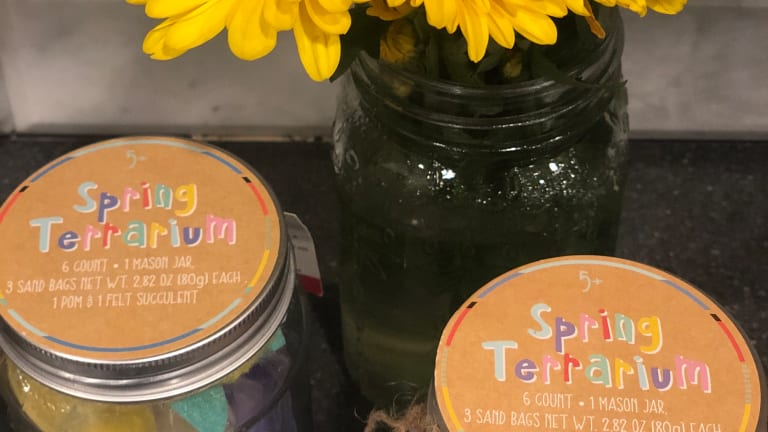 With each season, we look for reasons to CREATE and that means crafting. Here are six spring craft ideas to help your family ring in the new season. I can't wait to come see these decorating my home with a colorful array of rainbows and flowers and pretty projects! Here are a few fun and simple ones you can do with the kiddos too. Happy Equinox, friends.
Crafting to Welcome Spring
Happy Spring. The big day has arrived: the Vernal Equinox. Time to celebrate longer days, sunshine, fresh florals, and chirping birds. Suffice to say, I am excited to ring in a new season. (Oh, and I'm having a baby today!... Hello, new beginnings.) Yes, while we usher in spring, I'm in a hospital room waiting to have Baby Number 3. Meanwhile, my other kiddos are home, eager and excited. 
I've decided to keep them busy and occupied with a little lineup of spring-inspired crafts and projects. I picked up this simple spring terrarium kit in the Bullseye Playground section of Target ($3 each--winning!). And then I've scored the supplies for a few additional easy-breezy DIYs the babysitting grandmas can do with the littles. 
6 Spring Crafts for Kids
1. Straw Tulips: This paper craft is bright and beautiful. Get the details: Paper Straw Tulips via I Heart Crafting
2. Crepe Flowers: Make these pretty Spring Crepe Flowers via Momtrends and create a never-wilting bouquet.

Five Tips for the Perfect Pumpkin Patch Visit
It's that time of the year again...pumpkin patch time! While I love a nice Pumpkin Spice Latte as much as the next fall lovin' girl...for me, the season is all about spending time with my family...and hopefully that time is spent outside as much as possible. If you're headed out ...read more
Perfect for Fall Pumpkin Spice Dirt Bomb Recipe
Get your pumpkin spice fix with this tasty dirt bomb recipe. Unlike fried donuts, this recipe is a little lighter and, since no hot oil is involved, a lot less messy. These dirt bombs, or baked donuts, are irresistible cakey muffins that are spiked with nutmeg and ginger, and ...read more
Save Money at a Ski Swap
Are the slopes in your future? If you want to save money on ski gear, consider a ski swap. A swap is a great way to buy and sell used equipment. Most swaps consist of a variety of gear, from brand new to used skis and snowboards to skis; from poles to boots to bindings and ...read more
3. Pasta Crafts: A preK classic, the uncooked pasta is used to make this Butterfly Bowties via CandyStore.com
4. Paper Blossoms: Missed the big bloom this year? Don't fret, make your own with this Egg-Crate Cherry Blossoms via Raising Whasians
5. Umbrella Craft: You know what they say about April showers...welcome them with this Spring Umbrella Craft via The Pinterest Parent
6. Pretty Accessories: This pretty bracelet is a perfect Mother's Day gift. Get the details Tissue Paper Bracelet via Buggy and Buddy
MORE KID-CENTRIC FUN FROM MOMTRENDS
PIN IT!
Need more ideas on what to do with the kids? Be sure to follow our Activities to Do with the Kids board on Pinterest here.
This is not a sponsored post. All opinions are our own.