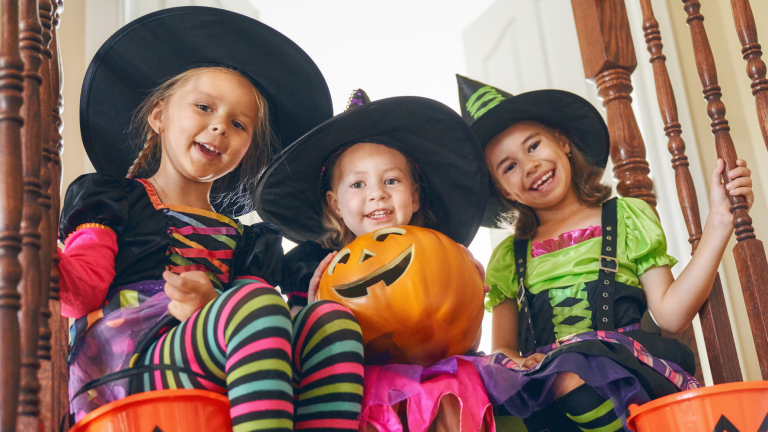 Solutions to 5 Common Halloween Problems
Staying safe, being aware, and establishing a plan are all part of ensuring Halloween and not stressful.
Halloween season is certainly all fun and games but it's important to know what to do when hazards pop up. Staying safe, being aware, and establishing a plan are all part of ensuring Halloween stays spooky only in the ways it is supposed to! Parents Editor-in-Chief, Liz Vaccariello has shared her tips and tricks that will keep everyone safe and happy on Halloween.
Problem - The costume makes your child hard to spot in the dark
o Solution: Pick out or create light-colored or a bright costume that drivers can easily see. If your child wants to be dark and spooky, decorate the outside of their costume with strips of reflective tape – make sure their treat bag is also outlined in brightly colored, reflective tape.
Problem – Your child's wearing a costume mask and can't see well
o Solution: A mask makes it difficult for your child to spot potential hazards when he's near a busy street or near a lot of other children. The mask could also scrape his face and eyes. Consider using non-toxic makeup instead. If he's set on wearing a mask, make sure it's the right size -- the eye and mouth holes should be large enough for him to see and breathe through properly.
Problem – I'm worried about carving pumpkins with my children
o Solution: Dispose of pumpkin seeds and pulp – they are potential choking hazards -- after you scoop them out. Then, make sure you talk to your children about potential pumpkin carving hazards -- cuts, scrapes, burns, or worse -- before you begin the process. And remember to always supervise, especially if using a blade or other sharp objects.
Problem – I'm worried that my child may have an allergic reaction to face paint
o Solution: When you choose Halloween makeup or face paint, be sure that it's nontoxic. Then do a patch test on a small section of your child's skin a few days before Halloween to make sure they're not allergic. If your child starts breaking out in a rash, call a pediatrician immediately.
Problem – I think my child's candy might be unsafe to eat
o Solution: While Halloween candy-tampering is uncommon, it's a good idea for you to always inspect your child's treats after a night of trick or treating. Examine every piece closely and throw out ones that are unwrapped, have tears or pinholes. Always toss hand-wrapped items unless you know the giver. 
MORE HALLOWEEN FUN FROM MOMTRENDS
PIN IT!
Need more ideas on what to do with the kids? Be sure to follow our Activities to Do with the Kids board on Pinterest here.
This is not a sponsored post.