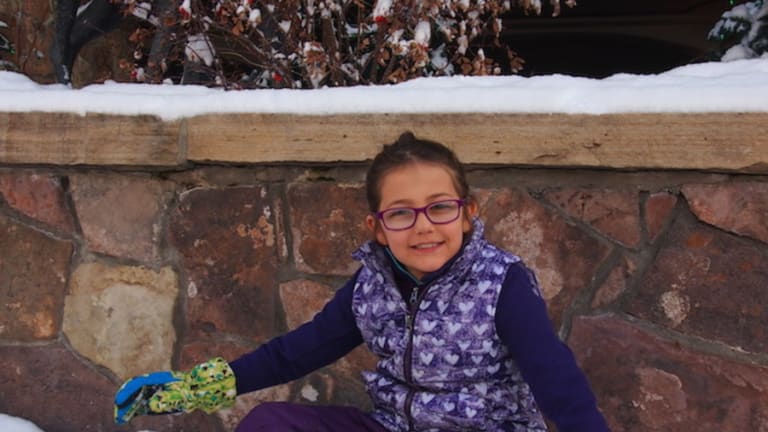 Lands' End Snow Day Gear for Kids
Snow Day Gear for Kids the best clothing from Lands End. Warm and well-made this will keep your kids out in the snow fun for hours.
The snow is coming and we want to go out and play. I suited the girls up in Lands' End for our trip to Colorado to ski over Thanksgiving. I wanted them to be warm, dry and cute. The Lands' End outerwear shop made it easy to find coordinated outfits with adorable accessories that are snow-ready.
Related: Winter safety guidelines for sledding
We checked the snow report and there was plenty of white stuff to work with. For little one I packed this cute printed vest. Most days we would play in the snow at the Sonnenalp resort after hitting the slopes. This vest was an essential travel piece. We know to put this girl in layers. Most of the days were in the 40s, so the vest was great for tromping around Vail Village. This lightweight vest packs nicely and is a great under-layer if you put a shell over it.
Great snow pants are a MUST for winter. Lands' End Snow Pants are mom-approved. Like the vests and jackets from Lands' End, the snow bibs are designed with kids in mind. I picked this Stormer pant because it gives my kids wind- & water-resistance without bulk and weight. These have the "Iron Knee® & Seat" --perfect for active kids that love to sled and play. The Iron Knee is a double-layer of extra-tough nylon patched on the knees and seat because parents know that this is the area that gets worn out first.
Quality construction means Lands' End snow pants will last long after the snow melts. And yes, the snow stayed out. My daughter was able to play in the snow all day without freezing or complaining about being wet. They're designed to be worn over pants or leggings--plenty of room in there to move.
My older daughter wore the Lightweight Primaloft Jacket. There's a cool feature--the jacket tucks into itself. It rolls up into a tight little ball for packing. She love this coat since it's not bulky. We paired it with chartreuse print Stormer Gloves and a cute reversible hat. This was her travel look.
Let's take a moment to talk about accessories. Gloves are an essential for winter. We have a long walk to school every morning. It's not enough to just have a warm coat. Lands' End gloves are warm and practical, and they have the bonus of coming in fabulous colors like the chartreuse Expedition Gloves. These gloves have a few extra fun features too--like easy-to-adjust SnowGuard cuffs. Plus, we loved tucking hand warmers into the Expedition's perfectly made heater pocket.
Speaking of gloves, did you know about the Lands' End Lost Mitten Club? I made a recent visit to our school's lost-and-found to hunt for a pencil case, the bin was overflowing with gear. Kids are busy and gloves are frequent victims. If you can't find them in the lost-and-found bin, know that you might be able to find a replacement. With Lands' End you can call and see if the gloves are still in stock. If they are, Lands' End will ship a singleton for half the price of the pair. Just give them a call 800-963-4816. We just love how Lands' End is taking care of us!
Hope you're ready for the snow, if not time to head to www.landsend.com
MORE WINTER FUN FROM MOMTRENDS
PIN IT!
Need more ideas on what to do with the kids? Be sure to follow our Activities to Do with the Kids board on Pinterest here.
There are affiliate links in this post.