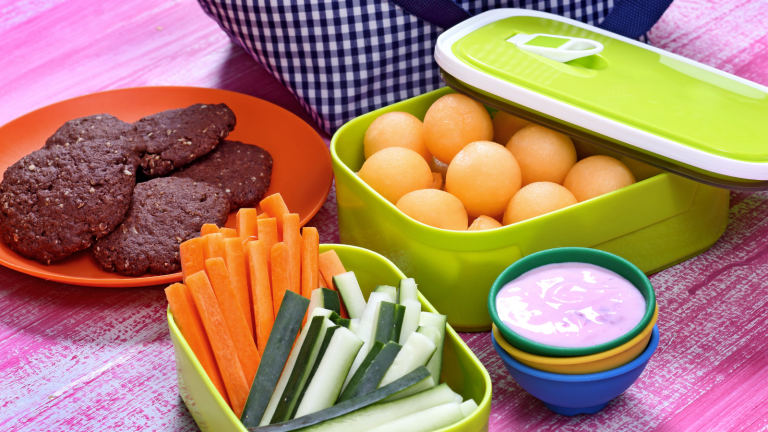 Snack Time Hacks for Toddlers
We've rounded up five fun and easy snack hacks you can try with your picky eaters. These tried-and-true tricks will get them eating in no time.
Kids are bottomless pits... or so I'm told. My kids could pass on significant meals all day in lieu of snacks, snacks, and more snack. Salty eats, sweet treats, crunchy munchies, and ooey-gooey chewies, they don't discriminate. When it comes to snack time hacks for toddlers, we've come up with some creative ways to tame these little tigers.
For snacks, there's no satiating their hunger... But put a balanced breakfast in front of their faces and they'll turn up their noses and feign full bellies. If it's labeled a "snack," they're game (they don't even read... how do they know?!?) Just don't call it a meal... or they'll bail faster than you can say "lunch is served."
Related: How to create the perfect mini burger
While I'd love for them to sit down at the family table three times a day for three square meals, I've learned to pick my battles with my picky eaters—and to maximize the nutrition in the snacks they actually are consuming. And, perhaps most importantly, this motivated mama has learned to rely on a few sneaky tried-and-true snack-attack hacks to help keep her babies happy and well fed.
Separate Healthy Snacks in a Muffin Tin
This one little trick works to get my kids eating, quietly and cooperatively within seconds. It also encourages them to share politely—win-win! I simply put different snacks in each cup of a muffin tin. (Actually, I create a mirror image of snacks—so my each of my kids has the exact same portion, but they're own serving.) Raisins, Craisins, dehydrated yogurt snacks, apple slices, grapes, cereal, Goldfish... if it fits in a muffin cup, fill it up!
If you have a tin like this, you can fill the middle row of compartments with extra "sharable" treats—fruit snacks, chocolate chips, and coconut shavings work wonders but might create a thumb war!
P.S. The muffin tin trick is also an amazing hack for sundae bars or taco-night toppings.
Play With Food
Turn Something Healthy Into Something Beautiful... or Into a Super-Indulgent, But Still Somewhat Good-for-You Treat! Kids refuse to eat their fruits and veggies? You can sneak some greens into a super-delish morning smoothie or you can transform their food into works of edible art. Children are more apt to eat something that looks good—and who could blame them? Of course, if you're willing to add a little chocolate frosting and sprinkles to an otherwise healthy piece of fruit, the kids will go gaga over these "chocolate donut apple slices."
Freeze Fro-Yo Into Bites
What kid can resist a frozen treat? They'll ask for frozen-dessert bites and never know that this is actually yogurt they're eating! Just freeze organic vanilla or fruit-flavored yogurt into ice cube trays, and, voila, you've got yourself some fun pop-in-your-mouth Popsicles to share.
Kebab It
Put fruit slices on a skewer, and somehow it tastes even better. Fruit kebabs are colorful, fun, and festive. Kids will especially love them when served with a yogurt or dark chocolate dipping sauce. Take them up a notch, by grilling the fruit too.
Fun Food Games
My four year old is obsessed with playing tic-tac-to. So I decided to incorporate snacks into his favorite game. We use bread sticks or pretzel rods to make our grid and then fill in the spaces with healthy snacks (think: team carrot stick vs. team celery stalk!). We call it "TIC SNACK TO." You decide whether the winner or loser has to eat it all... depending on whether you want to cheat or not!.. Me? I always let my little people win. Idea from Kiddie Foodies
More Fun Snacking Ideas for Kids
PIN IT!
Use Pinterest to save your favorite recipes. Be sure to follow our Recipes to Inspire board.
This is not a sponsored post. All opinions are our own.