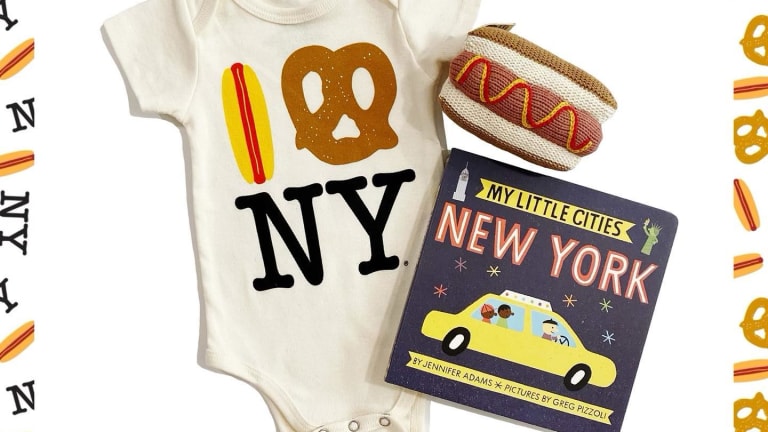 Small NYC Brands We Love and Support
Piccolini NYC is one of our favorite small brands from NYC with iconic and sweet city-centric designs.
Small is beautiful. Babies, boutiques and books born out of love are all reminders that little things mean a lot. Last week I got a terrific reminder about this. Mr. Momtrends was traveling and I decided to take the girls to a book reading at Piccolini--a pint-sized boutique in NOLITA (a super trendy neighborhood near SoHo in NYC).
Related: Native shoes perfect summer footwear for the family
Support NYC Small Brands
PiccoliniNY is an iconic collection of clothes that celebrate NYC--taxis, pretzels, hot dogs and bagels. Alex Zagami has turned these foods and feelings into cool graphic designs for onesies and kids tees. Check out the full collection here piccolinyshop.com/collections/piccolini-nyc.
As a NYC blogger I admit to being spoiled. I've been going to events for years. But when I know it's a small business, I have a weak spot. I wrote Mom Boss to support entrepreneurs I believe in making the effort to help female-led brands succeed.
Owner, Alex Zagami, organized cupcakes and a book reading for a handful of guests. If you know much about me, you'll realize I separate family and business. The girls aren't featured in ads and rarely come to events. But for some reason, I sensed this was special. So we swiped our metro cards and headed to Manhattan.
The special guest was Kelly Florio Kasouf author of The Super Adventures of Sophie and the City: All in a Day's Work. Kelly is an ex fashionista too (she did her tour of duty at Vogue)
The book starts off as we meet Sophie--dressed in Ralph Lauren with Tory's Reva flats. It only gets better from there. Sophie travels all over NYC and the world discovering the power and joy of fashion. My girls were entranced and the illustrations by Judit Garcia-Talavera. The fashion illustrator makes this book extraordinary. 
What a treat. We also adored the shop. Piccolini s packed with so many of my favorite things. From beloved books to dresses from Egg Baby to toys that won't end up in a landfill. Oh, and the girls would be disappointed if I didn't mention the cupcake necklaces. You could tell everything was handpicked with love and lots of style. Visit the store when you are in NYC 230 Mulberry St. or anytime online www.lovepiccolini.com
It was a great reminder of the power of small. So I think I'll be turning down more of the big stuff to make room for adventures such as this one.
MORE KID-CENTRIC STYLE PICKS FROM MOMTRENDS
PIN IT!
Need more ideas on fashion for kids? Use Pinterest to save your favorite fashion finds for you and your kids. Be sure to follow our Kids Fashion and Style Board here.
Momtrends was not paid for this post.