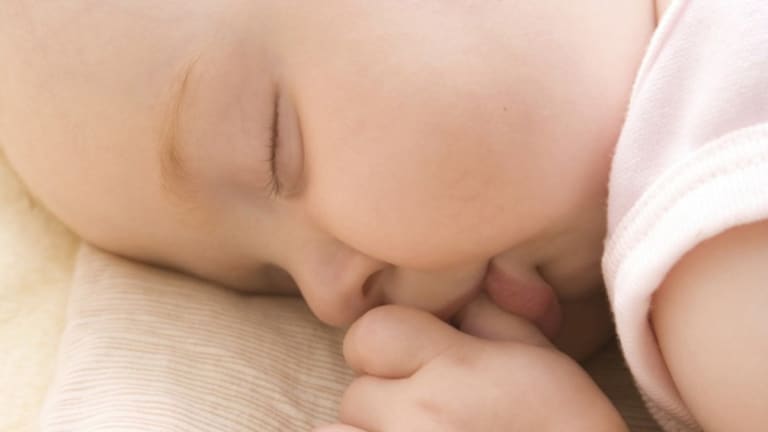 Expert Sleep Tips for Babies
You and your baby can get the sleep you need to live a happy and healthy life and it isn't as difficult as you may think.
Nothing is more exciting and life changing than having a baby. And few things are more frustrating to new moms and dads than being sleep deprived because their little ones are not sleeping. No matter what your sleep patterns have been with your baby so far, you can make things better. You and your baby can get the sleep you need to live a happy and healthy life and it isn't as difficult as you may think. Check out these tips from sleep expert, Ingrid Prueher of Baby Sleep Whisper on how to get to your baby to sleep at night.
Related: The best baby jumpers and exersaucers
Get a Schedule
Start by settling on nighttime sleep and nap times. Babies 6 months old generally sleep 11 to 12 hours per night, so 6 p.m. to 6 a.m. is reasonable. Babies this age also take 2 to 3 naps of 30 to 60 minutes each. To introduce your baby to his or her schedule, you'll need to create an environment that is conducive to healthy sleep. First, adjust baby's room temperature to 68 to 72 degrees, which is ideal for sleep. Other aspects of a healthy sleep environment are a darkened room, so pull down the shades, and consider running a white noise machine to re-create the sounds of the womb.

It is vitally important that you create a sleep routine and follow through with conviction every day. Provide consistent sleep cues, such as bathing, feeding, changing your baby's diaper, reading a book, and putting baby to bed. Make sure you believe in the program and steps you are taking to help your baby and family get the rest they need. If you second guess yourself, your child will pick up on this and doubt the process as well.
Many 6 month old babies may be waking for 1 to 2 times at night to eat. I recommend weaning them off these feedings, if their pediatrician approves. Anything more and you may have a sleep association problem. It is important not to create sleep associations with feedings too close to sleep times. If a sleep association involves you, then your baby will think they need you to fall asleep. Other associations involve rocking, pacifiers, and bottles. You must choose the best association for your child to have a complete and restful sleep. With proper planning and commitment, you and your baby will get the sleep you need to live vibrant and energized lives.
WANT MORE BABY GEAR FROM MOMTRENDS?
PIN IT

Need more ideas on what to do with the kids? Be sure to follow our Baby Things to Love board on Pinterest here.
Momtrends was not paid for this post.