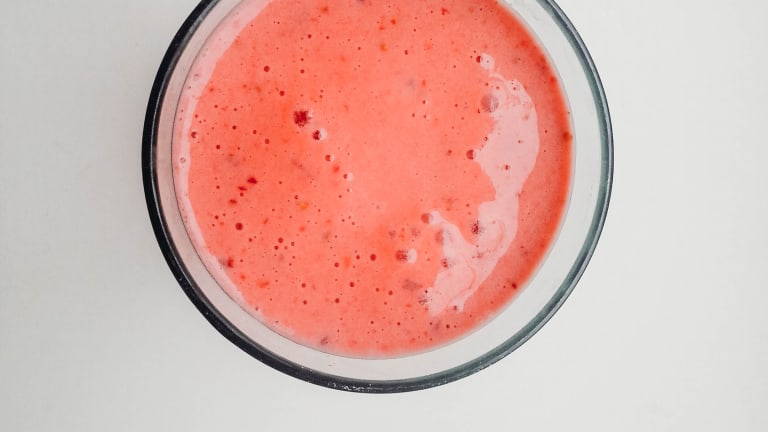 Simple and Yummy Double-Berry Morning Smoothie Recipe
Mornings are hectic, solve the breakfast problem with this yummy double-berry morning smoothie recipe
The mornings are hectic. From getting everyone ready to making lunches, there is little time for a gourmet breakfast. But we do realize the importance of starting the day fueled on the right foot by eating nutritious and healthy foods.  This simple and yummy double-berry morning smoothie recipe is the perfect solution to working mom life.
Related: Three morning smoothie recipes to start your day 
The Power of the Morning Smoothie
For us that has been a lot of smoothies with veggies, berries, and almond milk. For the berries, we have been loving Driscoll's - using a variety of strawberries and raspberries that melds really well with the combination of spinach, almond milk, chia seeds and coconut oil. Even my picky toddler loved it! 
The Driscoll's website is also a fantastic resource for new smoothie ideas. Be sure to check out their Berry Blog with the article "How to Build the Perfect Smoothie" for more details. Also, check out the recipe below and be sure to tell us what your go-to smoothie recipe is.
Momtrends Tip: For the best smoothie try to get fruits in season, but if you can only find frozen, don't sweat it, you're still winning!
Double-Berry Morning Smoothie Ingredients
1/2 package of Driscoll's raspberries, washed
1/2 container of Driscoll's strawberries, washed and cut
1 tablespoon of chia seeds
1 tablespoon of coconut oil
2 cups of almond milk
1 cup of spinach or kale (frozen or fresh)
Directions: Blend all of the ingredients together and serve cold!
MORE FOOD FEATURES FOR YOUR FAMILY FROM MOMTRENDS
PIN IT!
Use Pinterest to save your favorite recipes. Be sure to follow our Kid Food Pinterest board here.
Momtrends was not paid for this post.