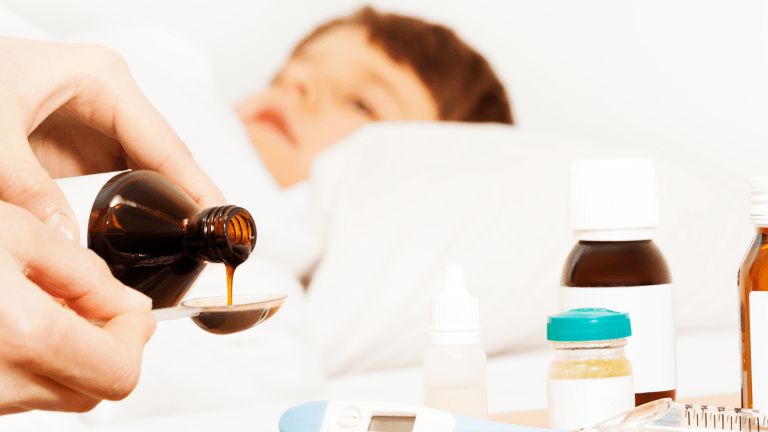 Sick Day: How to Help Your Kid Get Rest and Stay Engaged
My poor little guy's attendance record has taken a hard hit this past month. He was just out for a whole week with a mystery virus, and now he's got the flu. Suffice to say, school can wait. I've got to get this dude healthy and happy and strong again. But a 104-degree fever will knock you out and leave you feeling worse for the wear. I'm so relieved that he's mend, but the malaise has lingered and the days are blending into each other. There's been a lot of mindless YouTube watching, and it's getting old. 
Create a Cuddle Nest
I remember my mom doing this for me when I was home sick from school. She'd layer the couch with sheets and blankets and comforters, and pile up the pillows and cushions, snuggling me up into my personal sick nest. Now, I do the same for my kiddos when they are home from school. It makes being forced to relax all day long feel a little more special.
Have a Movie Marathon
Oh, Disney+, thank you for helping us get through this flu. I've been introducing my guy to all the classic animated movies I grew up loving. Being home sick isn't ideal, but you can try to maximize the unexpected days together by carving out some much needed one-on-one time.
Pause for Liquids
Hydration is so important. Even if your sickie isn't hungry, you want to ensure he's still getting plenty of liquids. My guy has zero appetite, but he'll never refuse a Popsicle--so I made a big batch of our own frozen pops using juices.
Make Nap Time Mandatory
Napping doesn't always happen, but quiet time to rest and recharge is essential. We turn off the TV and pick up a book. I'll read to him, he'll read to me, and then he has some independent reading time. 
Studying Is Essential
Your kid can still study up even if he's stuck at home. Turn to online learning games and apps like ABC Mouse. Consider emailing your child's teacher for a heads up on the week's work.
Build with Cardboard Boxes 
Nothing beats sick-day boredom like a cardboard box. Gather up your extra cardboard boxes left over from the holidays or check with a local big box warehouse or furniture store. They typically have extra-large appliance boxes they are more than happy to give away. You only need to provide them with scissors, masking or duct tape, markers and time to build a rocket ship, club house, fire truck or anything their imagination can dream up.
Create an Indoor Treasure Hunt
With a little bit of prep work, this activity will keep your kid occupied for a good deal of time. Just create a scavenger hunt style treasure map, hide some special prizes, tokens or treats around the house and set them off on a good old fashioned mystery.
Want more from Momtrends?
1. 10 Survival Tips to Ease Flu Symptoms
2. 7 Small But Important Things to Know About Cold and Flu Relief
This is not a sponsored post. Some tips by Starlux Games Founder Judd King.