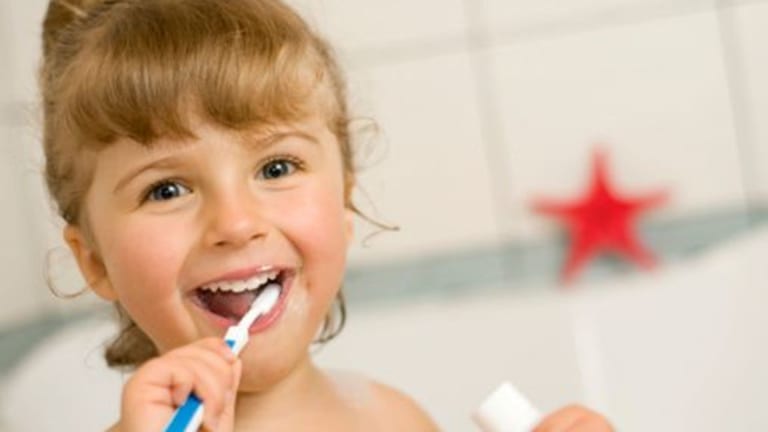 Seven Trusted Dental Habits for Healthy Teeth for Kids
The American Dental Association (ADA) has deemed February as National Children's Dental Health month as a way to raise awareness about the importance of oral health. Tops tips for moms.
February isn't all about hearts. It's also about teeth! The American Dental Association (ADA) has deemed February as National Children's Dental Health month as a way to raise awareness about the importance of oral health. Want to take care of your child's chompers? Here are 7 tips for helping your kids develop healthy teeth habits.
1. Start brushing before they have teeth. 
Your child doesn't need to brush until he has teeth, right? Wrong! Dentists recommend wiping your baby's gums with a damp washcloth or an infant suitable toothbrush like a silicone finger toothbrush after every feeding. And all the experts agree - putting your baby to bed with a bottle (be it formula or breastmilk) allows the liquid too much time on the teeth and is a bad idea for oral health. And for help with teething, check out this article.
2. Consider food's consistency. 
Many parents think just about the sugar in a food. Sugar = cavities. This is true, but one factor parents often overlook is the food's consistency. That pudding cup may not be the healthiest option but it will only stay in the mouth for a moment. But that fruit roll-up, dried fruit or even gummy vitamins (which are often full of corn syrup or sugar) are much more likely to get jammed into and between the teeth making them more likely to cause a cavity. When your kids do have these sticky treats, try to have them brush soon after, even just with water. We're all in this together when it comes to curbing sugar cravings.
3. Make it interesting. 
Let's be honest - brushing your teeth isn't really exciting, even for adults. Do what you can to motivate your kids and keep them engaged. Whether it's a toothbrush with their favorite character or song, the chance to blast their favorite song on your iPod while they brush, a game of trivia or soap tic-tac-toe on the mirror, do what it takes to keep your kids engaged. Spinbrush's battery-operated My Way Toothbrush comes with over 100 stickers to let your kids decorate and personalize their toothbrush and their ToothTune toothbrushes play 2 minutes of one of your kid's favorite pop songs like hits from the Black Eyed Peas, Taio Cruz, One Dimension, Selena Gomez, and others. Yes, you'll get sick of the song, but it's a small price to pay for healthy teeth.
4. Make Sure they Know Time Matters
The American Dental Association recommends brushing for 2 minutes. Kids are a poor judge of time so give them something tangible to keep tracking of their toothbrushing. You can try a cheap sand timer, kitchen timer, or a toothbrush with a built-in timer. I love Philips Sonicare for Kids electric toothbrush (4+) which start your kid off at 1 minute and gradually increases with each use (on it's own) to build up to 2 minutes. The Firefly Ready Go Brush has flashing green (start!), yellow (keep going!) and red lights (you're done!) to help kids track their brushing time.
5. Choose the right toothpaste. 
Choosing the right toothpaste for your child's age is important in these first few years of brushing. From 0-2 years old, toothpaste isn't necessary according to the ADA (though if you do choose a "training" toothpaste, make sure it is a fluoride-free one such as ones by Tom's of Maine, NUK or Earth's Best). For kids over the age of 2, the American Dental Association suggests a pea-sized amount of a fluoride toothpaste. You can try a minty one like Crest's Pro-Health For Me or more kid-friendly flavors like Orajel's Fruit Splash.
6. Make flossing fun. 
As soon as your kids have teeth that touch, you'll need to add in flossing. (Often time the molars in the very back are the first to touch.) Most kids are not coordinated enough to floss their own teeth until they can tie their own shoes (and even then, this just shows that they physically can floss. Not that they can floss well.) 
Start first-timers with pre-threaded flossers like these kid-sized Oral-B Pro-Health For Me flossers or consider investing in a water flosser like this kid-friendly Waterpik (age 6+) which uses a small, powerful stream of water to knock out flood and tartar and is clinically proven to be up to 50% more effective than traditional dental floss (plus more fun). For older kids and those with braces, try the all-in-one Waterpik Complete that comes with a water flosser and sonic toothbrush in one unit.
7. Add a rinse for extra protection. 
Mouthwash isn't just for freshening your breath. These kid-friendly mouth rinses provide an extra dose of fluoride for added protection throughout the day and night. When your kids are old enough to know how to swish, try Firefly's Angry Birds Anti-Cavity Rinse or Crest's Pro-Health Fluoride Rinse.
 Here's to a happy and healthy smile!
More from Momtrends
Pin it!
Be sure to follow out Gear for Baby and Kids board here.
Momtrends was not paid for this post. Some samples were provided.