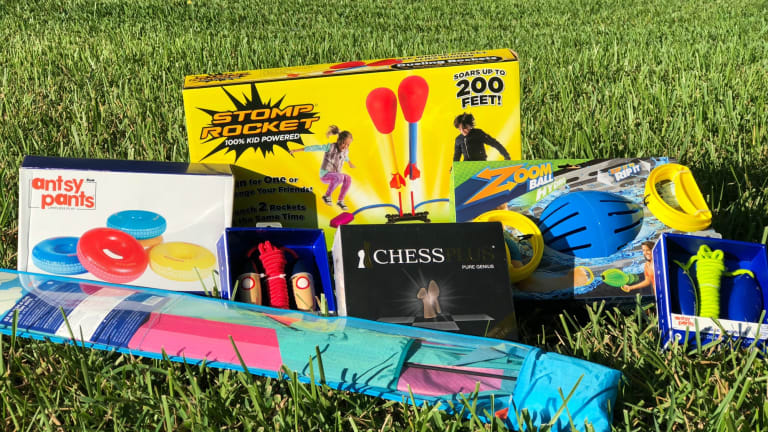 Boredom-Busting Screen-Free Summer Activity Ideas
Summer is here and that means moms need ideas to entertain kids. Never fear. We're hear with a slew of boredom busting screen-free summer activity ideas!
It's finally here! Summer break has arrived. I don't know about you, but I'm not sad about saying goodbye to the regimented schedule we have had to live with during the school year. It will feel like such a relief to deal with a more laid-back vibe the next few months. That being said, as much as I love not having to deal with drop-off and school projects and the like, I'm going to have two kids at home...all day...ALL SUMMER.
Related: Make an air plant terrarium
Ok, sure we have our family vacay and camps here and there, but there will be plenty of days that I will need to keep those kids entertained. And that's where these screen-free boredom-busting summer-activity ideas come into play. Because, you don't want to be caught unprepared mamas. If you have a boredom-busting toolkit you can dig into, you'll drastically cut down on the times you'll have to hear the dreaded "I'm bored." Bwah!
Don't get me wrong. I'm not opposed to screen time, but a summer FILLED with nothing but screen time is sure to result in some out-of-control kiddos! And away we go...
Six Summer Outside Play Ideas
Pool Time
If you don't have one at your home, join a club that has one or scout out local public pools. My kids are total water babies and they would live in the pool if I let them. And, thankfully, our pool provides hours upon hours of boredom-busting action. All you need is a swimsuit that will stand up to all that pool time and a pair of shades for those ultra sunny times of the day. Snapper Rock and Babiators have been my go-to swim and eyewear brands for years.
Go Fly a Kite
It's old school, but it still works. Head to your favorite park on a blustery day and watch how excited your kids get when they get that kite up in the sky. It never ceases to amaze me that something as simple as a kite can still elicit such happiness in even my tween. I try to get them a new one each summer just like my Mom did with me when I was little. They love it, and Mama gets a healthy dose of nostalgia! This Antsy Pants fish is our newest acquisition! Get a fish kite on Amazon here.
Jump rope
Another classic piece that never goes out of style. When they're really bouncing off the walls, hand your kids a new jump rope and let them run it off...in place. Bwah! Are our kids lucky or what? I certainly don't remember jump ropes as cute as Antsy Pants makes them. And the ice cream handles? Adorbs! The rocket and shark versions were certainly hits with my kids!
Stomp Rocket
It's all in the name. Kids literally stomp on this simple, yet super-fun toy to send a rocket high into the sky. And this particular Stomp Rocket is double the fun because two kiddos can stomp on it sending two rockets soaring up to 200 feet in the air. My kids can't get enough of it and the bonus for me is that it encourages cooperative play. Get your Stomp Rocket on Amazon.
Zoom Ball
And speaking of cooperative play, the interactive Zoom Ball is perfect for summer. You fill it up with a water balloon, then the players send the ball zooming back and forth until someone gets splashed. I won't tell you which one got splashed in this scenario, but I can say there was a LOT of squealing. Get your Zoom Ball on Amazon. 
Inflatable Tires
This is a use-your-imagination kind of toy. Inflate all six tires and build your own obstacle course. Or you could use them as a part of a fort. Perhaps you want to throw them in the pool. The play options are endless. I love toys that you can use a million and one different ways, don't you? These inflatable tires inspire such creativity. Antsy Pants strikes again. Get them on Amazon here.
Summer Inside Play
And when they're finally all worn out, bring your kids back inside for some good old-fashioned game time. We recently tried out Chess Plus and the Chess fans in my house were very impressed. You can merge the pieces together to make SUPER pieces, but that also means you lose two pieces when our opponent takes you out. It makes for some very interesting play time so say my guys!
So, there you have it. Hopefully that's enough screen-free summer activity ideas to get you through at least the first week. Bwah! And for more summer fun, check out our tips for what to pack for summer camp! Because, I know a slew of you are in sleep-away camp prep mode and could use all the help you can get.
MORE SUMMER FUN IDEAS FROM MOMTRENDS
PIN IT!
Need more ideas on what to do with the kids? Be sure to follow our Activities to Do with the Kids board on Pinterest here.
We were not paid for this post. We did receive samples and it contains affiliate links.