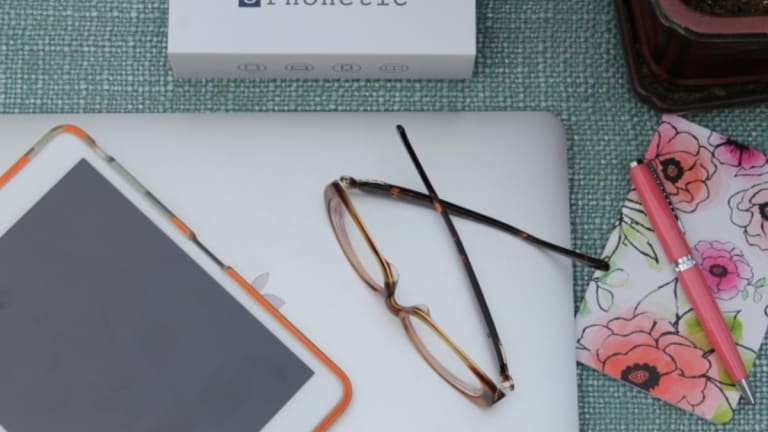 Say Goodbye to Digital Eye Strain With Phonetic Eyewear
Blue Light reducing eye wear keep your eyes protected, but they are as fashionable as they are functional.
As a WAHM, I spend many hours in front of a screen—whether it's my laptop, tablet or smartphone. I know it is bad for my eyes, and I have even noticed mild headaches. I try to take constant breaks, but I also need to be productive. I have seen gaming eye wear advertised, but they are ugly, bulky ,and quite frankly do not fit the look I am going for. I often work at a local cafe and I want my eye wear to be on trend and to help protect my eyes. Seems like there's no solution, right? Well, until I discovered Phonetic Eyewear, there wasn't.
Phonetic Eyewear is an eye-wear company based in Pittsburgh, PA that's products seek to protect your eyes from Digital Eye Strain. Not only do the Phonetic Eyewear Blue Light reducing eye wear keep your eyes protected, but they are as fashionable as they are functional. The frames and lenses provide all the same protection but aren't as ugly and bulky as regular gaming or computer glasses. The website is filled with choices of fashionable frames for both men and women. You can choose to have the blue light reducing technology in your sunglasses, prescription glasses or frames you simply wear during computer use (or any "screen" time).
The lenses we use at Phonetic Eyewear were designed to combat the effects of Digital Eye Strain and alleviate the symptoms associated with Computer Vision Syndrome. Using a proprietary lens coating, we are able to reflect and absorb a portion of the potentially harmful blue light emitted from computers and other backlit devices.
Made of a high quality 1.56-index optical lens, all of our glasses come standard with the blue light reflecting coating and a hard coat to deter scratching and fingerprint smudges.
As soon as I slipped on my glasses from Phonetic Eyewear, I noticed the difference. I have been able to sit at my computer for longer periods of time. I find that I can focus more and the screen is clearer. I feel much more comfortable and productive during screen time while wearing my frames from Phonetic Eyewear. The frames are attractive and on trend so they only add to my appearance instead of being unattractive or embarrassing like yellow lensed gaming eyewear~no thank you! Phonetic Eyewear frames are perfect for protecting your eyes yet stylish to wear all day long.
Follow along and be social, and engage with Phonetic Eyewear on:
facebook.com/phoneticeeyewear
twitter.com/phoneticeyewear
instagram.com/phoneticeyewear
pinterest.com/phoneticeyewear
This is a sponsored post. All opinions expressed are our own.