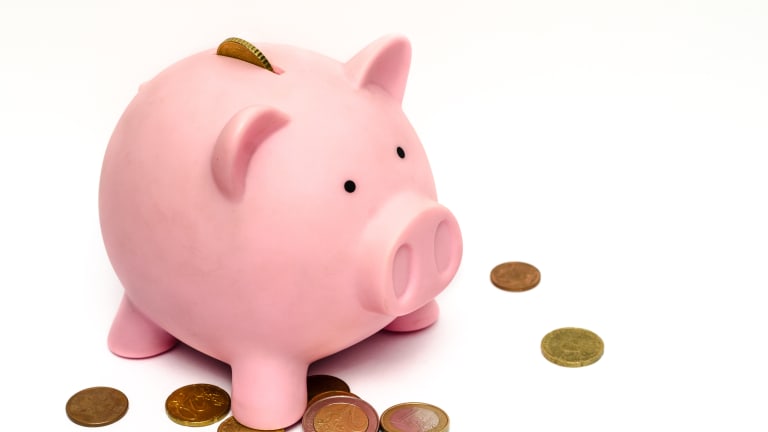 Creativity is a child's bread and butter, and teaching them about saving money is a crucial component to helping them understand the value of their belongings. To prepare for Financial Literacy Month, TD Bank has come up with clever ideas to promote conversations about money and savings. These six essential money lessons for kids tare ideal for teaching your child how to make smart money decisions as well as provide for a gentle reminder for you on how to put value to your money.
Related: Best debit card for kids
Here at Momtrends, we believe in the power of communication. I can't expect my girls to be money-smart independent women if I don't talk about money and it's power. Children need to see us modeling this behavior, let's all tackle this together.
Six Essential Money Lessons for Kids
It's All in the Visuals: Children tend to be visual learners. Hang up a savings goal chart, like an empty thermometer or table, that they can fill in as they reach their goal. For older children, have them create a Wish List of items they want with the cost included. These visual reminders will help encourage them to save their money instead of spending it immediately.
Field Trip! Every child loves a good field trip. Tell them you are going to take them on a field trip to the bank and watch their eyes light up. Many banks, offer a joint savings account option that the parent and child can open together. Let them come with you when you open this so they can be involved in every aspect of their money management. Have them deposit money with you on a regular basis, particularly when they receive money for birthdays or holidays.
Count Coins: As a treat for filling up their coin jars visit the coin counter at your local bank (TD Banks often have a Penny Arcade) and let them cash in their coins for deposit into their savings account. 
Penny Pinching: Compare prices in stores or online to help teach your child to spot a great deal. When shopping with your child, check the sale and clearance sections first. Let them know they may find something on their wish list or a similar alternative for a better, less expensive price.
 Let Them Pick Up the Tab: Spending Mom and Dad's money is easy! Help them to develop a better relationship with money by having them use their own money to pay for the items they want. They'll appreciate the hard work that goes into saving your own money.
Let's Make a Deal: Make a deal with your child that you will match a percentage of the amount they save if the save consistently or reach a certain amount. This could be anything from a video game to their first car--it's whatever works best for your family! In lieu of a percentage, reward your child for great savings habits. Some experts say it is most effective to reward children with something non-material like an extra hour of TV-watching, a later curfew one night or a sleepover!

Save Money at a Ski Swap
Are the slopes in your future? If you want o save money on ski gear, consider a ski swap.  Connecticut  Ski Sundown SKI SWAP 2021. The Sundown Ski Patrol Ski Swap is one of New England's largest and longest-running swaps. Held in the Ski Sundown base lodge, you'll find a large ...read more
The Ten Best Wooden Play Kitchens For Kids
Cooking is a timeless fascination for children. This type of play goes beyond gender and teaches kids loads of life skills along the way. An investment in a play kitchen is money well spent, as it can provide hours of entertainment. We've rounded up the ten best wooden play ...read more
New Victory Announces a New Season of Shows
We know you're busy planning picnics and summer outings, but we wanted to let you know that The New Victory just announced their new season and it looks fantastic. We thought you'd like a sneak peek of what's in store! Each year the New Vic theater brings culture to tourists and ...read more
If you want more great advice on raising kids who are financially savvy, I highly recommend the book The Opposite of Spoiled by Ron Lieber you can read our full review here.
More Money Smarts from Momtrends
Pin it! 
Use Pinterest to save tips for your financial literacy. Be sure to follow our Money tips for mom board here.
Momtrends was not paid for this post.