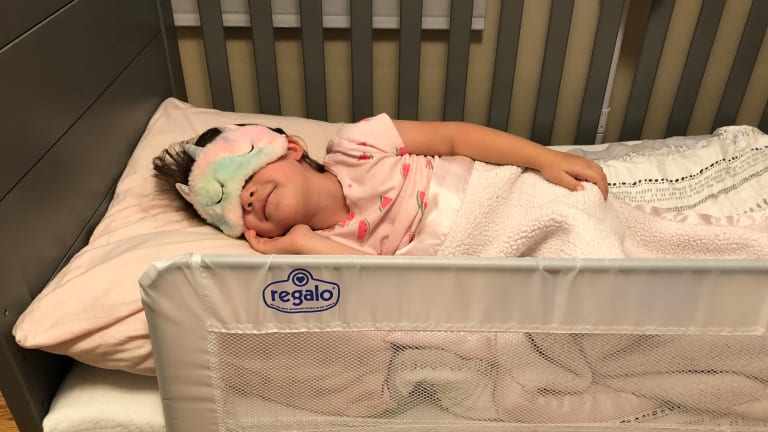 Safety Planning for Baby Milestones
Four smart products can keep your baby safe as you enjoy them as they grow.
Parenthood is humbling. This third go around, I thought I knew what I was in for. I thought I was fully prepared for the ups and downs of having a newborn and then an infant and then -- lo and behold -- a toddler. But a new kid changes the existing dynamic in the best, craziest, and most unexpected ways; and so this littlest love of ours has completely rocked our worlds.
Related: 5 wall decorating ideas for the nursery
I felt this since day one, but have noticed a more significant shift recently, as my itty-bitty infant has become a sassy silly toddler. My once sweet, pleasant, compliant, and content baby transitioned into an opinionated, determined, loud, and strong boss. It's like she turned eighteen months, woke up one morning, and decided she was going to rule our lives. She found her voice and her attitude.
Don't get me wrong, I am loving every minute of this tantrum-filled transformation of hers; she is strong and smart and hilarious and completely exhausting. She is learning how to be independent, and we are figuring out how to keep her happy and safe -- and in check.
There's something so fun about experiencing all the firsts of toddlerhood as a family. At 5 and 8, our two older children love engaging her and playing with her and helping her master new milestones.
She is talking up a storm and exploring every nook and cranny and giggling like a maniac and getting into all sorts of trouble on the daily. We are certainly enjoying the madness, but it has most definitely become time to make sure our house is fully child proofed. Because, girlfriend wants to do what she wants to do when she wants to do it -- and nobody better stand in her way.
Safety is, of course, a top priority, so I'm happy to turn to Regalo Baby for their smart baby products and innovative solutions. They go above and beyond with strict standards and rigorous testing so I can feel confident.
Moreover, their items -- which range from high chairs to play mats to bath essentials and more -- are incredibly intuitive and easy to use, which is key -- because, with three kids, I don't have time to put together complicated products.
This month is Baby Safety Awareness Month; -- use this opportunity to make sure your home is set up for baby's milestones, thrilling firsts, and developmental needs. The recently launched Regalo Baby Safety Checklist powered by MyRegistry is a great resource and reminder that parents need to plan for all the surprising firsts beginning on Day One. (You don't want to wait until you need a baby gate to get a baby gate!). The checklist makes it simple for new and expecting parents to add products to their Universal Baby Registry on MyRegistry.com, and for family and friends to pitch in by purchasing these essentials. New members can view suggested products from the brand and look for additional products such as baby safety gates, booster seats, play yards and mats, or crib rails that most families will need as baby reaches new milestones.
Baby Milestones
I'm sharing a few of our firsts and talking about how the right products can make these moments even more special.
First time in the big bath
My little one is on the smaller side, so I was able to use the infant bath and kitchen sink for a whole 18 months. But now my splash-happy cutie pie wants to be in the big-kid tub with her big sister. More toys, more water, more bubbles, more chaos.
The Regalo Bath Pack has everything you need for a pre-bedtime bath routine. It includes a toy "scoop and store," a bath spout cover, a safety bath handle (which helps alleviate worries about slips and falls getting in and out of the tub) and a kneeler to keep me comfortably positioned while I watch them play together.
First steps -- almost
We are hard at work on this one. All my kids have been late walkers, but this little lady is so determined, I know that it's going to be any day now. She's going to take off and then it's going to be a nonstop chase.
In the meantime, she's doing so much guided (two-finger!) walking and crawling and playing. Most of all, she is completely delighted with her ability to stand up and balance on her own. Her own fanatical reaction to this accomplishment is just the best.
I love that I can put her on the Regalo My Play Mat (note: this is an Amazon Affiliate link), plop down some toys, and let her move and explore. Made of foam, it's cushioned and soft, so I don't have to worry about tumbles and falls. It's reversible with two cute designs -- one side is more playful, the other is more subtle and neutral. I can fold it up and move it from my bedroom to my office -- and all around the house.
First picnic
It's impossible to keep my little one contained at this point. Picnics and pool days and beach experiences can be stressful because I have to keep such a close eye on her whereabouts. But the Regalo 8-Panel My Play Deluxe Portable Play Yard (note: this is an Amazon Affiliate link) gives her a designated outdoor-friendly playpen.
The attachable canopy is great for shade (and keeping out pesky) bugs. It's so easy to assemble and features a super-compact fold, so it's portable for all outdoor adventures.
The firsts are so fun, but they can be stressful, too. That's why I'm grateful I can have peace of mind with some smart product picks from Regalo.
First Big-Girl Sleep
We're not quite here yet with my youngest; she is still sleeping in her crib, and I intend to keep it that way for as long as possible. My middle child, however, only recently moved to a big bed. Before that she was sleeping in a toddler bed. The Swing Down Crib Rail (note: this is an Amazon Affiliate link) offers parents peace of mind as their littles transition from the crib to a toddler bed. She's a tosser and a turner so this bed rail keeps her in place, and we don't have to worry that she will fall out of bed. But the best part: the rail swings down and out of your way for easy bed access.
Plan, prepare, and then enjoy all the amazing firsts as they unexpectedly arrive. Time flies, and this stage goes all too fast. Before you know it, you'll have a big kid on your hands (and a whole new set of firsts to face!). Let the adventure begin.
MORE DESIGN TRENDS FOR KIDS FROM MOMTRENDS
PIN IT!
Use Pinterest to save your favorite recipes. Be sure to follow our Cool Kids Rooms board for more tips.