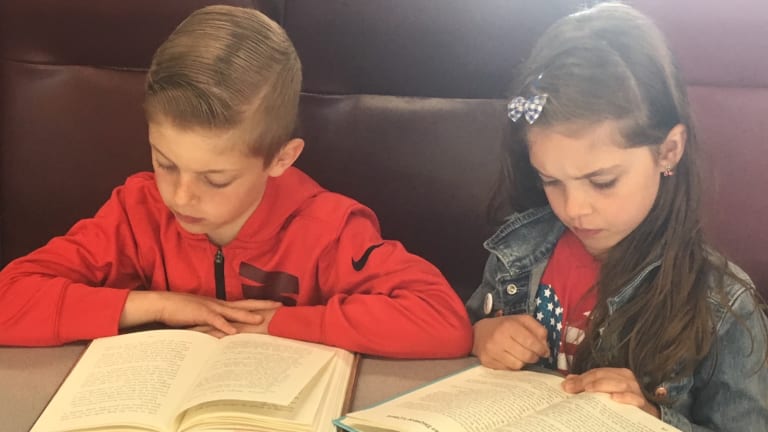 3 Must Try Reading Tips You Don't Want to Miss
Literacy Tips for Young Readers
School is out (or nearly so!) for the littles and parents are already wondering how they can continue to encourage, maintain and strengthen their children's literacy skills.  It is great to keep the conversation about literacy going. Good reading habits take practice and need to be learned and continually used and fine-tuned. 
 The best tip I learned long ago was to continually share with your children the thoughts you have about your own literacy. Share with them what good readers do to help them be good readers! As an educator, I have a few must-try reading tips up my sleeve and am happy to share them. 
Three Must-Try Reading Tips:
1. Journal-Long live the journal. One of the best ways to keep children engaged in their own literacy is to make it personal.  Grab a notebook and have your child invest some time into decorating the cover with things about them, dislikes, likes, pets, pictures or pressed flowers-whatever inspires them! Have your child write the date and end each day with two lines about what they did, what was special or a feeling that they felt. This doesn't seem like much at first, but your child will own that writing and you will see the natural increase in writing. This writing should be treasured~never corrected, questioned or shared without permission from the "author". (writing and reading are intricately linked so the more they write, the better they read)

2. Picture Book- Remember the days when we actually printed photos? Well, we gifted my daughter an instant film camera and a journalist was born.  We bought her a plain sketch book and she placed a photo atop a page and then wrote either a headline for the photo, a description or a memory about the time the photo was taken. This has helped her writing in a vast number of ways~sequencing, complex sentence structure development, use of challenging vocabulary as well as her command of the language (tenses, punctuation etc.) The photos (that she took all by herself) inspired her to write. 
3. Audio Books-Books on CD are highly underutilized and are such a great resource. We know getting to one more bedtime story is doable (most times!) but we don't always have enough hours in the day to read endlessly to our children. Insert books on CD. Listening to books while holding the book in hand is valuable and powerful to your child. It scaffolds their reading and enables them to read for a longer length of time as well as helps them to read more challenging texts then they would be able to read on their own.  Audio books model pronunciation, articulation, cadence of speech, fluidity and fluency. All good reading behaviors that good readers do while reading. Books on CD also engage your child's listening skills (worth their weight in gold-yes, ma'am!) and have proven to be soothing, engaging and entertaining. 
How will you encourage your littles to read?
This is not a sponsored post. All opinions expressed are our own. This post may contain affiliate links.