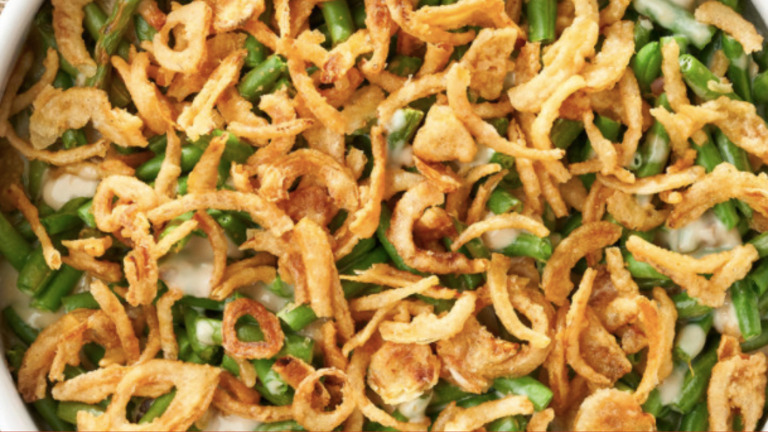 Publish date:
Mini Green Bean Casseroles
Instead of the classic Campbell's green bean casserole, here's a fabulous twist the kids will love.
Instead of the classic Campbell's green bean casserole, here's a fabulous twist the kids will love.
Slow down! That's what Thanksgiving shouts to me loud and clear. My favorite holiday is about opening my home and my heart to family and joy. Like everyone else, we've got calendars packed with activities, jobs, volunteer commitments and schoolwork. It's easy to lose sight of what really matters. But not on Thanksgiving.
It's not about shopping. It's not about loud, showy parties, it's about embracing what you've already got. This year we're going to be setting our table to reflect our blessings. We've got a "give thanks" theme. We'll be adding little leaves to every napkin with a word. The word reflects something we truly cherish.
Do you like the idea? If you don't want to cut out leaves, you can print these simple gratitude (FREE PRINTABLES!) cards here.
Gratitude and simple joy. Campbell Soup Company gets that. As part of the brand's November outreach they are sharing recipes and more from The Wisest Kid in the Whole World. If you're like me, one of the things you are thankful for is the ability to feed your family nutritious meals. I'm grateful that Campbell has a website full of tasty, yet nutritious, meals that the whole family enjoys on Thanksgiving and throughout the year.
Speaking of enjoying good times around the table, I'd be remiss if I didn't share a favorite twist on a holiday classic. Instead of the classic Campbell's green bean casserole, here's a fabulous twist!

Fun Ways to Discover Venice Italy with Your Family
Greetings from Italy wear the gelato is rich, the clothes divine and the scenery is inspiring. Now that I've been to this fine city in the north of Italy, twice, I've amassed a list of favorites to share. These are some fun ways to discover Venice, Italy with your family. ...read more
Here's What No One Tells You About Olive Oil
produce is at its absolute PEAK right now. It's the time to prepare fresh veggies and fruit with ease and simplicity. When it comes to cooking, the farmer's market is my muse. As I prepare some of my summer harvest favorites, I'm sharing a little secret, what you put ON the ...read more
Mini Green Bean Casseroles
Refrigerated biscuits form the crusts that hold a classic mixture of green beans, cream of mushroom soup, milk, Cheddar cheese and French fried onions. It's a fun way to enjoy an all-time favorite dish.
What You'll Need
Vegetable cooking spray
4 cups cooked cut green beans
1 can (10 3/4 ounces) Campbell's® Condensed Cream of Mushroom Soup (Regular or 98% Fat Free)
1/2 cup milk
1 1/2 cups shredded Cheddar cheese
1 can (2.8 ounces) French's® French Fried Onions (about 1 1/3 cups)
2 packages (about 16 ounces each) refrigerated jumbo buttermilk biscuits (16 biscuits)
How to Make It
1 Heat the oven to 375°F. Spray 16 (2 1/2-inch) muffin-pan cups with the cooking spray. Stir the green beans, soup, milk, 1 cup cheese and 2/3 cup onions in a large bowl.
2 Roll each biscuit into a 4-inch circle. Press the biscuit circles into the bottoms and up the sides of the muffin-pan cups. Divide the green bean mixture among the biscuit cups.
3 Bake for 20 minutes or until the biscuit cups are golden brown. Stir the remaining cheese and onions in a small bowl. Sprinkle over the green bean mixture.
4 Bake for 5 minutes or until the cheese is melted. Let the minis cool in the pans on wire racks for 5 minutes.
TO HELP YOU PREPARE FOR THANKSGIVING CHECK OUT OUR FAVORITE POSTS:
PIN IT!
Use Pinterest to save your favorite crafts. Be sure to follow our Thanksgiving and Halloween Crafts Board.
As a Campbell Soup Company Blog Ambassador I have been compensated by Campbell Soup Company for my participation in this program. That being said, I am a lifelong Campbell's Soup consumer and feel confident that the brand is a great match for Momtrends. This post is not scripted and expresses my opinion.